The 2018 Spring Update, is the 26th update for Asphalt 8: Airborne. The update was announced on Gameloft's Facebook page on April 6th, 2018 and launched on April 11, 2018 with a YouTube livestream on the same day. [1]
Announcement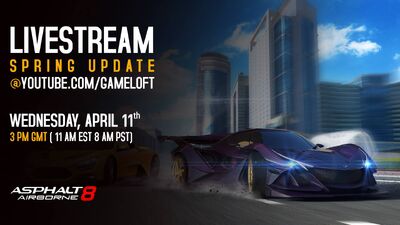 Asphalt 8: Airborne is blooming this spring! The new update is coming soon and here is a sneak peek of what to expect:
DAILY TASKS STREAK
Revamped Daily Tasks now come with brand-new Streak Rewards. If you've got what it takes to complete a full streak, you'll win big prizes!
NEW RIDES
Unlock 5 new vehicles, such as the Apollo Intensa Emozione and the Zenvo ST1 GT.
SPECIAL EVENT SERIES
March into spring by pushing your skills to the limit in an all-new Special Event series. Don't forget about our special offers!
SPLIT BOX
Double your chances! The Split Box drops twice as many cards, so you can choose the best and leave the rest.
SHUFFLE BOX
Can't track down a particular Blueprint or Pro Kit Card? Try a Shuffle Box! Each one gives you a full set of card slots, and allows you to exchange them several times for different cards.
New Vehicles
Class C
Class B
Class A
Class S
The new vehicles will need the following engine cards:
V8 Engine

Apollo N (x52)
Zenvo ST1 (x52)

V-Twin Engine

Forced Four-Stroke Engine

Forced-Induction V8 Engine

V12 Engine

Apollo Intensa Emozione (x48)
Game Changes
Gameplay Changes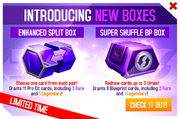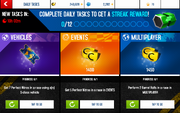 Multiplayer League now has a car prize for all Leagues.
The Geely GC9 is now a Car Mastery reward at

100

.

Its upgrade costs are also increased and 12 more V6 Engine cards are required for its Pro Kits.

Daily Task Streaks added.

The Daily Tasks menu has been updated as well.

New Pro Boxes: Shuffle Box and Split Box.
In Exclusive Deals, blueprint status is now added on bottom of blueprints of unowned vehicles.

Prices of Rare and Legendary Blueprints have dropped, and it is now possible to purchase 2 Rare BPs for credits.

For Windows (desktop) players, preferred graphics card to be used with the game can now be chosen.
only upgrades are used for the Apollo N and Apollo Intensa Emozione.
Despicable Me "Villain Wheels" has been removed from the Brand Filter.
Drop rates have been added to more boxes, including boxes that cannot be bought, only obtained.
Cosmetic Changes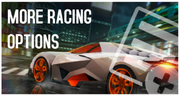 New app icon of the Zenvo ST1.
The placement and size of Daily Tasks and More Racing Options in the Play menu have been switched.
The background of More Racing Options now has a Lamborghini Egoista instead of the Ferrari F430.
When a box is opened and the screen changes to the notification screen indicating which vehicles can be upgraded or assembled, the entire screen now flashes white, instead of only within the same frame as the box.
A blue outline has been added to the Mastery screen when selecting a car.
One of the sound effects used for opening Pro Boxes is no longer used.
Taiwan and Hong Kong have been removed from the Language and Region settings.
Decal prizes can no longer be previewed by pressing the yellow "!" button that brings up the Event Reward List.
In the Enduro Double Down intro screen, the Yamaha FZ-10 replaces the Nissan Skyline GT-R (R34).
Events Schedule
TBA
Bugs / Glitches
No Mastery Compensation: Attempting to claim the Geely GC9 as a Mastery reward if the player already has the car will not give anything as compensation.

It was fixed with 10 extra pro inventory slots.

All vehicles shown: Pressing "Enduro Vehicles" in the Lamborghini Aventador SV's EDD event causes the garage to display all 224 vehicles in the game (except the Villain Wheels), which also allows the player to upgrade any vehicle even if they do not own it yet.

Upgrading an unowned vehicle (except for vehicles used in the EDD) will cause players to be banned for 14 days.

No Loading Screen: When replaying races, the game did not show a loading screen and had a shorter load time.

Different Traffic Pattern: When replaying a race, any map with Traffic will not have its patterns reset, and on maps that no longer have traffic, such as London and Iceland, traffic will appear on subsequent replays.
No Nitro Sounds: Similar to the traffic pattern glitch, a replayed race will not play the sound effects for Nitro engaging, switching Nitro levels, triggering a Perfect Nitro or Nitro burning.

These bugs/glitches only occured when the player launches a game without internet connection.

No Sound Effect:Tapping on a Championship location would not play a sound effect.

This was fixed also on April 13, 2018.

Longer loading times (Android): All race events now take nearly a minute to load compared to nearly 30 seconds, posing a problem in multiplayer.
Login error: If the player tries to connect or reconnect the game to Facebook, the game freezes momentarily before restarting without the game being connected to the social network.
Ad placement (Windows): The placement of advertisement banners is not in it's usual place, blocking navigation and certain buttons. This is noticeable in the booster select screen.
Trivia
This update has the firsts of the following:

The first to add a Danish vehicle.
The first since the Rio de Janeiro Update to add a Dutch vehicle.
The first since the Rio de Janeiro Update to be released for Windows before Android.
The first since the Car Blueprints Update to not add any new D Class vehicles.
The first to change a purchasable vehicle into a Mastery Reward vehicle.
The first to add a motorcycle which has only 5 MAX upgrade stages.
Post-Update Screen
References
↑

The availability of the update on each platform varies by region