The Alfa Romeo 4C is a sports car by Alfa Romeo in the Asphalt series.
Description
The Alfa Romeo 4C is a two-seater, rear-wheel drive coupé with technology and materials derived from the Alfa Romeo 8C Competizione, with 1750 turbo petrol engine with direct injection, the "Alfa TCT" twin dry clutch transmission, the Alfa DNA dynamic control selector. The concept vehicle was unveiled at the 2011 Geneva Motor Show. Compared to the production version, it's very similar, with the biggest differences being front lights, side vents and mirrors.
The production car was unveiled at the 2013 Geneva Motor Show, followed by 2013 Essen 'Techno Classica', Goodwood Festival of Speed 2013, Moscow Raceway and the 2013 Frankfurt Motor Show.
Production of the 4C began May 2013 at Maserati's plant in Modena, with an expected production of up to 2500 units per year.
Summary
The Alfa Romeo 4C was added in the Monkey's Year Update as a high-end D Class car with the following rank statistics:
Performance
Despite decent/above-average acceleration, the 4C doesn't accelerate as quickly as other cars like the SUBARU IMPREZA WRX STI or Honda S2000. Despite once being one of the best D Class cars, the 4C and its rivals have been superseded by later, superior cars like the Mazda RX-8 and Donkervoort D8 GTO.
Price
Between its debut V2.3.0 update and V2.9.0, the Alfa Romeo 4C had a buying price of

1,700 when available for a limited offer.
With the Car Blueprints Update, the 4C is now permanently available in the garage and now requires 6 of its Blueprints to be built. Assembling the 4C takes 3 hours but can be skipped for up to 

232.
Upgrades cost
717,030 while Pro Kits require
429,150, 11 of each Class D Parts card, 10 Early & Initial Tech cards and 12 i4 engine cards.
Research & Development/Alfa Romeo 4C/September 2016 The 4C's R&D was launched on February 27, 2016, with a time limit 7 days to complete the event spanning 3 labs and 35 tests.
The event's revival on September 4, 2016, was extended to 5 Labs with 50 Tests and a time limit of 15 days.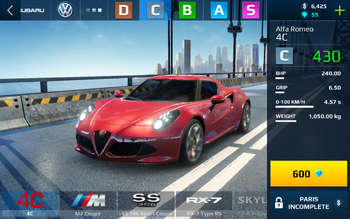 The 4C appears in Street Storm as a Class C car. It costs 600 Diamonds to purchase.
The 4C is one of the lightest cars in the game, only heavier than the Abarth 695 Biposto. While the small engine limits the power and torque output, the low weight gives it quick launch acceleration in races with dry/wet weather condition. In snowy races, however, the 4C's acceleration is greatly reduced.
This section of an article is missing some information. Please try to add some relevant content.