The Apollo Intensa Emozione (abbreviated as Apollo IE) is a hypercar produced by German automaker Apollo Automobil. It is the successor to the Gumpert Apollo.
Description
Apollo came out with a teaser video for the Intensa Emozione at October 17, 2017. The car was fully revealed in October 24, 2017. The Intensa Emozione is built in collaboration with Manufattura Automobili Torino and Autotecnica Motori.
The Apollo Intensa Emozione uses the Ferrari F12berlinetta's 6.3 L (6,300 cc) F140 FC naturally-aspirated V12 engine. The engine has been slightly modified with a new ECU software, a new custom intake and a new exhaust system developed by Autotecnica Motori. The engine now produces 780 hp (582 kW; 791 PS) at 8,500 rpm and around 560 lb⋅ft (759 N⋅m) of torque at 6,000 rpm. The engine reportedly has a redline of 9,000 rpm. All of the power is sent to the wheels through a 6-speed Hewland sequential manual transmission. The weight stands at 1,250 kg (2,755 lb).
The dampers are built by Bilstein, and are three-way adjustable (comfort, sport, auto). The car utilises Brembo carbon ceramic brakes with sizes 380 x 34 mm at the front and rear along with 6-piston calipers up front and 4-piston callipers at the rear. Michelin supplies their Sport Cup 2 high performance tires for the cars, to allow for maximum performance and grip. Pankl Racing Systems is the supplier for the differential.
The Apollo Intensa Emozione is capable of 0–60 mph (0–97 km/h) in 2.7 seconds, with a projected top speed of 208 mph (335 km/h). The car produces a maximum downforce of 1,350 kg (2,976 lb) at 186 mph (300 km/h).
The car is made almost entirely out of carbon fiber, but it does include high-strength steel, aluminum, and titanium components. The engine bay is left uncovered, to allow the air intake to take in maximum efficiency and performance. The monocoque itself weighs only 105 kg (231 lb).
The Apollo Intensa Emozione will be sold for $2,670,000 in the United States, and €2,300,000 in Europe. Only ten units will be produced, all of which have been reportedly sold.
Summary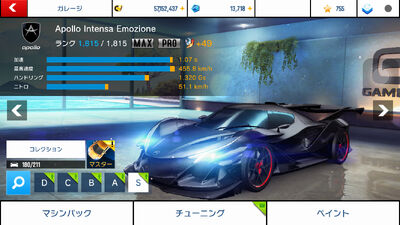 The Apollo Intensa Emozione was added to the game during the 2018 Spring Update as a high-end Class S car with the following rank statistics:
Performance
The Apollo Intensa Emozione is currently the overall best vehicle in the entire game from ranks ~S1600-S1800 (with the correct upgrades). The Apollo IE's performance is heavily based on the Aston Martin Vulcan's (the previous best vehicle) and can be described as "balanced", with almost the highest levels of performance in every aspect. Notably, the Apollo IE's MAX+PRO raw top speed is significantly higher than the Vulcan's.
The Apollo Intensa Emozione's high total top speed, quick acceleration, and stable handling are slightly superior to the Vulcan's, while its drifting radius is fairly similar. The nitro efficiency of 6/11/13 is inferior to the Vulcan's at level 2/perfect nitro but superior at level 3/triple-tap nitro. Interestingly, even while having the same starting top speed and nitro stats as the Ferrari GTC4Lusso, which has nitro efficiency rated at 5/10/15, the IE doesn't have a nitro efficiency of 6/12/16 (the default for any car with a starting nitro stat of 25.7 km/h - 16.0 mph) unlike what other most other pairs in the past have offered (e.g. Jaguar F-Type R and Mercedes-Benz Biome, with 10/15/20 and 5/10/15, respectively).
The Apollo Intensa Emozione is the 6th-fastest vehicle in the game and the third-fastest vehicle in Class S, behind the Mercedes-Benz SLK 55 AMG Special Edition (A), Kawasaki Ninja H2R (S) (when supercharged), Devel Sixteen Prototype (S), Chevrolet Corvette Grand Sport (A), and BMW 3.0 CSL Hommage (A). Despite this, the Apollo IE still ranks as one of the best overall vehicles in the game because of its significantly superior acceleration, drifting and handling compared to most of these vehicles. The exception to this trend is the Ninja, which is a motorcycle that suffers from its own unique downsides of unpredictable vehicle physics and reliance on supercharged nitro for speed, as well as an abysmal nitro efficiency.
The Apollo Intensa Emozione's closest competitors are the 2018 McLaren X2 (acceleration-biased), Aston Martin Vulcan (balanced), Arrinera Hussarya GT (balanced), McLaren MP4-31 (acceleration-biased) and McLaren Mercedes MP4-25 (acceleration-biased). The McLaren vehicles accelerate quicker than the Apollo IE but suffer from a range of downsides, including worse nitro efficiency, lower top speed and a very high tendency to skid due to their extreme handling. Aside from these vehicles, the Apollo IE also faces minor competition from the Lamborghini Aventador SV (semi-balanced), TRION NEMESIS (acceleration-biased), Arash AF10 and Mosler Land Shark (both balanced). At lower ranks, the Apollo IE faces additional competition from the Chevrolet 2016 Camaro SS (speed-biased), SIN R1 (balanced), Audi R8 e-tron Special Edition (balanced), and BMW M2 Special Edition (semi-balanced).
The Apollo Intensa Emozione's only major drawbacks are its steep upgrade costs and restrictive availability. It also has a tendency to skid due to its superb handling; this can be remedied by turning down controller sensitivity.
Official review
This is the official review of the Apollo Intensa Emozione on the Asphalt YouTube channel, made by ASL Tae Hwan Kim and published on May 9, 2018:
Time to reach end of Tokyo straight: 6.798s
Perfect nitro duration: 9.636s
Triple nitro duration: 7.788s
French Guiana lap time: 53.559s
Final verdict: "This car is such an amazing machine. Its stats are awesome and flawless, so it can act well with both MAXPRO tune and MP tune. Without a doubt, the Apollo Intensa Emozione is the new king of Asphalt 8."
The Apollo IE starts at a rank 180 points higher than the Vulcan, but is slightly faster at MAX+PRO due to a higher top speed. Besides, it features a highly efficient ratio of top speed gain over rank cost, as the stock top speed can be increased by up to 106 km/h for only 154 points added to rank. (As of the 2018 Spring Update, this efficiency is second only to the Kawasaki Ninja H2R's stellar +102 km/h over +123 rank).
This makes the Apollo IE virtually dominant above rank 1600, where it can defeat similarly ranked Vulcans, Hussarya GT's, SIN R1's, MP4-25's, SLK SE's, Hommages, Corvette GS's, Camaro SS's, Aventador SV's, R8 SE's, and Porsche 918 Spyders, assuming equal driver skill. Between ranks 1550-1600, where it is still competitive but not optimal, it competes against Hommages, R8 SE's, SLK SE's, Vulcans, Camaro SS's, and SIN R1's. Below 1550, it loses its usefulness and falls prey to SLK SEs and R8 e-tron SEs; the Apollo cannot be obtained at this rank without spending tokens.
Some useful non-MAX+PRO Multiplayer tunings include:
0503 5050 (Rank 1590): Real speed= 494.0 km/h, Displayed speed= 490.3 km/h (This is the absolute lowest tuning at which the Final AI may be beaten.)
0504 5050 (Rank 1610): Real speed= 497.9 km/h, Displayed speed= 494.1 km/h
0505 5050 (Rank 1634): Real speed= 501.4 km/h, Displayed speed= 497.6 km/h
3505 5053 (Rank 1677): Real speed= 503.7 km/h, Displayed speed= 499.9 km/h
4504 5055 (Rank 1684): Real speed= 502.6 km/h, Displayed speed= 498.8 km/h
3505 5055 (Rank 1695): Real speed= 506.0 km/h, Displayed speed= 502.2 km/h
5505 5555 (Rank 1761): Real speed= 510.8 km/h, Displayed speed= 506.9 km/h 

Other popular Multiplayer tunings are usually variants of these, with the difference being slightly different levels of acceleration, suspension, and/or exhaust (i.e. 4504 5154 Rank 1679).
Usage (Other)
Main article: Car Mastery/Apollo Intensa Emozione
The Apollo Intensa Emozione's Car Mastery awards a total of

400, 2 Blueprint boxes, and
72.
The Apollo Intensa Emozione is also usable for
grinding. While its 15th Mastery isn't as profitable as the McLaren MP4-31's, the simple layout and lack of traffic in French Guiana make the Flawless race less prone to disqualifications than the ramp- and traffic-laden layout of Dubai.
Price
The Apollo Intensa Emozione cannot be purchased with credits nor built with Blueprints; it can only be obtained through the completion of its R&D event. The Intensa Emozione also has a hidden purchase price of

20,000, making it the second most expensive car in the game to purchase (only the premium 2015 GTA Spano is more expensive).
The Apollo Intensa Emozione was available between July 4-8, 2018 as an in-app purchase for $100 USD.
The Apollo Intensa Emozione is one of several vehicles in the game that require

-only upgrades (the other vehicles being the Apollo N, Audi R8 e-tron Special Edition, BMW 3.0 CSL Hommage, Mazda RX-8 Special Edition, Rezvani Beast Alpha, Rimac Concept S, and Mosler Super GT). It costs
1,567,150 and

13,695 to MAX out. Pro Kits require
2,197,525, 27 of each Class S part card, 56 Mid-Tech, 28 Advanced Tech, and 48 V12 Engine cards.
Main article: Research & Development/Apollo Intensa Emozione
The Apollo Intesa Emozine's R&D event was launched on May 4th, 2018. The event has 60 Tests spanning 4 Labs, with a time limit of 12 days once the player starts the event.