The Apollo Intensa Emozione is a sports car produced by German automaker Apollo Automobil.
Description
Apollo came out with a teaser video for the Intensa Emozione at October 17, 2017. The car was fully revealed in October 24, 2017. The Intensa Emozione is built in collaboration with Manufattura Automobili Torino and Autotecnica Motori.
The Intensa Emozione uses the Ferrari F12berlinetta's 6.3-litre F140 FC naturally-aspirated V12 engine. The engine has been slightly modified with a new ECU software, a new custom intake and a new exhaust system developed by Autotecnica Motori. The engine now produces 780 hp (582 kW; 791 PS) at 8,500 rpm and around 560 lb⋅ft (759 N⋅m) of torque at 6,000 rpm. The engine reportedly has a redline of 9,000 rpm. All of the power is sent to the wheels through a 6-speed Hewland sequential manual transmission. The weight stands at 1,250 kg (2,755 lb).
The dampers are built by Bilstein, and are three-way adjustable (comfort, sport, auto). The car utilises Brembo carbon ceramic brakes with sizes 380 x 34 mm at the front and rear along with 6-piston calipers up front and 4-piston callipers at the rear. Michelin supplies their Sport Cup 2 high performance tires for the cars, to allow for maximum performance and grip. Pankl Racing Systems is the supplier for the differential.
The Intensa Emozione is capable of 0–60 mph (0–97 km/h) in 2.7 seconds, with a projected top speed of 208 mph (335 km/h). The car produces a maximum downforce of 1,350 kg (2,976 lb) at 186 mph (299 km/h).
The car is made almost entirely out of carbon fiber, but it does include high-strength steel, aluminum, and titanium components. The engine bay is left uncovered, to allow the air intake to take in maximum efficiency and performance. The monocoque itself weighs only 105 kg (231 lb).
The Intensa Emozione will be sold for $2,670,000 in the United States, and €2,300,000 in Europe. Only ten will be produced, all of which have been reportedly sold.
Summary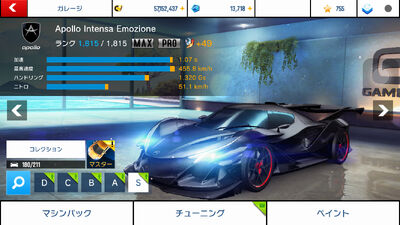 The Apollo Intensa Emozione was added to the game during the 2018 Spring Update as a high-end Class S car with the following rank statistics:
The Apollo Intensa Emozione is one of the only two vehicles in Class S that has a positive Speed Modification of 100.76% (the other vehicle being the NanoFlowcell QUANT FE), giving it a real total top speed of 510.8km/h (317.3 mph).
The Apollo Intensa Emozione's Car Mastery awards a total of

400, 2 Blueprints boxes and
72
Performance
The Apollo Intensa Emozione has performance built heavily on the Aston Martin Vulcan, accelerating almost as quickly as the Vulcan, and handling and drifting really well. The Vulcan has slightly better drifting, though this could be seen as a disadvantage as this causes overly sensitive drifting the Vulcan to constantly take corners too well and bump into the sides. Adding on to that, the Apollo Intensa has a very good nitro efficiency rating of 6/11/13, with its level 1 nitro identical to the Vulcan's, a slightly inferior perfect nitro, and a slightly superior level 3 nitro.
The Apollo Intensa Emozione's main advantage over most other top-end S Class cars, though, is it's slightly higher top speed of 510.8km/h, which places it as the 5th fastest car in Asphalt 8 (behind the Mercedes-Benz SLK 55 AMG Special Edition, Devel Sixteen Prototype, Chevrolet Corvette Grand Sport and BMW 3.0 CSL Hommage) and 2nd fastest in S Class. In comparison, the Vulcan has a top speed of 507.3km/h, 3.5km/h slower than the Apollo IE.
The Apollo Intensa Emozione's only major drawbacks are its steep upgrade costs and restrictive availability.
Because of its aforementioned performance and low starting rank of 1400, it can be very useful for Multiplayer at a variety of ranks. It can be "MP-tuned" or even be used at MAX PRO, due to its all-rounded performance.
Again, due to its performance, at MAX PRO, the Apollo Intensa Emozione is also extremely useful for Class S TLEs where it is featured. 
Price
The Apollo Intensa Emozione is neither purchased with credits nor tokens or buildable with Blueprints. It is only obtained through the completion of its R&D event.
Upgrades cost
1,567,150 +

13,695 while Pro Kits require
2,197,525, 27 Class S Parts cards, 56 Mid-Tech cards, 28 Advanced Tech cards and 48 V12 Engine cards.
Main article: Research & Development/Apollo Intensa Emozione
The Apollo Intesa Emozine's R&D event was launched on X, 2018. The event has 60 Tests spanning 4 Labs with a time limit of 12 days once the player starts the event.