Description
The Apollo N is unveiled at the 2016 Geneva Motor Show. 
The car is the N, essentially an updated version of the former Gumpert Apollo. The latter N symbolizes the Nürburgring, the race track Apollo plans to use to hone all of its future cars.
The specifications of the N match those of Gumpert's most recent Apollo, the Apollo Enraged. Power comes from a twin-turbocharged 4.2-liter V-8, rated at 690 horsepower and 649 pound-feet of torque. Drive is to the rear wheels only, via a 7-speed sequential transmission.
The Apollo N was added in the 2018 Spring Update as a Class B car with the following rank statistics:
Performance
The Apollo N is a very well-rounded car, with great acceleration (One that is far better than other top-end B Class cars like the BMW M2 Special Edition, though not as powerful as the McLaren MP4/8's), handling, drifting, as well as an above-average nitro duration of 6/11/15.
The Apollo N is however, only a collector's car as its performance is inferior to the McLaren MP4/8 in all aspects. Furthermore, the Apollo N's steep upgrade costs, restrictive availability and difficult Championship event diminishes any usability.
The Apollo N is a poor choice for multiplayer as its starting rank of 1530 puts it in races with multiplayer tuned Audi R8 e-tron Special Edition, Chevrolet 2016 Camaro SS and Mercedes-Benz SLK 55 AMG Special Editions, all which the Apollo N is guaranteed to lose against.
This section of an article is missing some information. Please try to add some relevant content.
Price
The Apollo N is neither purchased with credits nor tokens or able to be assembled with Blueprints. It only can be obtained through the completion of its Championship event.
Upgrades cost
1,594,975 +

1,935 while Pro Kits require
331,650, 17 Class B Parts cards, 14 Early & Initial Tech cards, 24 Mid-Tech cards and 52 V8 Engine cards.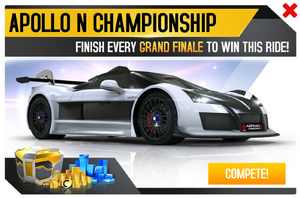 Main article: Championship/Apollo N
The Apollo N's Championship was launched on April 11, 2018 after the Lamborghini Aventador LP 750-4 SV's EDD event. Players are given 4 days to start the event and 7 days to complete it
Championship

McLaren Championship

McLaren M14A (Car • Event) • McLaren Mercedes MP4-25 (Car • Event)
McLaren MP4/8 (Car • Event) • McLaren MP4-31 (Car • Event)

Porsche Championship

Porsche Cayman GT4 (Car • Event) • Porsche 959 (Car • Event)
Porsche 718 Boxster S (Car •Event)

Munich Championship

Kawasaki Z800 (Bike • Event) • Arrinera Hussarya GT (Car • Event)
Honda Civic Type R (Car •Event)

Hot Wheels Championship

Hot Wheels Rip Rod™ (Car • Event)
Hot Wheels Bone Shaker™ (Car • Event)
Hot Wheels Twin Mill™ (Car •Event)

Renault Championship
Ariel Championship
Vanda Electrics Championship
Buick Championship
Apollo Championship

Apollo N (Car • Event)