The Arash AF10 is a hybrid hypercar by Arash. First conceptualized in 2009 as a Corvette-powered supercar, it later returned in 2016 as an upgraded version, this time as a hybrid hypercar.
Overview
Edit
The Arash AF10 Hybrid was unveiled at the 2016 Geneva Motor Show. It is an updated version of the 2009 version.
The new AF10 uses a Chevrolet Corvette-sourced 6.2L (6,162 cc) V8 engine with a supercharger mounted between the heads with built-in charge cooling. The engine brings 900 hp (671 kW) and 885 ft·lb (1200 N·m) and is supplemented by four electric motors that produce a total of 1180 hp (880 kW) and 797 ft·lb (1080 N·m), bringing the total output to 2080 hp (1551 kW) and 1682 ft·lb (2280 N·m). The AF10 is all-wheel-drive, and Arash calls their hybrid drivetrain system "Warp Drive".
Arash claims that the AF10 has a top speed in excess of 201 mph (324 km/h) with the engine on or 200 mph (322 km/h) on just the electric motors. The AF10 is also claimed to have a 0-60 mph time of less than 2.9 seconds, with the run to 124 mph (200 km/h) occurring in less than 8 seconds and 186 mph (300 km/h) in less than 27 seconds. In all-electric mode, the AF10 hits 27 mph (43 km/h) in below 3 seconds and 60 mph (97 km/h) in less than 4.9 seconds. On the fly, the AF10 does 50-75 mph (80-120 km/h) in just 1.8 seconds. In the Asphalt games, the AF10's 0-60 acceleration time was updated to 2.3 seconds and the top speed is now 299 mph (482 km/h), due to the car's extreme horsepower and torque figures.
The Arash AF10 Hybrid starts at £1.1 million (US$1.35 million), with the AF10 Hybrid Racer (the AF10 Hybrid with an additional racing livery) starting at £1.2 million (US$1.48 million).
The Arash AF10 was added in the Championship Update as a Research & Development-unlockable car.
The Arash AF10, a top-end Class S car placed between the Devel Sixteen Prototype and McLaren MP4-31, is the highest-ranked car in terms of starting rank (1692) and MAX rank (1763 = +71), and the second highest MAX+PRO rank (1812 = +49), which gives it a low 120 rank increase. It also has the lowest Tuning Kit bonus in the game, with only +18 points, lower than the BXR Bailey Blade GT1's +20. The AF10 mainly rivals the TRION NEMESIS, W Motors Fenyr Supersport, and SIN R1.
Performance Edit
Given that the Arash AF10 has a less-than-average nitro stat, its acceleration is less than average (while still better than the Fenyr), despite the displayed stats, if its speed modifier of 88.65% is taken into account. Its handling and drifting abilities are said to be slightly above average. Unique to this car is a nitro consumption combination of 6/12/14. The AF10's main paramount, on the other hand, is its great top speed for a car with such a low tuning kit boost (even when the speed modifier is considered). The biggest disadvantage of the AF10 is its low speed-to-rank ratio, capable of only 309.7 mph/498.7 km/h at MAX+PRO (S1812).
In spite of its decent performance, it is not capable of beating the Mosler Land Shark in any track due to its acceleration, which is probably the main downfall of this car. As a result, while it may have some use in Multiplayer, it will usually fall behind the Aston Martin Vulcan, Lamborghini Aventador LP 750-4 SV, BMW 3.0 CSL Hommage, and Chevrolet Corvette Grand Sport should neither driver of each car make a single major mistake. The former two cars are able to outaccelerate the Arash in the beginning of a race for the most part; in the case of starting behind, they just need roughly 2 seconds to overtake the Arash; whereas the latter two can overtake the AF10 after about 15 seconds, although the Grand Sport has the issue of a wide drifting radius, which can be very detrimental in Sector 8.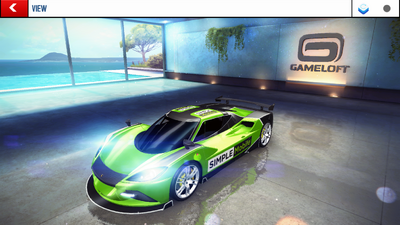 In terms of TLEs, the AF10 is not very likely to reach top 500 in any track because of the interception of Vulcans, SLK 55 AMG SEs, MP4-31s, Devel Sixteen Prototypes, and SVs, and (possibly) 918 Spyders, which are usually able to take over the 1st 1000 spots in many TLEs. The Arash AF10 is used in the Simple Mobile events, with a unique livery, but this is only for US players.
In spite of its inferiority to current top end cars, the AF10 does have some niches. It does count to the Top Tier collection, and has a great deal of Car Mastery rewards, including
71,

500, and Double Credits. As stated before, it does have some Multiplayer usage; although the probability of getting podium finishes is dependent on who is in the lobby. The AF10 can also be used for farming Credits in Season 9, with its race set in Sky Drop, with a 1st-place base Credits reward of
5,510 in an average race time of 61 seconds, making the AF10 more efficient than the ED Design Torq and McLaren P1™ GTR at this aspect. Though for farming for credits its preferable to use it's Mastery Challenge 14 which is a classic event in Sky Drop (the same location only with 8 instead of 6 racers and a faster AI) that grants a base payout of
6,080
With the AF10's drawbacks and strengths considered, the worthiness of this car is debatable.
The Arash AF10 can be purchased for

15,000 whenever offered for a limited time. It costs
3,399,950 or

23,010 to max out and
1,770,250 for Pro Kits, which also require 23 of each Class S Parts card, 60 V8 Engines (contradicting the car's hybrid engine), 28 Mid-Tech cards, and 28 Advanced Tech cards.
Availability
Edit
Following its debut in the R&D event, the Arash AF10 was made available for the aforementioned price between February 17, 2017 and February 20, 2017. Currently, the Arash AF10 is the only exclusive car from the Championship Update that hasn't been made unlockable via Blueprints yet.
Research & Development
Edit
Main article: Research & Development/Arash AF10
The Arash AF10's Research & Development event was held on December 26, 2016, as the 17th R&D event in the game, after the McLaren M14A's Championship event. During the Car Blueprints Update, the R&D event was revived on May 19, 2017, following the Chevrolet Corvette Grand Sport's Enduro Double Down event. It has a total of 60 Tests spanning 4 Labs that must be cleared in 12 days once the event is started.
Ad blocker interference detected!
Wikia is a free-to-use site that makes money from advertising. We have a modified experience for viewers using ad blockers

Wikia is not accessible if you've made further modifications. Remove the custom ad blocker rule(s) and the page will load as expected.