The BMW 3.0 CSL Hommage (pronounciation: ho-mah-j, /homaʒ/) is a concept car by BMW that pays homage to the 1972 BMW 3.0 CSL racer, also known as the Batmobile.
Description
In 2015 BMW introduced the 3.0 CSL Hommage concept car at Concorso d'Eleganza Villa d'Este. The car is a tribute to the 1972 3.0 CSL, a homologation special built to make the car eligible for racing in the European Touring Car Championship at that time. It has an inline-six engine with an eBoost hybrid system in the rear of the car. As a homage to the original, the 3.0 CSL Hommage has a minimal interior to keep the weight as low as possible; carbon fiber and aluminium are used in the cockpit for the same reason. The Hommage has laser-LED lights similar to those in the BMW i8.
The BMW 3.0 CSL Hommage received a racing version, called the BMW 3.0 CSL Hommage R, with a livery paying tribute to the 1972 3.0 CSL driven by Chris Amon.
Summary
The BMW 3.0 CSL Hommage was added to the game in the Elite Cars Update as the first Research & Development-unlockable vehicle of that update. It is a high-end Class A car with the following rank statistics:
Starting rank: 1077
MAX rank: 1608
MAX+PRO rank: 1773
Tuning Kit bonus: +76
Stock to MAX+PRO rank difference: 696

This is the highest of any non-"Special Edition" vehicle in Class A.

Upgrade rank percentages: 20/25/20/35
Nitro Efficiency: 8/13/18
Performance
The Hommage is the fastest non-Elite car in the game (fifth fastest in the game after Mercedes-Benz SLK 55 AMG Special Edition, Devel Sixteen Prototype, Chevrolet Corvette Grand Sport and Kawasaki Ninja H2R), with a maximum possible total top speed of 511.6km/h.
It features an extremely high raw top speed, a small nitro, slow acceleration, mediocre drifting, very good handling, and poor nitro efficiency.
Overall, the Hommage can be described as one of the top ten best cars in the game. Regarding speed, it is the fourth-fastest car in the game. Overall, the Hommage is perhaps the fourth-best car for Class A TLEs and it is generally regarded as one of the five best cars for Multiplayer.
In any given situation, the Hommage's main downside is its poor acceleration. Its medium-poor drifting can also be an issue, but this issue can be remedied with techniques like "drift-punching". Furthermore, the Hommage is difficult to control due to its strong handling, and the Hommage's poor nitro efficiency is yet another issue.
The Hommage's main rivals are the Aston Martin Vulcan, Arrinera Hussarya GT, Chevrolet Corvette Grand Sport, McLaren Mercedes MP4-25, McLaren MP4-31, Apollo Intensa Emozione, 2018 McLaren X2 and Mercedes SLK 55 AMG Special Edition.
Usage (Multiplayer)
The Hommage is suitable for use in Multiplayer between ranks 1430 and 1770. The Hommage's optimal rank in Multiplayer is near 1560.
The Hommage's overall performance in Multiplayer can be described as being similar to the performance of the Chevrolet 2016 Camaro SS. The Hommage competes best in Multiplayer 60-230 ranks higher than the Camaro SS (which competes at ranks 1330-1500). Compared to the Camaro SS, the Hommage has a higher upgrade rank weighting on raw top speed (dist. = 5/65/5/25), which is why it can only compete at higher ranks. However, the Hommage becomes faster than the Camaro SS where it is optimal. Apart from speed (at lower ranks) and nitro efficiency, the Hommage is superior to the Camaro SS in all other aspects, with superior drifting, handling and acceleration.
With a rank of 1560, the Hommage's main competition consists of other Hommages, the Vulcan, the SIN R1, and the MP4-25. The SLK SE and Camaro SS can also be competitors at this rank. The Hommage's minor competition at this rank consists of the Arrinera Hussarya GT, Chevrolet Corvette Grand Sport, Chevrolet Corvette C3, McLaren 675LT, Mercedes-AMG C 63 Coupe Touring Car 2014, Porsche 911 GT3 RS, Lamborghini Asterion, Lotus Evora Sport 410, Falcon F7, Mercedes-AMG GT3, Lamborghini Estoque, Holden Coupe 60, TVR Sagaris, and McLaren MP4/8.
With a rank between 1400 and 1500, the Hommage is inferior mainly to the Camaro SS and SLK SE but it is superior to most other competitors. With a rank near 1690, the Hommage is slightly inferior to the Vulcan, Hussarya GT and SIN R1; it also still competes with the SLK SE, Camaro SS and MP4-25. With a rank of 1773 (MAX+PRO), the Hommage is much less competitive; it can't compete with the Vulcan, Hussarya GT, MP4-25, MP4-31, Corvette GS, or SLK SE, the former 4 of which are commonly dominant in this rank range.
The Hommage can somewhat compete with the Lamborghini Aventador SV, Porsche 918 Spyder with Weissach Package, Arash AF10, Devel Sixteen Prototype Mosler Land Shark, TRION NEMESIS, SIN R1, Aston Martin Vulcan, and Icona Vulcano V12 Hybrid at MAX+PRO, but otherwise remains inferior to the likes of the Apollo Intensa Emozione and 2018 McLaren X2.
Optimal Tuning Setup
0200 5050 - Rank A1278

Speed = 404.1 km/h
+86 points in Upgrades, +115 in Pro Kits
This tune is slightly slower than the Cobra's notorious B1285 tune (409.3 km/h), but with the same case for the BMW M2, due to possessing superior drifting and thus being able to clear sharp curves much easier, it is capable of beating the Cobra at this rank on twisty tracks.

0300 5050 - Rank A1347

Speed = 432.4 km/h
+155 points in Upgrades, +115 in Pro Kits
This tune targets a wide range of Multiplayer-favored cars; the B1390 Sagaris tune (0500 5050), the A1339 Camaro tune (also 0300 5050), and in some cases, particularly short/twisty tracks, the A1285 SLK SE tune (0500 5050 E0800).

0400 5050 - Rank A1433

Speed = 289.4 mph (466.2 km/h)
+242 points in Upgrades, +115 in Pro Kits
This tune mainly targets the B1480 Sagaris tune (0505 5050) and the A1390 Camaro tune (also 0400 5050), but can be challenged by a Camaro tuned to 0500 5050 (A1450) or 0510 5050 (A1457).

0500 3050 - Rank A1509

Speed = 483.5 km/h
+345 points in Upgrades, +87 in Pro Kits

0500 5055 - Rank A1562

Speed = 310.0 mph (499.4 km/h)
+345 points in Upgrades, +140 in Pro Kits
From here up to around rank 1680, this is considered the threshold of the Hommage's 'most dominant' rank zone.

0500 5555 - Rank A1587

Speed = 311.3 mph (501.5 km/h)
+345 points in Upgrades, +165 in Pro Kits

0504 5555 - Rank A1680

Speed = 316.2 mph (509.2 km/h)
+438 points in Upgrades, +165 in Pro Kits

5505 5555 - Rank A1747

Speed = 317.6 mph (511.6 km/h)
+505 points in Upgrades, +165 in Pro Kits
Usage (Other)
The Hommage has some usage in Events, especially in events that feature the Hommage as the dominant car. It is also the best car by far in BMW-exclusive events.
The BMW counts towards the "Top Tier" collection, which awards a total of 4 Double Credits and
1,200,000 when both versions are completed. However, this collection is extremely difficult to complete owing to its requiring other rare cars like the W Motors Fenyr Supersport and Arash AF10.
It also counts towards the "BMW" collection, which awards a totoal of Tuning Kits and
675 000 when both version are completed.
Price
During a limited time offer, the Hommage costs

12,000.
Upgrades cost
856,900 +

8,995 or

13,925 with only

. The Hommage is one of the first cars in Asphalt 8: Airborne with

-only upgrades. It is recommended to use Free Class A upgrades on those specific upgrades; Level 3 + Level 5 top speed and nitro, and Level 4 + Level 5 acceleration and handling. The total number of

-only upgrades is 8.
Pro Kits require
1,389,900, 14 of each Class A Parts card, 4 Early & Initial Tech cards, 12 Mid-Tech cards, 8 Advanced Tech cards and 8 i6 engine cards.
Availability
Outside of its R&D event, the BMW 3.0 CSL Hommage was available on the following dates:
May 2016
August 21-23 2016
March 24-27 2017
The BMW 3.0 CSL Hommage is the only exclusive car from the Elite Cars Update that cannot be assembled with Blueprints.
Research & Development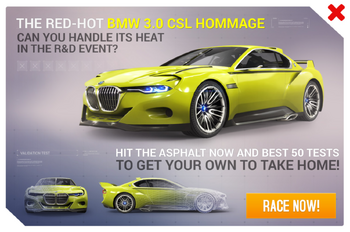 Main article: Research & Development/BMW 3.0 CSL Hommage
The BMW Hommage's R&D was first launched on March 31, 2016. It was revived on March 3, 2017, after the McLaren MP4/8's Championship and again on January 19, 2018, after the BMW S 1000 RR's R&D.
The BMW 3.0 CSL Hommage now appears as a low Class C car.
Starting rank: 889
1* Max rank: 1,181
2* Max rank:
3* Max rank:
The BMW 3.0 CSL Hommage requires 20 blueprints to be assembled, an additional ? blueprints to reach 2 stars and ? to reach 3 stars. A total of
, ? Common Import Parts and ? Class Parts are required for upgrades.
This section of an article is missing some information. Please try to add some relevant content.