The BMW M1, formally known as BMW M1 (E26), is a mid-engined sports car made by BMW.
Description
The BMW M1 (E26) is a sports car produced by BMW from 1978 to 1981.
The M1 coupe was hand-built between 1978 and 1981 under the Motorsport division of BMW as a homologation special for sports car racing. The body was designed by Giugiaro, taking inspiration from the 1972 BMW Turbo show car. Originally, BMW commissioned Lamborghini to work out the details of the car's chassis, assemble prototypes and manufacture the vehicles, but Lamborghini's financial position meant that BMW reassumed control over the project in April 1978, after seven prototypes were built. Only 453 production M1s were built, making it one of BMW's rarest models.
Of the 453 produced, 20 were race versions created for the BMW M1 Procar Championship.
It employed a twin-cam M88/1 3.5L (3,453 cc) naturally aspirated 6-cylinder petrol engine with Kugelfischer mechanical fuel injection. The engine had six separate throttle bodies and four valves per cylinder in the street version, giving a top speed of 162 mph (261 km/h). Turbocharged racing versions were capable of producing around 850 hp (634 kW).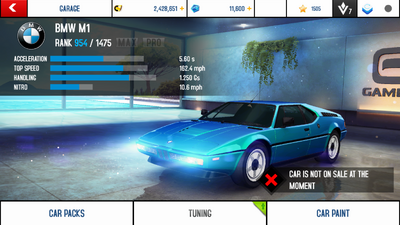 The BMW M1 was added in the Tenerife Update as a mid-range Class C car meant to compete with the Lotus Exige S Coupe and SRT 2013 Dodge Challenger SRT8.
The M1 has a starting rank of 954, a MAX rank of 1290, and a MAX+PRO rank of 1475. It receives a bonus of +61 from Tuning Kits.
The BMW M1 can be described as a mid-range Class C version of the Lamborghini Countach 25th Anniversary in terms of overall performance, with poor acceleration, low-power/efficiency nitro, average handling (also for drifting), and a huge emphasis on top speed.
The BMW M1 costs
375,000 to purchase and
797,700 to max out (same as the Range Rover Evoque Coupe HSE Dynamic). The BMW M1 is mostly a novelty item due to its lack of performance advantages over many cars in its class, as even the Range Rover Evoque Coupe HSE Dynamic is a much better buy for a much lower price and the M1's uselessness in Multiplayer is raised by its abysmal all-round stats. In Events that only involve the Ferrari 308 GTS, Lamborghini Countach 25th Anniversary, Ferrari Testarossa, and BMW M1, the M1 is the best choice due to not requiring a huge amount of Legendary engine cards for its Pro Kits, as well as having a higher total speed than the former three cars. Despite its status as a novelty item, the M1 does contribute to three collections, making it far from the most useless car in the game. It counts towards the Hot Summer, Retro, and BMW collections.
Availability
Prior to the Lunar New Year 2017 Update, the BMW M1 had always been available for purchase since July 10, 2015, after its pre-release cups were held during the Tenerife Update. It was changed into a time-limited car, available only for purchase between February 19, 2017 and February 25, 2017. However, the change to time-limited car status does not seem to occur on Windows players, who could purchase the car even after February 25, 2017.
The car was given out as a Daily Bonus reward in April 2017 for 28 days of consecutive logins.