The BMW M2 Coupé (F87) is the flagship model of the BMW 2-Series.
Description
Edit
In October 2015, BMW revealed the new flagship 2-Series, the M2. It is an indirect successor to the 1-Series M Coupé. The M2 Coupé will begin production in late 2015 and go on sale in the UK in April 2016, and its world debut was at the 2016 North American International Auto Show in Detroit. The car is powered by the BMW N55 engine, tuned for 370 PS (272 kW; 365 bhp). With the 6-speed manual gearbox, the M2 will accelerate from 0 to 100 km/h (62 mph) in 4.5 seconds, or 4.3 seconds if equipped with the 7-speed DCT automatic. The top speed is electronically limited to 250 km/h (155 mph), but the limiter can be raised to 270 km/h (168 mph) as an option. Although a convertible M2 is rumored for production, only a coupé variant has been confirmed.
The BMW M2 Coupé, renamed to simply BMW M2, was added in the Championship Update.
The BMW M2 is a mid-high-end Class C Elite Car with a starting rank of 932 (shared with the Honda S2000), a MAX rank of 1304 and a MAX+PRO rank of 1505 (shared with the Villain Wheels).
With a 0808 [-4+4-4+4] Elite configuration, the BMW M2 has a rank of 1522. The BMW M2 receives +67 ranks from Tuning Kits, the same as the Shelby Cobra 427 from Class B.
Performance Edit
Within its class, the BMW M2 has very high total/raw top speed, decent nitro, very good nitro efficiency (5/10/15), decent acceleration, decent drifting, and poor handling. It can be counted as a high-end Class C car by its increased performance, caused by its low starting rank and Elite status.
Main article: BMW M2/Tuning
Due to its low starting rank, large Tuning Kit bonus, moderately low rank-weighting on raw top speed (40%), and Elite status, the BMW M2 can become very good in Multiplayer races. The BMW M2's total upgrade rank distribution is 10/40/20/30. Therefore, Drivetrain is more efficient to upgrade than Tires.
The BMW M2 achieves a speed of around 223.5 (360 km/h) at rank 1100-1110, a speed of around 236 mph (380 km/h) at rank 1180, and a speed of 246.7 mph (397.3 km/h) at rank 1256.
At rank 1090, it is believed that the BMW M2 can already achieve a faster speed than the Range Rover Evoque Coupe HSE Dynamic if tuned correctly.
At rank 1180, the BMW M2 is only slower than the Mercedes-Benz SLK 55 AMG Special Edition.
At rank 1256, the BMW M2 is slightly slower than the Shelby Cobra 427.
Main article: BMW M2/Multiplayer Strategy
The BMW M2 mainly competes with itself between ranks 1100 and 1180. Between ranks 1180 and 1220, it starts to compete with the Shelby Cobra 427.
At rank 1256, the BMW M2's primary competition is Shelby Cobra 427s and other BMW M2s. Despite being slightly slower and possessing slightly worse acceleration than the Cobra, the BMW M2 can still be a very strong competitor due to its excellent drifting and nitro efficiency.
The BMW M2 can be used as a "sniper" car, in order to reliably target skilled Cobra users on difficult maps, such as Sector 8, Tenerife, Iceland, Azure Coast, and the Dragon's Den. The BMW M2 can also be used without an Extra Tank, which partially makes up for its inability to be used more than 3 or 4 times in a row, before breaking down due to its Elite Status.
The BMW M2's utility as a situational "guaranteed win car" can allow it to gain very high amounts of rating points, despite its Elite Status limitation. This is how the BMW M2 is able to reliably achieve a rating of over 2100 points, with this setup, and possibly a rating of over 2200 points if it is used often enough, despite seeming to be almost completely inferior to the Shelby Cobra 427. In fact, it is more difficult for the Shelby Cobra 427 to achieve a rating over 2100 or 2200 points.
The BMW M2 can become quite fast with a MAX + PRO + 0808 ET setup, being around as fast as the Mitsubishi Eclipse. It is also the top car in the mid Class C TLE bracket, beating the Mercedes-Benz SLK 55 AMG, Acura NSX 2005, SRT 2013 Dodge Challenger SRT8, and Jaguar F-Type R. However, most people prefer to Multiplayer tune the BMW M2.
Tune-ups cost
1,750 and take 2 hours to complete.
The car costs

2,150 to purchase. As of the Car Blueprints Update, the BMW M2 is assemblable with 30 BMW M2 BP cards. The BMW M2 costs
1,338,700 to MAX and
622,850 to PRO. It uses 8 Mid-Techs and 4 i6 Engine cards in its PRO upgrades.
The car was given away for free in the Holiday Cup or Giveaway Cup to those who played every day in the cups and achieved all 21 trophies.
The car was given away to players who came third in any race + finished in the top 7000 + achieved 5000 total points in the 2017 Asphalt 8 Anniversary Cup 3-days long multiplayer event.
The car was given away in January 2018 as a reward for 14 consecutive days of log-ins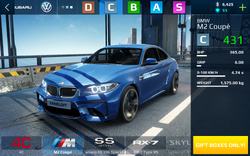 The BMW M2 Coupé appears in Asphalt Streetstorm as a Class C car purchasable for 460 Diamonds.
This section of an article is missing some information. Please try to add some relevant content.
Ad blocker interference detected!
Wikia is a free-to-use site that makes money from advertising. We have a modified experience for viewers using ad blockers

Wikia is not accessible if you've made further modifications. Remove the custom ad blocker rule(s) and the page will load as expected.