BMW M3 Sedan [F80]


Car information
Manufacturer

BMW

Country of origin

Germany

Also known as

BMW F80 M3

Year

2014

Transmission

7-speed M-DCT

Drive type

RWD

Engine

3.0 L S55 twin turbo I6

Power

431 HP [317 KW,425 BHP] @ 5500 RPM

Torque

406 lb-ft (550 Nm) @ 1850–5500 RPM

Weight

3,516 lbs (1,595 kg)

Acceleration
(0-60 mph or 0-100 km/h)

4.1 sec

Top speed

155.3 mph (250.1 km/h)

Asphalt appearances
Related to

N/A
The BMW M3 Sedan is a Class D car in Asphalt 8: Airborne. It is the replacement of the BMW M3 (E90).
Overview
Edit
The BMW M3 is the high performance version of the BMW 3 Series compact executive car.
As of the sixth generation of the BMW 3 Series, with the coupé and convertible versions spun-off into the BMW 4 Series, the BMW M3 nameplate now only refers to the sedan with its chassis code (F80). The BMW M4 coupé and convertible, with chassis code (F82) and (F83) respectively, share the same powertrain and mechanical components as the BMW M3. These are the successors to the BMW M3 (E90/92/93) sedan/coupé/convertible.
The BMW M3 Sedan costs

950 to purchase and
2,059,330 to max out, making it the fourth most expensive D class car that costs tokens (after the NanoFlowcell QUANTINO's

975, Mitsibishi Lancer Evolution X's 1,000, and the Mazda RX8's 1,100, and the most expensive Class D car to max out in the Tenerife Update. It has a starting rank of 909 (same as the Mercedes-Benz SLS AMG Electric Drive from Class C), a maximum rank of 1180 and a final rank of 1343. When tuning kit active its rank is increased to 1399, nine points more than the Renault DeZir at 1390. The BMW M3 Sedan is nearly useless, now that it's ben superseded by other supeior cars such as the Mazda 6 and Subaru Impreza WRX STI. However, the M3 Sedan has some use in multiplayer, if tuned properly, it can compete with the Mitsubishi Lancer Evolution X or even the Honda S2000. One, however, must be careful of its low nitro efficiency, which will be a problem on long tracks such as Tokyo or Monaco.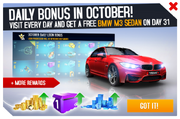 This car was given out as a free prize in the Halloween 2015 Bats Cup, provided the player participated in all the races and finished them all. It was also given out for free for 31 consecutive days of logins in October 2016. However, if players already owned the car prior to October's Daily Bonus reward, they were to instead be given
31,000
as compensation.
The BMW M3 Sedan's competitors are the Citroen Survolt, Mitsubishi Lancer Evolution X, and the Mazda 6.
The BMW M3 Sedan qualifies for the following events:
Race 98 of Season 9 — a single-lap Classic event set in Mount Teide. This event requires a maxed out BMW M3 Sedan in order to participate. The bonus stars are: Beat a Race Time of 01:33:000 and Beat a Race Time of 01:31:000.
Ad blocker interference detected!
Wikia is a free-to-use site that makes money from advertising. We have a modified experience for viewers using ad blockers

Wikia is not accessible if you've made further modifications. Remove the custom ad blocker rule(s) and the page will load as expected.