The BXR Bailey Blade GT1 is a track-tuned supercar made by BXR Motors.
Summary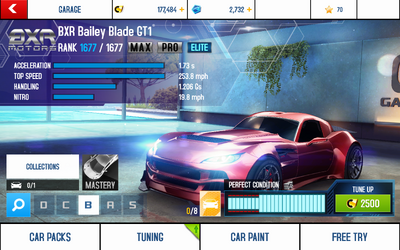 The BXR Bailey Blade GT1 was added in the Rio de Janeiro Update as a high-end Class B car with the following statistics:
Starting rank: 1540
MAX rank: 1621
MAX+PRO rank: 1677
0808 Elite Tuning rank: 1678
Tuning Kit bonus: +20
Stock to MAX+PRO rank difference: 137
Upgrade rank percentages: 15/55/15/15
Nitro Efficiency: 10/15/20
The BXR Bailey Blade GT1 rivals the Lotus Evora Sport 410 and Falcon F7.
Performance
The BXR Bailey Blade GT1 has a very high raw top speed and a reasonably high total top speed. Due to its low Tuning Kit bonus, however, the Bailey Blade isn't very fast with a low-ranked configuration.
The Bailey Blade's speed is acceptable, only just below the Lotus Evora Sport 410 and Falcon F7. However, all three cars cannot compete with the Lamborghini Estoque, TVR Sagaris, Holden Coupe 60, Ferrari GTC4Lusso, Mercedes-AMG GT3 and BMW M2 Special Edition. Additionally, the McLaren MP4/8, which is slightly slower than all of these cars, can defeat most of them, due to its extreme acceleration.
The Bailey Blade has very good handling and drifting, similar to the RUF CTR 3's. However, the Bailey Blade suffers from poor acceleration and a very low nitro efficiency.
Usage
The BXR Bailey Blade GT1 is not extremely competitive in Multiplayer or TLEs due to the dominance of the Audi R8 e-tron Special Edition and Apollo Intensa Emozione.
Despite the Bailey Blade's status as a collector's item, it does, however, count towards the Gran Turismo collection which awards a total of 35 Tuning Kits and
1,000,000
Price
The BXR Bailey Blade GT1 had an original buying price of

6,400 during a limited offer. As of the Car Blueprints Update, the Blade is available after getting 8 of its blueprints.
Upgrades cost
2,237,500 while Pro Kits require
950,800 13 of each Class B Parts card, 8 Early & Initial Tech cards, 12 Mid-Tech cards and 8 FIV8 engine cards. Assembling the Bailey Blade takes 8 hours but can be skipped for

353.
Enduro Double Down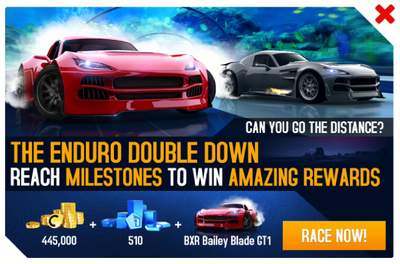 Main article: Enduro Double Down/BXR Bailey Blade GT1
The BXR Bailey Blade GT1's EDD was first launched on August 26, 2016 after the W Motors Fenyr Supersport's R&D. Players are given 7 days to start and 11 days to complete the event.
The event was subsequently revived on July 12, 2018 as part of the Asphalt Moments Series.