The Bentley EXP10 Speed 6, also called the Bentley EXP 10 Speed 6 Concept, is a future supercar concept by Bentley due to enter production between 2018 and 2020, in both coupe and roadster versions, with an all-electric version using a similar powertrain to the Porsche Mission E.
Description
The Bentley EXP10 Speed 6 was officially unveiled on March 2, 2015 at the Geneva Motor Show.
Bentley Chairman and CEO, Wolfgang Durheimer, comments:
| | | |
| --- | --- | --- |
| " | The EXP 10 Speed 6 is one vision for Bentley's future - a powerful, exquisite and individual concept. The show car has the potential to be the new pinnacle luxury two-seat sports car. It offers thrilling, driver-orientated performance, complete with trademark modern Bentley luxury and effortlessness. | " |
| | | |
As Autocar.co.uk states, the concept is powered by a hybrid powertrain with a V6 engine but Bentley hasn't given any details. Production versions are likely to be powered by a reconfigured version of the 500 bhp Audi-sourced twin-turbocharged 4.0-litre V8 used in other Bentleys (such as the Bentley Continental GT V8). The car has been packaged to accommodate both a standard V8 and a plug-in hybrid. The battery weight means that a production version of a plug-in hybrid would weigh around 4,409 lbs (2,000 kg).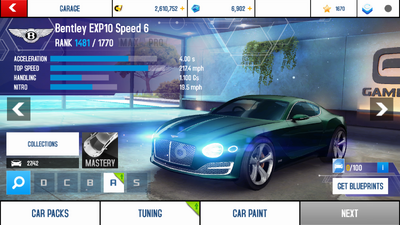 Added in the Research & Development Update, the Bentley EXP10 Speed 6 is the second Class A car of the update. Here, its weight has been significantly reduced by 1676 lb (760 kg) to allow it to compete with other cars in its class.
The Bentley EXP10 Speed 6 is a high-ranked Class A car, given its starting rank of 1481 (shared with the Ferrari LaFerrari), a MAX rank of 1659, and a MAX+PRO rank of 1770. The car receives a Tuning Kit bonus of +39 rank points. Its main rivals are the Koenigsegg One:1, Ferrari 330 P4, McLaren 675LT, and Mosler GT3.
Unrealistically, considering its actual curb weight of 4101 lb (1860 kg), the Bentley EXP10 Speed 6 is among one of the fastest-accelerating/launching Class A cars, with acceleration/launch power appearing to match those of the Savage Rivale GTR and Shelby Cobra 427. In fact, it already accelerates faster than the Ferrari 330 P4 and Mazda RX-8, and it also accelerates a lot faster than the McLaren 675LT, Lamborghini Aventador LP 700-4, and (obviously) the Cadillac 16 Concept. This is because the in-game car now has a weight of 2425 lb (1100 kg). Given its nitro stat, it also has long-lasting nitro (6/12/16), even if it certainly isn't the longest-lasting in the game. However, owing to its extreme weight, the EXP10 Speed 6 is a bad-handling/drifting car, albeit not the worst-handling car in the game, but the car otherwise has a decent top speed stat, better than that of the RUF RT 12 S. The Bentley EXP10 Speed 6 is a car intended for tracks without excessively difficult curves, but still struggles against the Mosler GT3 and BMW 3.0 CSL Hommage due to the former's overall superior stats (sans acceleration) and the latter's highly superior total speed and handling.
On simple tracks like French Guiana and the Alps, the Bentley EXP10 Speed 6 can gain lap times equal to, if not better than the McLaren 675LT and Koenigsegg One:1. On the other hand on long and/or technical tracks, it gains lap times only better than the Sbarro Alcador due to having subpar handling and lower top speed than most of the other high-end Class A cars.
The Bentley EXP10 Speed 6 previously cost
1,450,000 for purchase. As of the Porsche Update, it can now be assembled for 100 Common Bentley EXP10 Speed 6 BP cards. It is the twelfth car to be released as a Multiplayer League reward, and is part of the twelfth Multiplayer Season, Burnout Season, which started on August 3, 2017. Players who finish in the Elite League will get all 100 BP cards. 72 of its BPs are also awarded in Moto Blitz Season 12: Superbike Series Asphalt 8: Airborne/Moto Blitz/Season 6.2: Techno Cruise and Asphalt 8: Airborne/Moto Blitz/Season 13: Wild Rush as of the 2018 Spring Update. The first Class A car to cost more than
3,000,000 for maxing out, it is priced at
3,088,550 for total upgrades. Pro Kits cost
1,540,000.