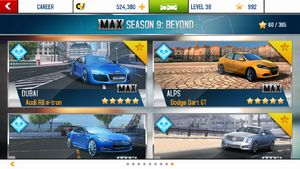 Main article: Asphalt 8: Beyond (Career Mode)
The Beyond season in Asphalt 8 is the ninth and final season in the game and is exclusively for maxed out cars. There are a total of 475 stars (285 podium finish + 190 Bonus Stars) in the season and this is the only season in the game to involve every car in the game. The 95 races (29.4% of all 323 Career Mode races) in the Beyond season also award a much bigger amount of credits than normal races about 15,000 to 20,000 and then 4,000 to 5,000 for re-playing the track. This season is excellent for getting credits if combined with the daily bonuses in the game. Each of the races also consists of only 1 lap and 6 racers that have the same maxed out car.  
Ad blocker interference detected!
Wikia is a free-to-use site that makes money from advertising. We have a modified experience for viewers using ad blockers

Wikia is not accessible if you've made further modifications. Remove the custom ad blocker rule(s) and the page will load as expected.