The Bugatti Veyron 16.4 Grand Sport Vitesse, also known as the Bugatti Veyron Vitesse, is an upgraded version of the Bugatti Veyron 16.4 Grand Sport with the Super Sport's engine. It is currently the fastest roadster in the world, with a top speed record of 254.04 mph (408.84 km/h), achieved in 2013.
Overview
Edit
Unveiled at the 2012 Geneva Motor Show, the Bugatti Veyron 16.4 Grand Sport Vitesse is a version of the Grand Sport with a Super Sport engine. The engine, an 8.0L quad-turbocharged W16, produces 1184 hp (883 kW) at 6,400 rpm and 1106 ft·lb (1500 N·m) at 3,000-5,000 rpm. Pricing starts at US$1.9 million (without tax and transportation).
The Vitesse can do 0-60 mph in 2.5 seconds and reach a top speed of 254.04 mph (408.84 km/h), verified by Chinese racing driver Anthony Liu at Volkswagen Group's proving grounds in Ehra-Lessien, Germany[1]. On normal roads, the car is electronically limited to 233 mph (375 km/h).
Weighing at most 4387 lb (1990 kg), the Veyron Vitesse has a power-to-weight ratio of 595 hp per tonne or 3.71 lb/1.68 kg per tonne.
A number of special editions of the Vitesse were made. The Vitesse SE, inspired by Bugatti Type 37A, was unveiled in 2012 and sold for €1.74 million (US$2.2 million). The World Record Car (WRC) Edition was limited to 8 units, debuted in 2013, and went on sale for €1.99 million.
In 2013, Bugatti produced a series of Vitesses dedicated to racing legends, including Jean-Pierre Wimille, Jean Bugatti, Meo Costantini, and Ettore Bugatti.
The Bugatti Veyron 16.4 Grand Sport Vitesse, curiously renamed to Bugatti 16.4 Grand Sport Vitesse for unknown reasons, appears as the third highest-ranked original car in Class S.
With a starting rank of 1521, a MAX rank of 1633, a MAX+PRO rank of 1707, and a low Tuning Kit bonus of +26 rank points, the Bugatti Veyron 16.4 Grand Sport Vitesse best identifies as a low-end Class S car.
The Bugatti Veyron 16.4 Grand Sport Vitesse's performance is greatly hampered by its poor acceleration, similar to the Chevrolet 2016 Camaro SS (although the Camaro SS performs far better than the Veyron). However, strangely despite what its weight would warrant of its handling, the Veyron actually handles and drifts really well, a trait common to the seven original Class S cars. Another big downfall of this car is its nitro that not only is low power, but also a quickly draining one (9/14/19). The Ferrari FXX Evoluzione is still seen as a better alternative to the Veyron, although the TVR Sagaris also manages a similar speed but with more efficient nitro and worse handling. The Veyron's display speed multiplier is 91.46%.
The Bugatti Veyron 16.4 Grand Sport Vitesse costs
225,000 and
417,500 to purchase and max out, respectively. The car requires 36 W16 Engine cards for its Pro Kits.
The Veyron Vitesse is considered one of the worst cars in the game due to its heavily disappointing performance, as well as the high difficulty of obtaining W16 Engine cards, let alone 36 of them. The Veyron is also lacking in terms of Car Mastery rewards. It also has an extremely low usability factor in Multiplayer and Events, as there are far better cars like the Koenigsegg One:1 and even the Holden Coupe 60.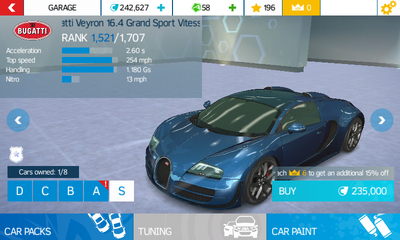 The Bugatti Veyron 16.4 Grand Sport Vitesse is featured in Asphalt Nitro as a Class S car. This time, though, while relatively unchanged from its Asphalt 8: Airborne rendition (aside from the color choices), its name is now correctly displayed as Bugatti Veyron 16.4 Grand Sport Vitesse.
The car costs
235,000.
The Bugatti Veyron 16.4 Grand Sport Vitesse was the cover car of Asphalt Nitro during its beta version.
References
Edit
Ad blocker interference detected!
Wikia is a free-to-use site that makes money from advertising. We have a modified experience for viewers using ad blockers

Wikia is not accessible if you've made further modifications. Remove the custom ad blocker rule(s) and the page will load as expected.