Description
The 2013 Buick Riviera Concept was unveiled in the 2013 Shanghai Motor Show. It is the second concept design of the original Riviera Concept in 2007, both being developed by the Pan Asia Technical Automotive Center (PATAC). It had gull-wing doors and a plug-in electric driveline.
Summary
The Buick 2013 Riviera Concept, erroneously shortened just to Buick Riviera, is a high-end Class C car added in the Fall Out Boy Update, with the following rank statistics:
Performance
The Buick Riviera has mediocre acceleration, handling, drifting coupled with an above-average, and great top speed. It does, however, have a very good nitro duration of 6/10/14.
Despite being a top-end C Class car, the Buick Riviera is still outclassed by a few cars and also inferior in all aspects to the Sbarro Sparta.
The Riviera's starting rank allows it to be Multiplayer tuned to be a serious competitor against the TVR Sagaris, BMW M2, Shelby Cobra 427, BMW M2 Special Edition and Chevrolet 2016 Camaro SS. The latter is only on technical tracks such as Dubai and Sector 8
0504 5050 (1274) - 250 mph speed w/ Tuning Kit
0505 5050 (1293) - 253 mph speed w/ Tuning Kit
2535 4353 (1386, Humanny's tune) - 253 mph speed w/ Tuning Kit. This may seem over-ranked, but prevents the risk of getting matched with an Audi R8 e-tron Special Edition.
While competitive, the Buick Riviera is outclassed by the likes of the Sbarro Sparta, Mercedes-Benz CLA 45 AMG Racing Series and Renault Alpine Celebration but would be the best choice in Buick-only TLEs.
Price
The Buick Riviera is neither purchased with credits nor tokens or assembled with Blueprints. It only can be obtained through the completion of its Championship event.
Upgrades cost
1,193,500 while Pro Kits require
696,050, 11 Class C Parts cards, 10 Early & Initial Tech cards, 8 Mid-Tech cards and 8 Electric Engine cards.
Mastery
Main article: Car Mastery/Buick Riviera
Championship
Main article: Championship/Buick Riviera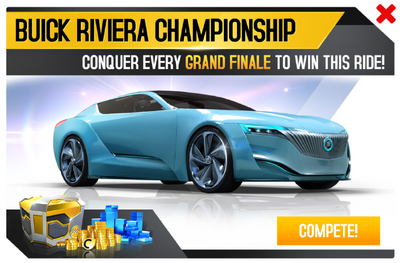 The Buick Riviera's Championship was released as the 19th Championship event after the Yamaha FZ-10's Enduro Double Down on March 31, 2018. Players are given 4 days to start the event and 7 days to complete it.