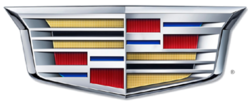 Cadillac is an American car manufacturer and a division of GM (General Motors). Cadillac is currently the second oldest American automobile brand following fellow GM marque Buick and is among the oldest automobile brands in the world. Cadillac was founded from the remnants of the Henry Ford Company in 1902, almost 9 years before Chevrolet was founded.
Overview
Edit
In the Asphalt Series, it is featured on Asphalt 7 Heat and Asphalt 8 Airborne and has 5 cars overall.
Tier 4 Cars
Tier 5 Cars
Class D Cars
Class C Cars
Class A Cars
Class S Cars
Ad blocker interference detected!
Wikia is a free-to-use site that makes money from advertising. We have a modified experience for viewers using ad blockers

Wikia is not accessible if you've made further modifications. Remove the custom ad blocker rule(s) and the page will load as expected.