The Cadillac ATS-V Coupe is a two-door high-performance version of Cadillac's ATS sedan.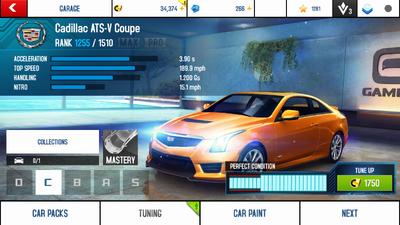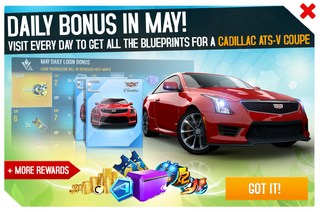 The Cadillac ATS-V Coupe was added to the game on the 2016 Rio de Janeiro Update, alongside 6 other cars.
It is the first Cadillac coupe/production car to be added to the game. This is in contrast to the Cadillac 16 Concept, which is a luxury super sedan concept added in the Research & Development Update back in September 2015.
An Elite Car, the Cadillac ATS-V Coupe is placed at the 1500+ category of Class C, with a stock rank of 1255, a MAX rank of 1409, a MAX+PRO rank of 1510, and a Tuning Kit bonus of +36 rank points. At default Elite Tuning, its main rival is the Jaguar F-Type R. On the other hand, with a 0808 Elite Tuning, the car performs similarly to the Nissan GT-R (R35).
Tune-ups cost
1,750 and take 1.5 hours to complete.
The Cadillac ATS-V Coupe requires 25 blueprints to be assembled, it costs
1,435,975 /

10,305 to max out. Prior to Car Blueprints Update it was priced at
250,000 or

2,050.
The Cadillac ATS-V Coupe is a Daily Bonus reward for 25 consecutive days of log-ins in May 2017, and 30 consecutive days of log-ins in January 2018. Unlike other cars, all 25 of the ATS-V Coupe's Blueprints are rewarded.
Ad blocker interference detected!
Wikia is a free-to-use site that makes money from advertising. We have a modified experience for viewers using ad blockers

Wikia is not accessible if you've made further modifications. Remove the custom ad blocker rule(s) and the page will load as expected.