The Chevrolet Camaro Z/28 (1968) is a classic muscle car that was produced as part of the first generation Chevrolet Camaro.
Description
The 1968 Chevrolet Camaro Z/28 is powered by a 5.0L (4,958 cc; 302 cu in) naturally aspirated Z28 V8 with a power output of 350 hp (261 kW) and a torque output of 290 ft·lb (393 N·m).
While the Z/28 variant was previously available as a track-only car during the 1967 production run, Chevrolet's Special Production Division came up with an ingenious plan to make the Z/28 available for public road use. They had to convince Chevrolet's General Manager Pete Estes to allow a production run by first building a road-ready Z/28 for him to drive. But the General Manager only drove convertible vehicles, and the Z/28 was never produced as a convertible. A Central Office Production Order (COPO) was placed for the only Z/28 convertible Camaro ever created. The car was placed in the executive garage which Pete Estes had access to. Upon driving the vehicle, he promptly gave approval for production of the Z/28. A 1968 Z/28 famously competed in the 1971 British Saloon Car Championship at Crystal Palace in a three-way battle for the lead, a race which was later featured in the BBC's 100 Greatest Sporting Moments.
7,199 1968 Chevrolet Camaro Z/28s were produced.
Summary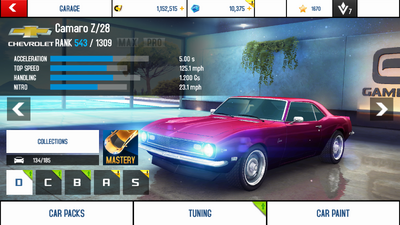 The [1968 Chevrolet] Camaro Z/28 is the second oldest Chevrolet car in Asphalt 8: Airborne, after the 1967 Chevrolet Impala, and the oldest Chevrolet Camaro in the game.
The Camaro Z/28 was added in the Car Mastery Update as a Car Mastery Reward. It is the first vehicle of four to be unlocked in this way; if not unlocked, it is only visible in the inventory when choosing cars for Time Limited Events or via Collections.
The Camaro Z/28 is found in the middle of Class D, between the 1967 Chevrolet Impala and the Nissan 370Z.
The Camaro Z/28 has the following rank statistics:
Performance
The Camaro Z/28, similarly to the Renault CLIO R.S. 200 EDC, Volkswagen Beetle Turbo and Datsun 280Z (another Mastery Car in Class C), has stats greatly based on that of the Audi R8 e-tron. The Camaro Z/28 possesses a high nitro stat (but not as extreme as the Renault DeZir) and it features a decent top speed (higher than the Renault DeZir but lower than the Alfa Romeo MiTo GTA, for example). The Camaro Z/28 at first appears to be a purely nitro-based car. However, with a nitro efficiency of only 9/14/19, even worse than the Ford F-150, the Camaro Z/28 relies heavily on its top speed to keep its speed up without nitro. The Camaro Z/28 requires a lot of drifting (to gain nitro) and/or an Extra Tank to keep up with cars of better nitro efficiency. The Camaro Z/28 has an identical total top speed to the Renault DeZir when both are MAX + PRO with a Tuning Kit.
Compared to the Renault CLIO R.S. 200 EDC and Volkswagen Beetle Turbo, the Camaro Z/28 lacks handling but makes up for this with speed and acceleration. Compared to the SUBARU IMPREZA WRX STI, the Camaro Z/28 is slightly less efficient with nitro, while also having a slightly lower total top speed and poorer handling, but it has faster acceleration and tighter drifting.
Usage
The Camaro Z/28 is primarily designed for Multiplayer, with one of the biggest performance boosts with upgrades in the game. It has a large rank difference between default and MAX + PRO (543 to 1309), and possesses a very large Tuning Kit increase of 87.
The Camaro Z/28 can only compete in Multiplayer at a rank lower than 825, around the rank that the Renault DeZir stops becoming a Multiplayer King, and around the rank that the Porsche 959 starts becoming at least 9.3 mph (15 km/h) faster than all other competitors. At these ranks, it can challenge properly tuned Renault DeZirs when both are triple-boosted, while still being able to outrun many Renault DeZirs when just double-boosted (with non-optimal tunes or low experience, etc). Despite this, the Camaro Z/28 is still considered to be less effective than the Renault DeZir, as the Renault DeZir is much easier to obtain and possesses slightly higher total top speed at the same rank, as well as better nitro efficiency. The main stat allowing the Camaro Z/28 to outrun Renault DeZirs is its higher raw top speed stat, aided by excellent drifting.
Other competitors to the Camaro Z/28 are the Subaru Impreza WRX STI, Volkswagen Beetle Turbo, Mercedes-Benz GLC Coupe, Range Rover Evoque Coupe HSE Dynamic, and Ford F-150. The SUBARU IMPREZA WRX STI is a slight upgrade to the Camaro Z/28, with the player being able to have both cars Multiplayer-Tuned at different levels (Camaro Z/28 at rank ~700, SUBARU IMPREZA WRX STI at rank ~800, for example) to have similar results across different rank-divisions. The Volkswagen Beetle Turbo is also very similar to these two and can be used as a third variant of what is essentially the same car. The Mercedes-Benz GLC Coupe and Range Rover Evoque Coupe HSE Dynamic, while being decent cars, both accelerate and travel slower than the Camaro Z/28 and related cars at ranks 700-800, being only highly competitive past rank 1100, due to the presence of Porsche 959s across ranks 850-1050. Lastly, the Ford F-150 is partially competitive at rank ~800, but will generally be outrun by the Camaro Z/28 and related cars at this level; the Ford F-150 is a King at ranks 600-700 (triple-boosted).
Multiplayer-Tuning the Camaro Z/28
The theoretically most optimal tunes for the Camaro Z/28 are 0404 0000 (~rank 800-850) or 0303 0000 (~rank 700-750). The Camaro Z/28, even with an Extra Tank, needs to have an equal weighting of upgrades on top speed and nitro, as it relies very heavily on drifting when it has run out of nitro. A tune of 0303 2222 (rank 802), for example, places the Camaro Z/28's total top speed at around 183 mph (295 km/h) and its raw top speed at around 150 mph (241 km/h), with a Tuning Kit. Having an extra emphasis on nitro only increases the total top speed very slightly, while also removing the Camaro Z/28's main advantage over the Renault DeZir (and Porsche 959). PRO upgrades on the Camaro Z/28 are not recommended past 2222 if any are added at all.
When choosing games in Multiplayer with the Camaro Z/28, some better options are Sector 8, Venice, and San Diego Harbor; tracks where the Renault DeZir is at a huge disadvantage. Poorer options are Iceland, Tokyo, and Area 51. Laps should be kept to a minimum, as even an Extra Tank won't keep the Camaro Z/28 competitive after two laps on most maps, especially not on maps which lack air time (such as Azure Coast).
Usage (Other)
If one wishes to use the Camaro Z/28 in Time-Limited Events, they may not have much need for the car; being a Mastery Car, it is never featured in events specifically, unlike most other cars in Class D. It can be used as a regular Class D Time-Limited Event car, but there are many better alternatives, especially considering the high upgrade costs of the Camaro Z/28. The Camaro Z/28 is also non-existent as a starter's car, as it is already assumed that the player is past the beginner's stage if they have managed to obtain this car.
The Camaro Z/28 has a decent Season 9 farming race. It also offers boosters in its Mastery rewards, instead of Licenses (being a Mastery reward in itself; it doesn't give progress to other Mastery rewards). The Camaro Z/28 is found in two collections, Chevrolet and Retro.
The Camaro Z/28 has no Career event, although it shares the Chevrolet event with all other Chevrolet Cars. However, it and the Chevrolet Camaro GS are both the worst choices for this event; the Chevrolet Corvette C7 of Class A is an affordable car that is much more suitable for this event (and related events).
The Camaro Z/28 was one of the Enduro Cars for the 1967 Chevrolet Impala's canceled Enduro Double Down event.
Price
The Camaro Z/28 "costs"
300 to obtain. It also costs
766,450 to MAX and
920,950 to PRO. The Camaro Z/28 requires a hefty amount of Pro Kit Cards, including 15 of each Class D Parts card, 20 V6 Engines (contradicting the car's use of a V8), and 40 common-rarity Tech Cards, making it the Class D car that requires the most Pro Kit Cards.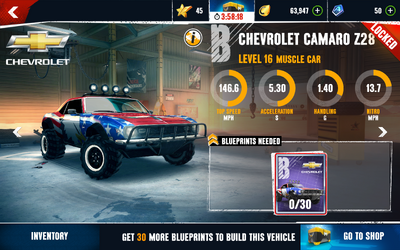 The Camaro Z/28 makes a reappearance in Asphalt: Xtreme as the Chevrolet Camaro Z28, in the Muscle Car category. Alongside the Chevrolet Camaro SS, it is one of two Chevrolet cars brought over from Asphalt 8: Airborne.
The Chevrolet Camaro Z28 is now a Class B vehicle and now features a bull-bar, roof-mounted light bar, and larger off-road tires and wheels.