The Car Mastery Update, also known as the Hot Summer Update or Mastery Update for short, is the v2.0.0 update of Asphalt 8: Airborne, which was released on July 13, 2015 for iOS, July 27, 2015 for Android, and August 10, 2015 for Windows and Windows Mobile. It added the Car Mastery game mode.
Announcement
The following text was published on the Apple Store:
Crank up the AC, because the summer wind's blowing a hot new update your way!
What's new:
New Cars
Class D
Class C
Class B
Class A
Class S
The new cars will need the following engine cards:
i4 Engine
V6 Engine
V8 Engine
Hybrid Engine
i6 Engine
Game Changes
Car Mastery added.
After a race, in the screen Race Reward where you see the credits earned, a new button was introduced to Replay the current race. When farming credits, this is useful to avoid loading the race overview and selecting the same race again, which results in a gain of approximately 10 seconds per race, depending of your device.
Metal Effects now available for Windows mobile devices/PCs. Graphics setting should be set to "Extreme" in order for the Metal Effects to show, but the "Extreme" graphics setting is available only on high-end devices/PCs.
The Citroën Survolt was renamed to DS Survolt.

Citroën has been changed to DS Automobiles. Despite this, cars with the DS Automobiles badge still show Citroën badges.

New engine card: i6 Engine.
Trivia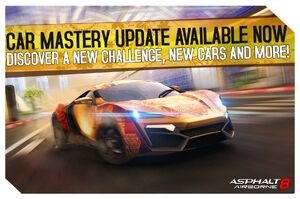 The app icon still features the Lamborghini Aventador LP 700-4; however, it has changed from yellow to red color with a racing stripes decal available for 43,000.
An advertisment stating that legendary engine cards such as the Forced-Induction V8 Engine, F6 Engine, V10 Engine, and V12 Engine cards would appear more frequently in Pro Boxes started to appear in-game. Some users reported that they saw an increase in such cards with the various pro kit boxes.
The Geely GC9 was released in this update instead.
First update since the Daily Bonus Update to introduce a new car with its own Speed Modification (in this case, the McLaren P1™ GTR has 95.90%).
This is also the last update where San Diego Harbor, Sector 8, and Tenerife were unselectable in Quick Solo Race.
Bugs
Abnormally Wide McLaren P1™ GTR Drift Radius: The McLaren P1™ GTR's drift handling was bugged, with a drift radius only slightly sharper than that of the Mercedes-Benz SLS AMG GT Coupé Final Edition. After numerous complaints about this issue, the drift handling bug was finally fixed in the Research & Development Update.
Distorted Mastery Overlay (iOS): On the iOS version of the game, there was a glitch with the pre-race screen in Car Mastery regarding the layer that shows the Challenge number and car name: it was distorted. Since the Research & Development Update, this has been fixed.