The sixth-generation Chevrolet Camaro SS (with "SS" standing for "Super Sport"), also known as the Chevrolet 2016 Camaro SS in the Asphalt series, is a sporty variation of the successor to the fifth-generation Chevrolet Camaro pony car.
The Chevrolet 2016 Camaro SS made its video game debut in the February 2016 Lunar New Year Update for Asphalt 8: Airborne.
Overview
Edit
Using the 6.2 L (6,162 cc) naturally aspirated V8 engine from the Chevrolet Corvette C7 Stingray, the Camaro SS makes 455 bhp (339 kW; 461 PS) @ 6,000 rpm and 455 lb·ft (617 N·m) of torque @ 4,400 rpm.
The new Camaro SS is capable of 0-60 mph in 4 seconds and a top speed of at least 165 mph (265 km/h).
The Chevrolet 2016 Camaro SS was added to the game in the February 2016 Monkey's Year Update.
The Camaro SS is a high-end Class A car. It ranks as one of the top ten fastest cars in Asphalt 8: Airborne, though it does have very bad acceleration, hindering its lap times greatly. The Camaro SS has a starting rank of 1136 (shared with the Lotus Evora Enduro GT from Class B), a MAX rank of 1585 and a MAX + PRO rank of 1771 (the seventh highest in Class A). The Camaro has the third largest Tuning Kit bonus in Class A, at +66 rank points. Via illegitimate methods, the Camaro's MAX + PRO rank can be uptuned to 1864, resulting in an unofficial maximum of 1930 rank points.
PerformanceEdit
As some sort of a departure from the trend of top-end Class A cars with great acceleration and nitro efficiency that was started with the Ferrari LaFerrari and McLaren P1, the defining characteristics of the Chevrolet 2016 Camaro SS is extreme top speed at the expense of slow acceleration and weak handling.
At MAX + PRO, the Camaro SS has dismal acceleration (~6.0 seconds with level-3 Nitro and a Tuning Kit) and mediocre handling. Similarly to its Class C cousin, the Chevrolet Camaro GS, the Camaro SS features a moderately wide drifting radius. The Camaro SS, however, has an extremely high total top speed to compensate for these downsides. The Camaro SS also has a very stunted raw top speed/nitro distribution, with its speed being primarily stored in raw top speed. This is unusual, given the fact that it also possesses a very good nitro efficiency of 7/10/15. Currently, the only other car in the game with an extremely small nitro statistic and an excellent nitro efficiency is the Mercedes-Benz Biome, a previous Asphalt 8: Airborne "king" from Class B.
Interestingly, even though the Camaro SS' tiny nitro seems to be completely useless, it is far from that. In fact, the Camaro SS can't even get past ~185 mph (~300 km/h) without the assistance of its seemingly insignificant nitro. For this reason, it is generally necessary to use level-3 nitro at the starting line in order to fully accelerate the car. This means that the Camaro SS heavily relies on Extra Tanks, even with its excellent nitro efficiency. Despite the peculiarity, the Camaro SS is popularly used for its excellent performance in Multiplayer, which is only possible with an extremely unbalanced rank vs speed distribution between its raw top speed and nitro statistics, along with its very low starting rank (and, as a result, its large Tuning Kit bonus).
Usage (Multiplayer)Edit
Main article: Chevrolet 2016 Camaro SS/Tuning
Due to its very unbalanced speed and rank statistics, the Camaro SS is the second fastest car in the game below a rank of 1500. Because of this, it is very popular as a Multiplayer Car.
The Camaro SS's extreme total top speed sets a very high benchmark for many other Multiplayer Cars. However, with its extremely bad acceleration and only mediocre handling/drifting statistics, the Camaro SS struggles to get around tracks efficiently, becoming very fast on straight sections of road, and very slow on twisty sections of road. This means that, despite being much faster than many competitors in Multiplayer, it can be beaten by these cars if it crashes, gets knocked down, bumps into walls too often, or if there are too many twists in the track. For this reason, the Camaro SS is closely rivaled by the TVR Sagaris, Holden Coupe 60, Lamborghini Estoque, and Shelby Cobra 427 below ranks 1400, and by the McLaren MP4/8, McLaren Mercedes MP4-25 and Aston Martin Vulcan between ranks 1500-1600, which all have much better acceleration.
The Camaro SS' biggest rival is the BMW 3.0 CSL Hommage, which is slightly slower (only at low ranks; in fact, it has a higher final speed at very high ranks) and has a less efficient nitro, but possesses slightly better handling, drifting, and acceleration statistics. Overall, both cars can be seen as equally competitive in Multiplayer, though the Hommage is slightly better, due to being easier to use. Notably, the Camaro SS only starts to fight Hommages regularly past a rank of 1500, due to the Hommage being best at that rank (also due to the car needing to be upgraded to complete its R&D event). The Camaro SS' best non-mainstream rival is the Mercedes-Benz SLK 55 AMG Special Edition. Below rank 1450, the Camaro SS will almost always lose to an SLK 55 AMG SE, even if the car is 100 ranks lower. However, the Camaro SS can have a fair game against an SLK 55 AMG SE at a rank of at least 1450. The SLK 55 AMG SE is very rare due to currently requiring 18 Legendary Blueprints to build and due to being obtainable only from two exclusive TLEs in the past (with the whole car being rewarded, not the Blueprints).
Usage (Other) Edit
While the Camaro SS is a good choice as a Class A TLE vehicle, it can't finish in an open Class A top 100. As such, a better choice is to use a lower-ranked (or higher-ranked) faster accelerating and better handling car.
The Camaro SS is not suitable for credits grinding as its Season 9 race is on The Secret Lab.
The Camaro SS isn't featured in Career Mode.
The Camaro SS rewards

200 through Car Mastery Challenge 10 (the rank cutoff is between 1450 and 1500). The Camaro SS counts towards the Top Tier collection
The Camaro SS costs

6,250 to purchase,
2,512,950 to MAX and
1,463,300 to PRO. The Camaro SS uses 12 Mid-Tech, 8 Advanced-Tech, and 16 V8 Engine cards in its PRO upgrades.
Between August 14-20, 2017, the Camaro SS was purchasable for
1,950,000 or

6,250.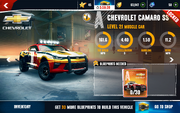 The Camaro SS, now shortened to
Chevrolet Camaro SS
is a muscle car in Asphalt: Xtreme. Similar to its
classic counterpart
, it has been modified for off-road use with a bullbar, roof mounted light bar, louvers over the rear window and off-road tires & wheels.
The Camaro SS requires 30 of its Blueprints to be built.
This section of an article is missing some information. Please try to add some relevant content.
Ad blocker interference detected!
Wikia is a free-to-use site that makes money from advertising. We have a modified experience for viewers using ad blockers

Wikia is not accessible if you've made further modifications. Remove the custom ad blocker rule(s) and the page will load as expected.