The Chevrolet Camaro GS is a concept racing car version of the Chevrolet Camaro made by Chevrolet in the Asphalt series.
Description
The Chevrolet Camaro GS is a concept racing car based on Mark Donohue's Camaro used in the Trans Am Racing Series. 
It is a reward of Career Cup 7 and is one of the fastest Tier 2 cars available in the game, tied with the Alutec Boost One. Surprisingly it is cheaper than cars like the Audi TT RS Coupé, at 130,000 Cash.
Summary
The Chevrolet Camaro GS is the fourth car in Class C and is one of the 10 original cars in Class C.
The Camaro GS has a low starting rank of 974, a MAX rank of 1212 (shared with MAX + PRO Mercedes-Benz SLS AMG Electric Drive) and a MAX + PRO rank of 1288. The Camaro GS receives a Tuning Kit bonus of +55.
Performance
The Camaro GS has a below average "triple-tap" launch speed of roughly 4.5 seconds (+Nitro Starter -Tuning Kit). However, the Camaro GS has an excellent nitro efficiency of 5/10/15.
The Camaro GS has higher raw top speed and total top speed statistics than the three cars before it. However, it cannot compete with the Ford Focus RS.
The Camaro GS heavily relies on its superior nitro efficiency and otherwise decent statistics to keep up with other cars around the same rank. The Camaro GS' nitro efficiency helps to compensate for its wide drifting radius and poor acceleration. The Camaro GS is a downgrade stats-wise from the Chevrolet 2016 Camaro SS from Class A, with similar advantages/disadvantages when compared to nearby cars. The Camaro GS doesn't suffer as badly from its downsides, though, because it is nowhere near as fast as the Camaro SS.
Usage
The Camaro GS competes as a starter's car for Class C. It is highly recommended because of its superior nitro efficiency.
The Camaro GS is featured in the Career Mode.
The Camaro GS is not very good for Multiplayer or Time-Limited Events. If on a budget, the Camaro GS is above average because of its nitro efficiency but is otherwise not recommended.
The Camaro GS has a Free Class C Upgrade at Mastery challenge 10. The Camaro GS is featured in three collections: U.S. Monsters, Drive in Style and Chevrolet.
The Camaro GS is an easy source of 
 because it is cheap to buy and upgrade.
Price
As of the Motorcycles Update, the Camaro GS costs
28,000 to purchase (originally
13,500, then
20,250),
267,250 to MAX and
40,090 to PRO. The Camaro GS doesn't use any rare/legendary cards or Engine cards in its PRO upgrades.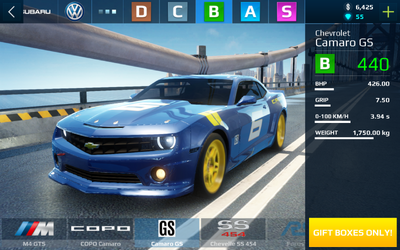 Availability
Performance & Usage
Similar to the Mercedes-AMG GT, while the Camaro is only obtainable from Gift Boxes, its performance is not worth its rarity.
This section of an article is missing some information. Please try to add some relevant content.