The Chevrolet Camaro GS is a concept racing car version of the Chevrolet Camaro made by Chevrolet in the Asphalt series.
Overview
Edit
The Chevrolet Camaro GS is a concept racing car based on Mark Donohue's Camaro used in the Trans Am Racing Series . 
It is a reward of Career Cup 7, and is one of the fastest Tier 2 cars available in the game, tied with the Alutec Boost One. Surprisingly it is cheaper than cars like the Audi TT RS Coupé, at 130,000 Cash.
The Chevrolet Camaro GS is one of eight Chevrolet vehicles in the game (three of which are hidden), with two of them being other versions of the Camaro. It's also one of the two Chevrolet vehicles that are a part of the original 46 cars (the other being the Chevrolet Corvette C7).
The Chevrolet Camaro lies between the Audi TTS Coupé and the Ford Focus RS.
The Chevrolet Camaro GS is the fourth car of Class C, falling into the lowest bracket. It has a starting rank of 974, a MAX rank of 1212, a PRO rank of 1050, and a final rank of 1288. The Chevrolet Camaro GS has a Tuning Kit bonus of +55.
Performance Edit
The Chevrolet Camaro GS has a relatively high top speed and total top speed, decent acceleration, decent handling, decent drifting, and an above average nitro-consumption rate of 5/10/15, on par with popular Multiplayer cars like the DS Survolt and Mercedes-Benz Biome. The long and large nitro stat assists the Chevrolet Camaro GS in its acceleration (launch) and total top speed.
The Chevrolet Camaro GS performs decently for a low-end Class C car. It is an overall upgrade to the Audi RS 3 Sportback, with worse handling but higher speed; it is also a straight upgrade to the Mercedes-Benz SLS AMG Electric Drive, thanks to its nitro giving it a faster acceleration, despite its actual acceleration stat being lower (however, the Electric Drive still has utility because it is able to compete in Electric Events).
The Chevrolet Camaro GS faces competition from the Audi TTS Coupé and the Ford Focus RS, with the latter being ~6 mph (10 kph) faster both when under nitro and without nitro, with both cars being fully upgraded. The Ford Focus RS also tends to be an upgrade in other areas but has a slightly shorter nitro duration. For this reason, the Ford Focus RS is an overall upgrade for Time-Limited Events involving the Amateur Class C bracket. Meanwhile, the Lotus Exige S Coupe (and others) offers better performance for a relatively cheap price, making it a great starter's car for Whole Class C Time-Limited Events.
The Chevrolet Camaro GS has decent performance in Multiplayer if tuned correctly (more speed upgrades). However, it loses against cars such as the Range Rover Evoque Coupe HSE Dynamic, Shelby Cobra 427 and BMW M2, meaning that this car can only competitively increase a player's rating to around 1300-1400 from 1000 (after less than 100 tickets).
The Chevrolet Camaro GS has decent usage for Career Mode, due to its low cost. It also has a race in Season 3.
The Chevrolet Camaro GS costs
13,500 to purchase,
213,800 to MAX, and
40,090 to PRO. It doesn't require any Engines or Mid-Techs because it only possesses three levels of each PRO upgrade.
Asphalt Streetstorm
Edit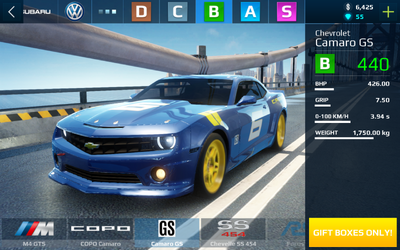 Ad blocker interference detected!
Wikia is a free-to-use site that makes money from advertising. We have a modified experience for viewers using ad blockers

Wikia is not accessible if you've made further modifications. Remove the custom ad blocker rule(s) and the page will load as expected.