Strange enough, in the game, the Chrysler ME412 does not sound like it is powered by a V12 engine of any sorts. Instead, it gains the V10 engine sound of the GTA Spano and Dodge Viper SRT10 ACR-X.

Inversely, the 2015 GTA Spano uses the "Ferrari V12" engine note despite having a V10 engine.

The Chrysler ME412 shares unique decal designs with the Audi RS 3 Sportback.
The Chrysler ME412 is the eighth Multiplayer League reward car, and is the first car that used to be able to be bought with tokens to be a Multiplayer League reward.

It is the first Premium car to be a Multiplayer League reward car.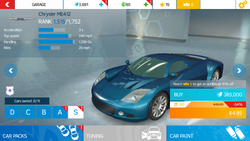 The Chrysler ME412's starting nitro stat is different from its Asphalt 8: Airborne rendition, thus giving it a higher rank.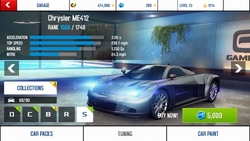 Ad blocker interference detected!
Wikia is a free-to-use site that makes money from advertising. We have a modified experience for viewers using ad blockers

Wikia is not accessible if you've made further modifications. Remove the custom ad blocker rule(s) and the page will load as expected.