Confederate is an American motorcycle manufacturer that was once featured in Asphalt Urban GT 2.
Overview
Edit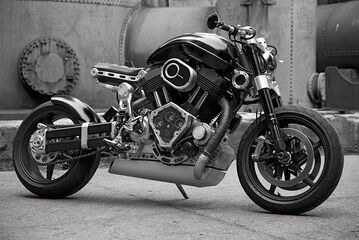 The company opened in Baton Rouge, Louisiana in 1991, and after a brief move to San Francisco, California, the next year, moved to a prototype shop in New Orleans, Louisiana, in 1993. The company's first motorcycle rolled off the production line there on November 11, 1994. Over 500 first generation Hellcat models were built from 1996 to 2001. After going bankrupt in 2001, Confederate recovered in 2003 and produced a second generation of Hellcats, about 75 total. After the severe factory damage in August 2005 by Hurricane Katrina interrupted production, Confederate moved its corporate headquarters and assembly operations to a building in downtown Birmingham, Alabama. Production resumed after the reorganization and move in early 2006, with an announcement in May of their $5 million expansion plans for production of a third, more affordable, model. The company has approximately twelve employees. Confederate Motor Co. sold 37 bikes in 2008 and anticipated the sale of 30 bikes in 2009, due to the recession. Even though Confederate's buyers are too rich to be affected by the economic downturn, company founder Matt Chambers said during the recession, "it was very fashionable to not be buying a high-end luxury product like ours."
In 2013 the company moved to a larger facility in Birmingham.
In 2007, the $92,000 B120 Wraith and F131 Hellcat took first and second place respectively in the AMD World Championship of Custom Bike Building show at the Sturgis Motorcycle Rally, in the production manufacturer category.
Ad blocker interference detected!
Wikia is a free-to-use site that makes money from advertising. We have a modified experience for viewers using ad blockers

Wikia is not accessible if you've made further modifications. Remove the custom ad blocker rule(s) and the page will load as expected.