Credits are the most commonly used currency in the Asphalt series, replacing the Cash used in Asphalt 7: Heat and being replaced by Dollars ($) in Asphalt Street Storm Racing.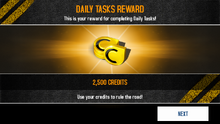 The only currency in the game until the inclusion of Tokens with the 2014 Winter update, Credits are a fundamental element of the game, being the primary way to purchase in-game objects without having to spend real money, since Tokens are much harder to obtain. Credits can be won by finishing races, winning Time-Limited Events, completing vehicle collections or purchasing credit packs. Credits earned at the end of races can also be increased by the Double Credits booster, completing Bonus Star Requirements and the Daily Bonus multiplier.
Items bought with Credits
Credit Packs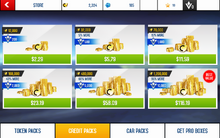 Credit packs are an in-app purchase that provides the player a set amount of credits in exchange for real money. While the price for a pack increases for a bigger payout, the larger packs are overall of more value as the player gains a larger amount for a reduced money → credits cost ratio. With the Rio de Janeiro Update, each credit pack will also award the player with VIP points for the VIP system.
Transferability with Tokens
There is no official conversion rate between credits and tokens in Asphalt 8: Airborne. A token is worth
138 on average and at the most,
312. This is only an estimate as the amount of in-game tokens received for an equivalent value of credits depends largely on what you purchased.
In general, the lower the credit/token ratio of the car price is, the more economical it would be to purchase the car with credits instead of tokens. Due to the scarcity and high value of tokens to most players, it is usually a better choice to purchase item with credits and save the tokens for other uses.
Obtaining Credits
While every race in the game (except for Quick Solo Race and failed Flawless races) has a Credits payout, the fastest method of earning credits is with Season 9: Beyond or Car Mastery Challenge #14/#15 events, preferably on short tracks such as San Diego Harbor, Alps, Dubai, Rio de Janeiro, Munich Subway, and some layouts of The Great Wall. Listed below are the currently most proficient cars at Credits-grinding at Challenge 15.
Car
Track
Race Type
Base Payout (

)
Avg. Race Length (s)
Avg.

per Hour
McLaren MP4-31
Dubai
Flawless
6,300
44
365,625
Weber Faster One
The Mirage
Flawless
6,000
46
338,182
McLaren 675LT
Dubai Reverse
Unplugged
6,085
47
337,702
Pagani Huayra BC
The London Eye
Unplugged
6,135
49
?
GT by CITROEN
The London Eye
Flawless
6,185
49

333,130

McLaren F1 XP-5
Dubai Reverse
Unplugged
5,805
46

327,546

Vanda Electrics Dendrobium
The London Eye
Unplugged
6,130
50
324,890
McLaren Mercedes MP4-25
Alps
Unplugged
5,895
48
322,677
Bentley EXP10 Speed 6
Alps Reverse
Unplugged
6,060
50
321,943
W Motors Lykan HyperSport
Dubai
Unplugged
5,950
49
320,870
SSC Tuatara
The London Eye
Unplugged
5,975
50
317,572
Koenigsegg Agera R
Alps Reverse
Unplugged
5,975
54
300,406
BMW 3.0 CSL Hommage
San Diego Harbor
Flawless
5,795
52
299,750
RUF CTR 3
San Diego Harbor
Flawless
5,895
55
292,560
Lamborghini Veneno
Alps
Flawless
5,845
55
290,160
Sbarro Alcador
San Diego Harbor
Flawless
5,790
55
287,520
While racing with boosters (Nitro Starter & Tuning Kit) will reduce the race duration, it is more detrimental than going un-boosted as the additional cost for 1 hour of usage will outweigh the increased profit for an overall loss in credit accumulation (assuming that the boosters were not purchased through Exclusive Deals, earned via Time Limited Events or completing Collections).[1]
The Lamborghini Veneno should be used as the first stepping stone in credits grinding as it only costs

861,774 to buy and MAX PRO and does not require Engine Cards in its Pro Kits.
While the 2015 GTA Spano has comparable profitability to the cars mentioned above, this is rendered impractical with its paywall restriction and Elite Car status with tune-ups for it taking 2 hours and 30 minutes to complete.
As previously mentioned, completing certain Collections in the game will award the player with a credit reward. Listed below are all of the collections with a credit reward.
| | | |
| --- | --- | --- |
| Collection | Reward | MAX Reward |
| Ion Runners | 17,000 | 60,000 |
| U.S. Monsters | 45,000 | 150,000 |
| Audi | 9,000 | 50,000 |
| New Blood | 100,000 | 215,000 |
| GT Club | 125,000 | 500,000 |
| Winter is gone | 200,000 | 750,000 |
| Red Stallions | 350,000 | 700,000 |
| Hot Summer | 325,000 | 800,000 |
| Chevrolet | 150,000 | N/A |
| McLaren | 500,000 | 1,000,000 |
| Running of the Bulls | 250,000 | 1,000,000 |
| Japanese Dragons | 225,000 | 750,000 |
| European Collection | 350,000 | N/A |
| Mercedes | 400,000 | 850,000 |
| BMW | N/A | 675,000 |
| Top Tier | N/A | 1,200,000 |
| Bolides | 700,000 | N/A |
| Gran Turismo | N/A | 1,000,000 |
| Total | 3,746,000 | 9,700,000 |
References