The Datsun 280Z, also called the Nissan Fairlady Z (S30), is a classic two-seater/2+2 sports coupe produced between 1975 and 1978.
Description
The Datsun 280Z is a sports coupe/2+2 produced between 1975 and 1978. Released in the United States market for the 1975 model year, the 280Z's engine size was increased to 2.8L (2,753 cc) as part of a further effort to keep the S30 models sporting in the face of increasingly stringent U.S. emission and safety requirements. The new 2.8L inline-6 engine, known as the L28E, included a new, reliable Bosch L-Jetronic fuel injection system.
The L28E is a cast-iron block, alloy head inline-6 engine with a seven-bearing crankshaft and a single overhead camshaft. Bore and stroke are 86.1×79.0 mm (3.39×3.11 in), and the compression ratio is 8.3:1. The L28E for the 280Z produces 170 hp (127 kW) at 5,600 rpm and 163 ft·lb (221 N·m) at 4,400 rpm. The Datsun 280Z comes with either a four-speed manual, five-speed manual, or three-speed automatic; all transmissions deliver power to the rear wheels.
In 1977 and 1978, respectively, Datsun offered the "Zap/Zap Z" and "Black Pearl" special editions.
Summary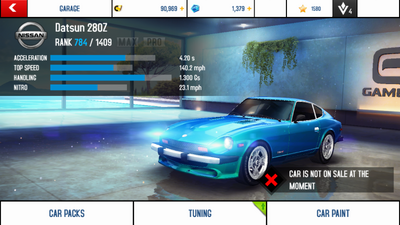 The Datsun 280Z was added in the Car Mastery Update as a mid Class C car. It is unlockable through Car Mastery.
The Datsun 280Z has the following rank statistics:
Performance
The Datsun 280Z has a stat build that is a combination of that of the Camaro Z/28 and Volkswagen Beetle Turbo from Class D; it has better handling than the Camaro Z/28, better acceleration than the Volkswagen Beetle Turbo and better drifting than both. It also shares their Audi R8 e-tron styled build, with a high powered nitro stat and a below-average top speed stat. Unfortunately, this means it also inherits their low nitro efficiency.
Being a hybrid between a Top Speed Car and a Nitro Car, the Datsun 280Z requires high skill and an Extra Tank to use effectively. The Datsun 280Z requires its nitro to maintain a very fast speed, but its nitro runs out quickly; after this, it needs to use its top speed and drifting to stay afloat, before it can activate another nitro boost.
The Datsun 280Z has an acceleration stat that rivals that of the DS Survolt (with a Nitro Starter), although it is not as powerful as that of the Porsche 959 and Donkervoort D8 GTO. The Datsun 280Z also has very good handling and very good drifting. Overall, the Datsun 280Z is a very good car with a very big disadvantage, being low nitro efficiency. With all three boosters on, the Datsun 280Z becomes much better, taking advantage of its increased acceleration and its large Tuning Kit bonus, while removing its nitro efficiency downside partially.
Usage
The Datsun 280Z's low starting rank and large Tuning Kit bonus suggest it is a Multiplayer-biased car. However, this car is not commonly used in Multiplayer, due to being worse than many cheaper Multiplayer cars.
Unlike several Multiplayer Cars, including the Camaro Z/28, Volkswagen Beetle Turbo, SUBARU IMPREZA WRX STI, Renault DeZir, and Ford F-150, the Datsun 280Z does not have the advantage of a starting rank below 600. Therefore, unlike these five cars, the Datsun 280Z is forced to race at a higher level, losing the ability of these cars to prey on inexperienced players.
At rank 800, the Datsun 280Z is a poor choice, traveling very slowly due to being in its default state. At rank 900, the Datsun 280Z begins to pick up speed; it is already faster than both the Mazda 6 and Nissan Juke Nismo at this rank. However, the Porsche 959 is the King at this rank, causing the Datsun 280Z to lose many races. Therefore, similarly to the Range Rover Evoque Coupe HSE Dynamic and Mercedes-Benz GLC Coupe, the Datsun 280Z becomes only remotely viable at a rank higher than 1100.
Similarly to the Camaro Z/28 and Volkswagen Beetle Turbo, a nitro-tune is not recommended for Multiplayer. Instead, an equal weighting of top speed and nitro upgrades is recommended.
Other Usages
The Datsun 280Z, similarly to the Camaro Z/28, has limited purpose outside of Multiplayer. It is extremely expensive to upgrade (even more so than the Camaro Z/28) and very difficult to obtain for most new players. This removes any chance it has at being a starter's car or a Time-Limited Event car. The Datsun 280Z is decent for farming credits, like most cars, with its Mastery rewarding several boosters instead of licenses. It is found in the Retro collection, alongside the Camaro Z/28, Shelby Cobra 427 and four non-Mastery cars. Retro rewards Tuning Kits with its normal version and Class S upgrades with its MAXED version.
Price
The Datsun 280Z is unlocked after reaching
650. Upgrades cost
731,475 while Pro Kits require
1,402,650, 18 of each Class C Parts card, 14 Early & Inital Tech cards, 16 Mid-Tech cards, and 20 i6 engine cards.