The Devel Sixteen Prototype, also simply known as the Devel Sixteen, is a hypercar concept/future production car made by Devel in 2013. Using a 12.3 L quad-turbocharged V16 that is claimed to churn out 5,000 HP and allow it a 0-60 mph time of 1.8 seconds and a top speed of 348 mph (560 km/h), it is among one of the most powerful non-fictional cars to ever appear in any video game. The Devel Sixteen made its video game debut in Asphalt 8: Airborne.
Overview
Edit
The Devel Sixteen was unveiled at the Dubai Motor Show in 2013, along with astronomical performance claims of 0-60 mph in 1.8 seconds and a top speed of 348 mph (560 km/h), all done by a 5000 hp (5069 PS; 3728 kW) V16 engine and a 4-speed automatic transmission mated to a RMR configuration.
In 2015, it was revealed that the Devel Sixteen's engine, a 12.3 L quad-turbocharged V16, is built by Steve Morris Engines. In a dyno run video, the V16 engine posted 4515 hp (4578 PS; 3367 kW) and 3519 ft·lb (4771 Nm) of torque on race gas and 36 psi of boost. On 92-octane pump fuel and 20 psi, these figures changed to 3006 hp (3048 PS; 2242 kW) and 2407 ft·lb (3263 Nm) of torque.
The car weighs 5071 lb (2300 kg), heavier than most supercars.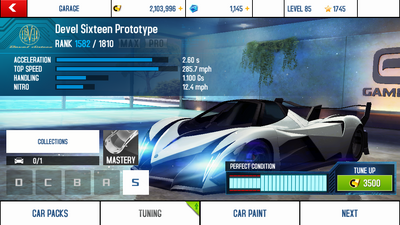 The Devel Sixteen Prototype was added to the game in the March 2016 Elite Cars Update. It, alongside the Mazda RX-8, are the first Elite Cars to ever be added to the game, meaning it can be tuned to have a rank above its MAX+PRO rank. Its stats have apparently been reduced from its real-life rendition in order to make it more comparable to other cars in the game.
The Devel Sixteen Prototype has a starting rank of 1582, a MAX rank of 1746, and a MAX+PRO rank of 1810, effectively making it the highest-performing car in the game. Elite Car tuning can increase its rank to a legitimate maximum of 1840. A Tuning Kit adds 36 more points, allowing for a maximum ranking of 1876. Rivals include the McLaren Mercedes MP4-25, McLaren MP4-31, BMW 3.0 CSL Hommage, Aston Martin Vulcan, Mercedes-Benz SLK 55 AMG Special Edition, and Chevrolet Corvette Grand Sport.
The Devel Sixteen Prototype's acceleration and launch seem underwhelming especially due to its extreme weight and size, which causes its handling and drifting capabilities to be among the worst in the game - it only handles and drifts better than the nanoFlowcell QUANT FE. In fact, the car takes 6.5 seconds to reach its top speed from a standstill (at MAX+PRO+Tuning Kit+Elite Tuning, with Level 3 nitro). However, the Devel Sixteen has the best top speed stats of all cars, eclipsing the Chevrolet 2016 Camaro SS and HTT Pléthore LC 750. In terms of nitro consumption rates, the Devel Sixteen has a slightly average 8/12/16 rating combination. The Devel Sixteen is a speed-oriented car specialized for use on non-complex tracks (and with skill, curvy tracks like Dubai and Rio de Janeiro). As of the Lunar New Year 2017 Update, the Devel Sixteen Prototype is now the second fastest car in the game, with a real total speed of 325 mph (523 km/h), behind the Mercedes-Benz SLK 55 AMG Special Edition's 335 mph (540 km/h).
As stated before, being among one of the worst-handling cars in the game, the Devel Sixteen Prototype is a rather impractical choice on dangerously twisty tracks like Sector 8 and Iceland due to its beyond-abysmal drifting capabilites. However, if the driver of the Devel Sixteen is extremely skilled and has a proper Elite tuning setup for the car, the driver can win with this car even on twisty tracks such as the Dubai and Rio de Janeiro tracks. This car is not suitable for use in Sector 8 due to its abysmal drifting, which is a huge downfall for the car once it reaches the 1000° spiral helix. In this case, the TRION NEMESIS and even lower-ranked cars like the McLaren P1™ GTR, Ferrari 330 P4, and Mosler GT3 can beat the Devel Sixteen Prototype in Sector 8. Other than being a very skilled driver, setting the handling sensitivity to the maximum and taking certain corners early are highly recommended to make tight turns in tracks not as much of a problem. Despite these paramounts that the car can show, using this car for multiplayer is rather impractical and very risky, due to the fact that there is a probability that the most-voted track might be the track where this car will suffer a lot, even more so at Sector 8. Also, its acceleration may mean that the car can be easily taken down by cars with powerful acceleration (e.g. TRION NEMESIS, or in very rare cases, the McLaren MP4/8). Another disadvantage of the Devel Sixteen is its speed multipler of 85.74%, last used by the Koenigsegg One:1.
The Devel Sixteen could be won in the Devel Sixteen CUP (set in Route 375-1 from May 2, 2016 to May 6, 2016. If the player couldn't win the car in that cup, they could try to win the car in the Devel Sixteen Multiplayer CUP (set in Sector 8) on the following week.
Tune-ups cost
3,500 and take 2 hours and 30 minutes to complete.
Since May 13, 2016, the Devel Sixteen can be purchased for

14,500. Fully upgrading the Devel Sixteen costs
3,395,600 or

18,720, while Pro Kits cost
1,770,250.
See also
Edit
Ad blocker interference detected!
Wikia is a free-to-use site that makes money from advertising. We have a modified experience for viewers using ad blockers

Wikia is not accessible if you've made further modifications. Remove the custom ad blocker rule(s) and the page will load as expected.