The Fall Out Boy Update, also known as the Lunar New Year 2018 Update, is the 25th update for Asphalt 8: Airborne. The update was first shown on Gameloft's YouTube channel with a livestream on February 8, 2018.
Announcement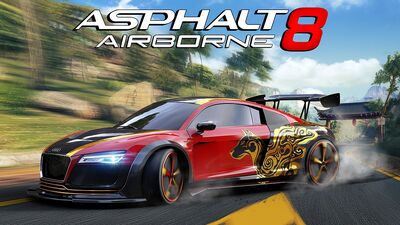 Experience Asphalt 8's first-ever STORY MODE, featuring FALL OUT BOY! Coming soon to Asphalt 8: Airborne!
GET HYPED FOR FALL OUT BOY
Hype up their new album, M A N I A, by competing against pros in this FOB-branded racing tour, and win the BMW M2 Special Edition!
HAPPY LUNAR NEW YEAR!
Start your engines and get ready to ring in the new year with a festive R&D event and a chance to win a customized "Year of the Dog" Audi R8 e-tron Special Edition!
WINTER SERIES
Turn up the heat, get on the track, and leave the competition in the snow during this winter season's special event series! Remember, you can always get an extra edge with our limited-time offers!
BESPOKE BEAUTIES
Speed, precision, and class… Three adjectives to exemplify seven swanky new vehicles, including the Buick 2013 Riviera and the Yamaha YZF-R6! Hop in these smooth rides to experience our latest update!
New Vehicles
Class D
Class C
Class B
Class A
Class S
The new vehicles will need the following engine cards:
V8 Engine
Four-Stroke Engine
Electric Engine

Buick 2013 Riviera (x8)
Vanda Electrics Dendrobium (x14)

Forced Four-Stroke Engine
i6 Engine

BMW M2 Special Edition (x8)

Legendary Electric Engine

Audi R8 e-tron Special Edition (x12)
Game Changes
Gameplay Changes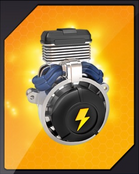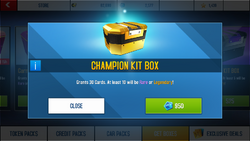 New special event mode: World Tour

Hype Points and Streaming Passes are introduced as new elements for this event mode.

New engine type: Legendary Electric Engine (Legendary rarity)
Honda Civic Type R blueprints are now of Rare rarity
Lamborghini Egoista blueprints are available in Free Ads Bonuses
Drop rates information now available when a box is about to be purchased or opened.

Drop rates are shown when the "i" button is tapped

The number of Exclusive Deals has been increased from 4 to 8. It now also offers multiple credit deals.
New songs added (NOTE: These songs can only be heard in the World Tour event):

Fall Out Boy - Young And Menace
Fall Out Boy - HOLD ME TIGHT OR DON'T
Fall Out Boy - The Last Of The Real Ones

Daily Tasks now have random rewards
The Audi R8 LMS Ultra switched places with the Spada Codatroncca TSS in the garage.
Quests have been removed. (This is a Google Play Games service on Android, accessed through an hourglass icon on the main screen, whereby users could perform extra tasks for credits.)
Token only upgrades are re-introduced again from the Munich Update and Elite Cars Update, but only for the Audi R8 e-tron Special Edition.
Restoration time for the Proto Keys of Audi R8 e-tron Special Edition's R&D is a unique duration of 4 hours and 30 minutes.

This is as opposed to the common 3 hours seen in almost all R&Ds to date and the 6 hours introduced along with the McLaren 650S GT3.

Season 11 and Season 12 of Moto Blitz have swapped places. Similarly, the masteries for both the Aprilia Tuono V4 1100 RR my2017 and BMW S 1000 RR have swapped places as well.
Holding down a pro kit card in the inventory will now open a fuse cards prompt, default to fusing all of the cards. Quantity can still be adjusted before finalizing (or canceling) the fusing process.
New vehicle prices as of March 23, 2018:
Model
Original Price(s)
New Price(s)
2015 Ford Mustang

1,050

1,100

Nissan Juke NISMO
155,000 or 1,100
95,000
Ferrari 308 GTS
175,000
120,000
Geely GC9
250,000
125,000
Honda S2000
295,000
150,000
SUBARU IMPREZA WRX STI
300,000
200,000
Mazda RX-8

1,100

325,000 or 1,850
Donkervoort D8 GTO
325,000

2,375

Buick Avista Concept
335,000
425,000 or 

2,400

Mercedes-Benz GLC Coupe

1,100

45,000
Jaguar F-Type R

2,000

1,425

Mitsubishi Eclipse

2,300

395,000 or 2,300
Jaguar F-TYPE Project 7

2,400

2,350

Mercedes-Benz CLA 45 AMG Racing Series
405,000
495,000 or 

2,400

Ferrari Testarossa
295,000
70,000
BMW M6
175,000
85,000
Mercedes-Benz Biome
450,000
150,000
Ferrari F40
575,000
200,000
Audi R8 LMS Ultra
625,000

1,950

Spada Codatronca TSS

1,000

235,000
Nissan Skyline GT-R (R34)

2,500

250,000
Rimac Concept One
750,000
350,000
Chevrolet SS
890,000
425,000
Lamborghini Estoque
950,000 or 6,200

4,175

Ferrari GTC4Lusso
1,000,000 or 6,425
765,000 or 4,325
2010 Bentley Continental Supersports
1,100,000
975,000 or 4,925
Mercedes-Benz SLS AMG GT Coupé Final Edition

2,100

110,000
Savage Rivale Roadyacht GTS
225,000
150,000
Ferrari FF
450,000
160,000
Jaguar C-X75

2,750

1,850

Ferrari LaFerrari
350,000
235,000 or 1,975
McLaren P1™
475,000

2,100

Mazzanti Evantra

3,250

250,000
Nissan GT-R NISMO
650,000
375,000
Savage Rivale GTR
750,000

2,950

Tramontana XTR

5,000

525,000
Ferrari 330 P4

5,750

750,000
Lamborghini Aventador LP 700-4
1,000,000

4,750

Chevrolet Corvette C3

6,000

850,000
McLaren 675LT
1,200,000

4,875

Mosler GT3
1,500,000
985,000 or 5,325
Chevrolet 2016 Camaro SS

6,250

5,750

Jaguar XJ220S
1,600,000 or 6,350
1,275,000 or 5,975
SSC Tuatara
950,000
950,000 or 4,750
nanoFlowcell QUANT FE
1,200,000 or 6,500
950,000
Chrysler ME412

5,000

1,250,000
SSC Ultimate Aero XT

6,750

6,475

Hennessey Venom GT
2,250,000
1,350,000
Koenigsegg One:1
2,850,000
1,650,000
HTT Pléthore LC 750
3,250,000 or 15,450

8,975

Renault Sport R.S. 01
3,500,000
1,950,000
Mosler Land Shark
3,750,000 or 17,825
2,250,000 or 10,975
TRION NEMESIS
4,000,000
3,275,000 or 13,975
Devel Sixteen Prototype

14,500

4,950,000 or 14,500
Cosmetic Changes
The green indicator used for new events is now also used for Daily Tasks
A notification shows when a refreshed Daily Task is available
Green indicator appears in Play Button for new daily tasks.
A thousands separator has been added when 1,000 career stars or Moto Blitz helmets are completed or when a car's elite tuning is in the thousands (all elite cars excluding 1967 Chevrolet Impala).
The wheels for Hot Wheels Rip Rod™ has been enlarged.
Lunar New Year-themed quality checks for Research & Development, with checks designed as a lantern.
Vehicle AI sounds during the race are now audible in Android as in Windows.
In the Enduro Double Down intro screen, the Yamaha FZ-10 replaces the Nissan Skyline GT-R (R34).
Events
Bugs / Glitches
Fusion error: Fusing pro kit cards no longer increases the fusion points in fusing boxes. This was fixed shortly after.
Graphics setting error: Players were set to low or high graphic settings automatically after updating.
Blurry graphics: Several items are reported to now be shown in a blurred manner. The only solution is to set the visual quality in "Medium"

Mercedes-Benz SLK 55 AMG Special Edition Elite tuning and Condition issue: Some players have reported that the Mercedes-Benz SLK 55 AMG Special Edition's Elite tuning feature momentarily disappears. The condition bar has also been reported to not be deducted even after several races have been completed.
Honda Civic Type-R Blueprints: Despite the blueprint's rarity now changed to Rare, the blueprint still gives 3,000 fusion points instead of 9,000 points for a rare blueprint card. This was fixed prior to the update's release on Windows.
Abnormally high number of Huracan blueprints in Moto Blitz: As of this update, Moto Blitz awards a total of 172 Blueprints for Lamborghini Huracan, which is excessive, considering it needs 145 Blueprints to be built.

However, considering the Aprilia Tuono V4 RR being delayed due to a licensing problem between Gameloft and Aprilia, the excessive Blueprint count might be intentional to compensate.

No World Tour Events on Windows: The first vehicle event for Windows players is the Audi R8 e-tron Special Edition's R&D as opposed to mobile players, who got the BMW M2 Special Edition's World Tour before the e-tron SE's R&D.

The event was added later that day.

World Tour Streaming Pass refill glitch: If the game is re-entered for more than the time taken to refill one Streaming Pass, the countdown to the next Streaming Pass will only begin when the game is restarted (Eg if the player re-enters the game three hours after spending all Streaming Passes, the timer to refill the second out of three Streaming Passes will be displayed as 2h 30 min left instead of 2h left). The only solution to the glitch is to enter the game just before the next Streaming Pass is given.
95% off Corvette C3: For a few hours on February 21, 2018 many players were able to purchase the C3 for a heavily discounted price of

300

. The discounted price was later corrected to

3,000

.

For users with the new price changes, the glitch never appeared.

Tuning Button issue: Players on the Android platform are still experiencing issues with the Tuning Button. It still causes the game to freeze and force-close when pressed.
Yamaha YZF-R6 Handling Error: The front wheel of the Yamaha YZF-R6 is known to lift off from the ground momentarily but not counted as a wheelie when the player activates a Level 3 nitro or Supercharged nitro, causing the bike to be very difficult to turn. A partial solution to this is to activate Level 3/Perfect Nitro or Supercharged Nitro when the player is turning the bike.
Unbuildable FZ-10: If the player has obtained all blueprints for the Yamaha FZ-10 from elsewhere or completing its EDD, the bike disappears from the garage.

The error was fixed on March 23, 2018.
The following bugs/glitches have been fixed:
Android "Empty Data" Update
Bike Physics
Motorcycles knockdown glitch
Fusion error
Honda Civic Type-R Blueprints where the fusion points worth 3,000 points instead of 9,000 points for the rare blueprint card.
Holding down any mouse button will no longer register erroneous clicks in Windows.
Trivia
This update has the firsts of the following:

The first of 2018.
The first to add a motorcycle that is EDD-obtainable.
The first to add new songs to the game since The Great Wall Update.
The first to be associated with a band.
The first to add a Singaporean vehicle.
The first to add a Class A electric vehicle
The first to change a Blueprint's rarity.
The first to introduce a Class S electric vehicle since the Enduro Update.
The first to add a vehicle whose engine card count is not divisible by 4. In this case, Vanda Electrics Dendrobium needs 14 Electric Engine cards instead of 16. It needs 4 Electric Engine cards for Tires, 3 for Suspension, 4 for Drivetrain and 3 for Exhaust.
The first to have a vehicle's event delayed 3 times. In this case, the Aprilia Tuono V4 1100 RR my2017's R&D, which was originally in the Munich Update was postponed to the Hot Wheels Update, then again to the 2018 Spring Update

Due to licensing problems between Gameloft and Aprilia (as mentioned in the "Bugs/Glitches" section), the R&D is currently postponed indefinitely and has the possibility of being canceled.

The first since the Tenerife Update to add an Audi car.

Incidentally, this means Audi ties with W Motors for being the vehicle brand with the fourth-longest time gap between updates to have a vehicle added, at 2 years & 9 months (a total of 15 updates), after the addition of the Audi R8 LMS Ultra during the Tenerife Update.

The first update to add more than one car modified with aftermarket customizations as a rehashed version of an already-existing car in the game, rather than said cars being real-life high-performance counterparts of the original car.

This is also the first update to add 2 vehicles modified with aftermarket customizations as a rehashed version of an already-existing car in the game to use red and black License Plate.

The first motorcycle added whose special event does not give blueprints for building them & awarded only after completing the whole tests of R&D.

This is the second update since the Car Blueprints Update to add vehicles whose special events do not give blueprints for building them. In this case, Ariel Atom V8, Buick 2013 Riviera, Vanda Electric Dendrobium, Yamaha YZF-R6 & Audi R8 e-tron Special Edition are awarded only after completing all Grand Finale races of their Championships & completing the whole tests of R&D respectively.
On February 7th, 2018, the official trailer for the update was uploaded to the official Asphalt YouTube channel but was deleted in March 2018.
Post-Update Screen
Trailer