The Ferrari Enzo Ferrari (F60) is a mid-engined flagship supercar by Ferrari and the successor to the Ferrari F50.
Overview
Edit
The Ferrari Enzo, named after the founder, was established to commemorate Ferrari's first Formula One title of the new millennium. It is part of Ferrari's long-running limited-production supercar series, succeeding the Ferrari F50 and being succeeded by the Ferrari LaFerrari.
Continuing Ferrari's usage of naturally aspirated V12 engines, the Enzo uses Ferrari's F140 65° naturally aspirated V12 engine, displacing 6 L (5,998 cc) and producing 660 PS (651 bhp) at 7,800 rpm and 657 N·m (485 lb·ft) at 5500 rpm. It can accelerate from 0 to 60 mph (96.6 km/h) in 3.14 seconds, all the way up to a recorded top speed of 221 mph (355 km/h).
The Enzo also uses technologies banned in Formula One, like active aerodynamics and traction control.
This car was the second highest ranked car in the game.
This section of an article is missing some information. Please try to add some relevant content.
The Ferrari Enzo requires 260 Stars to unlock and is a high-end car rivaling the Lamborghini Murciélago LP 670-4 SV, Lamborghini Aventador LP 700-4, and RUF RT 12 S. It costs 670,000 Cash. It has a seemingly better acceleration in spite of having the worst acceleration against its rivals.
The Ferrari Enzo is a Tier 6 car requiring 260 stars and 670000 cash. It rivals the Lamborghini Reventon and the Aston Martin One-77. It can also be rented for 275000 cash.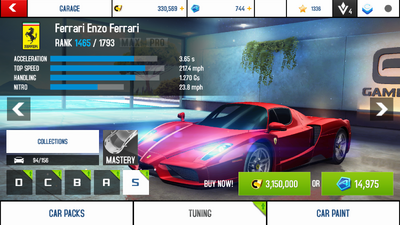 The Ferrari Enzo Ferrari was added in the Decals Update in March 2015.
The Enzo Ferrari, being put in Class S, has a starting rank of 1465 and a maximum rank of 1690, as well as a MAX+PRO rank of 1793. The Enzo Ferrari is one of the highest-ranked vehicles in the entire game, and it is also oddly higher-ranked than both its successor, which is in Class A and only has a MAX+PRO rank of 1694, and its track based car, Ferrari FXX Evoluzione, which also only has a MAX+PRO rank of 1700. The Enzo Ferrari mainly rivals the Ferrari 330 P4, Mosler Super GT, HTT Pléthore LC 750, and Renault Sport R.S. 01.
The Ferrari Enzo Ferrari's acceleration is outstandingly fast, outperforming the Ferrari 330 P4 and Mosler Super GT. Its drifting is also the best in its class, a trait later passed on to cars like the W Motors Fenyr Supersport and Mosler GT3. On the other hand, its top speed is lower than most other cars in its class, yet it still can manage a high total speed of 305.3 mph (491.5 km/h). Its main advantage over most Class S cars is its Speed Modification of 97.14%, which is very close to 100%. While the nitro efficiency combination of 9/14/19 seems very short, the car has otherwise fast acceleration to make up for this.
The Enzo Ferrari cost
3,500,000 to purchase. It also requires
3,131,250 to max out; this would total to
6,631,250. Since the Multiplayer League Update, it now costs
3,150,000 or

14,975.
Currently, the Ferrari Enzo Ferrari's usefulness has decreased largely due to the inception of superior cars like the TRION NEMESIS, Mosler Land Shark, McLaren Mercedes MP4-25, and BMW 3.0 CSL Hommage. While still the best car for Ferrari-only events and mid-high Class S events, the Enzo is no longer considered the best choice for a go-to Class S car.
Ad blocker interference detected!
Wikia is a free-to-use site that makes money from advertising. We have a modified experience for viewers using ad blockers

Wikia is not accessible if you've made further modifications. Remove the custom ad blocker rule(s) and the page will load as expected.