The Ferrari LaFerrari (F70) is a hypercar that is the successor of the Ferrari Enzo Ferrari (F60) and Ferrari's first hybrid vehicle.
Description
The successor to the Enzo Ferrari, the LaFerrari, unveiled at the 2013 Geneva Motor Show, is Ferrari's first hybrid production car, providing the highest power output for any Ferrari whilst also decreasing fuel consumption by 40%. The LaFerrari is based on findings from testing of the FXX and research being conducted by the Millechilli Project at the University of Modena. Only 499 units were built, with each costing more than US$1 million. An additional 500th car was built to be sold at an auction following the August 2016 Central Italy earthquake.
The LaFerrari's engine is a 6.3L (6,262 cc) naturally aspirated F140 FE V12, with outputs of 788 hp (588 kW) at 9,000 rpm and 516 ft·lb (700 N·m) at 6,750 rpm. Mated to the V12 is a Ferrari-developed HY-KERS unit that produces an additional 161 hp (120 kW) and 148 ft·lb (201 N·m). The engine's bore and stroke is 94×75.2 mm with a compression ratio of 13.5:1 and a power-to-weight ratio of 599.4 hp per tonne. The car weighs 3495 lb (1585 kg)[1].
The LaFerrari uses a seven-speed F1 DCT dual-clutch automated semi-automatic transmission delivering power to the rear wheels.
Ferrari states that the car has a top speed in excess of 217 mph (350 km/h), along with a 0-60 mph time of less than 3 seconds, 0-124 mph in under seven seconds, and 0-186 mph in 15 seconds.
A track-only version, the Ferrari FXX K, was unveiled in 2014, with only 40 units made. In 2016, a spider variant, titled the Ferrari LaFerrari Aperta, was made.
Summary
The Ferrari LaFerrari was added in the Daily Bonus Update as a mid Class A car wit the following rank statistics:
Starting rank: 1481
MAX rank: 1609 (+128)
MAX+PRO rank: 1694 (+85)
Tuning Kit bonus: +31
Stock to MAX+PRO rank difference: 213
Upgrade rank percentages: 10/50/10/30
Nitro Efficiency: 6/12/16
Performance
The LaFerrari features an excellent launch and acceleration, hitting 279.5 mph/450.1 km/h in 3.2 seconds, is similar to that of the Mercedes-AMG GT3. The car has very good handling and drifting capabilities, and its nitro efficiency is decent too.
However, the LaFerrari is at a disadvantage due to its lower raw top speed, nitro efficiency, and total speed when compared to the McLaren P1™, Lotus Evora Sport 410, Lamborghini Asterion, and even the Zenvo ST1. While the LaFerrari has a higher rate of acceleration than the aforementioned cars except the Evora, it ultimately loses due to its weaker nitro efficiency and lower top speed, even more so on Tokyo, where nitro efficiency and top speed really matter to the point where the Holden Coupe 60, even with its 10/15/20 nitro efficiency ratings, still outruns the majority of Class A cars up to a McLaren 650S GT3. In fact, the LaFerrari is the Class A version of the Kepler Motion, albeit with better handling and a slightly higher total speed at MAX+PRO with a Tuning Kit (279.5 mph / 450.1 km/h vs 278.6 mph / 448.7 km/h).
Usage
Upon its introduction, the LaFerrari replaced the Lamborghini Sesto Elemento as the best Class A vehicle of choice, but was eventually retired in favor of the P1 in The Great Wall Update.
All in all, the LaFerrari has no use in almost all Time-Limited Events due to being superseded by the McLaren P1 and later cars (even including the McLaren 570S and Sbarro Alcador). In terms of usefulness in Ferrari events, faster choices like the Ferrari 330 P4 are better. In some events, though, the LaFerrari is placed in a bracket along with the Mazzanti Evantra, Kepler Motion, and Ferrari F50; it is the best and cheapest car of the four.
Until the introduction of the BMW 3.0 CSL Hommage, the LaFerrari was the only car to award a Champion Kit Box in Car Mastery. As of the 2018 Summer Update, the LaFerrari's usefulness in Car Mastery has dropped to almost nothing due to said box being converted into Blueprints.
Main article: Car Mastery/Ferrari LaFerrari
Usage (Multiplayer)
With the revised matchmaking introduced in the Fifth Anniversary Update, the LaFerrari still has low competitiveness in Multiplayer, as at MAX+PRO, it will be pitted against much superior cars like the McLaren MP4/8, Apollo Intensa Emozione, and even a MAX 0500 PRO 5050-tuned Audi R8 e-tron Special Edition. It does have a chance of competing against the Apollo N, though, and even then, it is more likely to be matched against the former three cars.
Price
The Ferrari LaFerrari costs
235,000 or

1,975 (as per the end of March 2018 price upgrade in the Fall Out Boy Update) to purchase and
455,500 to max out. Some players had reported seeing the previous 
350,000 price change to
550,000 (which is the price of the W Motors Lykan HyperSport), but the price change had then been reverted. The car requires
233,654, 6 of each Class A Parts card, 8 Hybrid Engines, 2 Early Tech cards, 2 Initial Tech cards, 12 Mid-Tech cards, and 4 Advanced Tech cards for its Pro Kits. This comes to a total of
924,154.
Worthiness
This section of an article is missing some information. Please try to add some relevant content.
The Ferrari LaFerrari appears in Asphalt Nitro as a top-end Class A car, as was the case in Asphalt 8: Airborne until the introduction of the McLaren P1™. It is currently challenged by the Ferrari FXX Evoluzione and Pagani Huayra.
The LaFerrari in Asphalt Nitro behaves exactly the same as its Asphalt 8: Airborne rendition.
It costs
290,000 to purchase.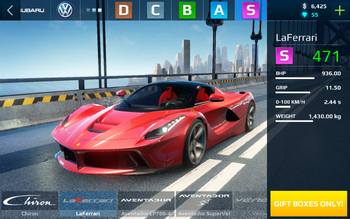 The Ferrari LaFerrari appears as a Class S car.
This section of an article is missing some information. Please try to add some relevant content.
The LaFerrari appears as a mid Class A car with the following rank statistics:
Starting rank: 2,321 (35 BPs)
1* Max rank: 2,446
2* Max rank: 2,621
3* Max rank: 2,831
4* Max rank: 3,117
5* Max rank: 3,445
A total of
?, ? Common Import Parts, 20 Class Parts, and 12 Specific Parts are required for upgrades.
This section of an article is missing some information. Please try to add some relevant content.
References