The GTA Spano, also known as the Spania GTA Spano, is a mid-engined, limited production supercar created by Spain-based car maker Spania GTA.
Overview
Edit
The Spano began as a secret project in 2005 and was first released to the public in 2008, named the GTA Concept.
Since 2008, a large group of engineers worked on the project under the direction of Domingo Ochoa, who has over 15 years of experience in racing cars, a key point for the technical development of the vehicle. The car has several worldwide patents (five fully processed according to the last presentation of the company) and will make use of technology never before implemented in a Spanish vehicle.
In February 2008, a public and official presentation of the GTA Project was made through a model in the City of Arts and Sciences in Valencia. In August 2008, the first Spano prototype began testing at the Circuit Ricardo Tormo. From April 19 to April 25, 2010, the car was officially presented at the Top Marques Monaco lounge. The first units were manufactured and delivered at the end of 2010, with only 99 units built in order to maintain its exclusivity.
The Spano's chassis is built from carbon fiber, titanium, Kevlar, and graphene. Powering the Spano is a supercharged, rear mid-mounted version of the Dodge Viper's V10 engine. The car produces 840 hp (626 kW) and 679 ft·lb (920 N·m). The Spano has a fuel capacity of 110 L (29 US gal). Acceleration to 60 mph (97 km/h) occurs in 2.8 seconds, while the top speed is claimed to be in excess of 217 mph (350 km/h).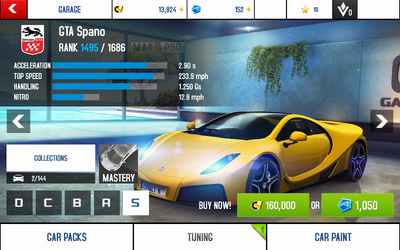 The GTA Spano is the second original Class S car, with a starting rank of 1495, a MAX rank of 1610, and a MAX+PRO rank of 1686.
The GTA Spano is a top speed-focused car, with high top speed stats and handling/drifting capabilities across the board at the expense of acceleration and nitro power. The Spano has a nitro efficiency rating of 9/14/18 but is still considered to be better than the RUF CTR 3 due to having a quicker acceleration and similarly sharp handling/drifting.
The GTA Spano is currently priced at
160,000 or

1,050 for purchase. Prior to the Elite Cars Update, the car was priced at simply
160,000 after being changed from
70,000 in The Great Wall Update. The car costs
417,500 to max out and
317,370 for Pro Kits. The car requires 5 of each Class S Parts card, 8 Mid-Tech cards, and 4 V10 Engine cards.
See also
Edit
Ad blocker interference detected!
Wikia is a free-to-use site that makes money from advertising. We have a modified experience for viewers using ad blockers

Wikia is not accessible if you've made further modifications. Remove the custom ad blocker rule(s) and the page will load as expected.