The HTT Pléthore LC 750 is a three-seater Canadian hypercar by HTT, headquarted in Quebec, Canada.
Description
The Pléthore debuted at the 2007 Montreal International Auto Show as a pre-production prototype under the name "Locus Pléthore", under the supervision of Luc Chartrand. The HTT Pléthore LC 750 is unique in that it is a three-seater hypercar, with a center seating position similar to the McLaren F1. The Pléthore LC 750 is mid-engined and rear-wheel-drive.
The Pléthore LC 750 features a 6.2L supercharged V8 engine with a power output of 740 hp (552 kW) and a torque output of 655 ft·lb (888 N·m). The Pléthore LC 750's body and chassis are made from entirely carbon fiber with no engine subframe, resulting in an exceptionally rigid chassis. The car weighs only 2500 lb (1134 kg).
The HTT Pléthore LC 750 is capable of doing 0-60 mph in 2.8 seconds and reaching a top speed of 247 mph (398 km/h).
| | | |
| --- | --- | --- |
| " | The ultimate racing machine has arrived in ‪Asphalt‬ 8: Airborne. This Canadian Supercar has won its place in the upper echelons of motorsport. Its power-to-weight ratio is equivalent to that of a Formula One race car. HTT builds the models on demand, and the price may vary between $600,000 and $1,000,000 depending on the chosen model. This is currently the most powerful Class-S car in Asphalt 8. | " |
| | Gameloft Confidential description, June 19, 2015 | |
Summary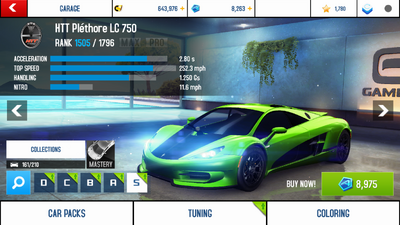 The HTT Pléthore LC 750 was added in the Tenerife Update. It is a top-end Class S car, with a starting rank of 1505, a MAX rank of 1687 (+182), and a MAX+PRO rank of 1796 (PRO rank: +109). It receives 37 points from a Tuning Kit. Its main rivals are the Ferrari Enzo Ferrari, TRION NEMESIS, McLaren Mercedes MP4-25, Renault Sport R.S. 01, Chevrolet 2016 Camaro SS, and Icona Vulcano V12 Hybrid.
Performance
The HTT Pléthore LC 750's performance is built on a top speed-focused type, with an extreme focus on top speed above everything else. It has a speed multiplier of 91.46%.
The Pléthore LC 750 currently remains the car with the second highest maximum top speed stat in Class S, with a real top speed of 291.1 mph/468.7 km/h, behind the Devel Sixteen Prototype's 303.5 mph/488.8 km/h. Being a top speed-focused car, the Pléthore's acceleration is somewhat lacking, capable of 0-186 mph/0-300 km/h in 2.508 seconds. Having a real total speed of 312.4 mph/503.0 km/h, displayed as 341.5 mph/550.0 km/h in-game, the Pléthore reaches its total speed in 4.917 seconds. Even then, the Pléthore still has a faster rate of acceleration than the Devel Sixteen, mostly due to being lighter.
The Pléthore has a very low nitro stat and below-average nitro efficiency, at 9/13.5/18. Despite this, the Pléthore does not lose a lot of speed upon running out of nitro, again due to being a top speed-focused car. Despite its weight, the Pléthore isn't very responsive in terms of handling, having a considerably wide drifting radius that partially bars it from cleanly clearing difficult corners. In Sector 8, this can become a huge threat to the car, as even though it has a very high top speed, its subpar drifting capabilities mean that the Pléthore has no chance of posting a faster race time than the likes of the McLaren P1™ GTR, Mosler Super GT, or W Motors Fenyr Supersport.
Usage
Despite its downfalls, the HTT Pléthore LC 750 is known to dominate long and/or simple tracks.
The HTT Pléthore LC 750's overall value has been reduced due to being replaced by later-added, superior cars like the TRION NEMESIS, BMW 3.0 CSL Hommage, McLaren Mercedes MP4-25, Devel Sixteen Prototype, and Aston Martin Vulcan for events. Even the Mercedes-Benz SLK 55 AMG Special Edition is faster than the Pléthore on virtually all tracks despite having worse handling and acceleration. The NEMESIS is also better than the Pléthore on most tracks even though the NEMESIS requires more Forced-Induction V8 cards and Credits to purchase and upgrade. There are still some events that feature the Pléthore as the dominant car, though, and even then, the Mosler Super GT, Koenigsegg One:1, and Lamborghini Egoista are more common in those events, sometimes with the Super GT being the top-ranking car instead.
In Multiplayer, even if tuned properly, the Pléthore, while somewhat competitive, is still inferior to the likes of the Chevrolet 2016 Camaro SS, BMW 3.0 CSL Hommage, Aston Martin Vulcan, and Mercedes-Benz SLK 55 AMG Special Edition. An upgrade configuration of 0500 5051 gives a rank of S1669 and a real total speed of 302.8 mph/487.5 km/h, which is faster than most cars with a similarly-ranked upgrade configuration, but is still slower than a Chevrolet 2016 Camaro SS tuned to 2515 5555 (A1660/1771; 314.3 mph/506.1 km/h) or an Aston Martin Vulcan tuned to 0505 5050 (S1659/1806; 307.9 mph/495.9 km/h). Just like the 2016 Camaro SS, the Pléthore suffers the issue of subpar drifting.
Currently, the only reason to buy the HTT Pléthore LC 750 is for collector's purposes, as the car is featured in the "Hot Summer" and "Off the Charts" collections.
Price
Up to the Rio de Janeiro Update, the HTT Pléthore LC 750 was priced at
3,650,000 for purchase and
2,912,150 for maxing out. Between the Multiplayer League Update and Munich Update, the HTT Pléthore LC 750 cost
3,250,000 or

15,450. It now costs

8,975 as of the Fall Out Boy Update or Hot Wheels Update. Pro Kits require
1,713,725, 23 of each Class S Parts card, 52 Forced-Induction V8 cards, 24 Mid-Tech cards, and 32 Advanced Tech cards.