Description
The S2000 was manufactured by Honda between 1999 to 2009 (110,673 units as of 2008). It made its debut at the 1995 Tokyo Motor Show as a concept car and production began in April 1999 to celebrate the company's 50th anniversary. The name is derived from its engine displacement of 2 liters, carrying on in the tradition of the S500, S600, and S800 roadsters of the 1960s.
Several revisions were made throughout the car's lifetime, including changes to the engine, gearbox, suspension, and interior and exterior. Officially two variants exist: the initial launch model was given the chassis code AP1, Though cosmetically similar, the facelift version (known as the AP2 in the USA) incorporated significant changes to the drivetrain and suspension. Production of the S2000 ceased in June 2009. In Japan, it was exclusively sold through the Honda Verno sales channel.
Summary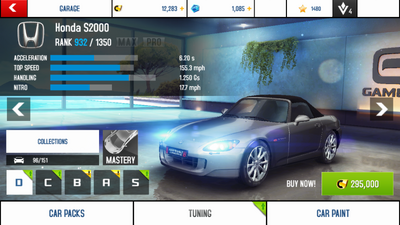 The Honda S2000 debuted in the Santa's Gift Update. It appears as a high-end Class D car, with the following rank statistics:
Starting rank: 932

This is shared with the BMW M2, as both cars have the same starting top speed and nitro stats.

MAX rank: 1195
MAX+PRO rank: 1350
Tuning Kit bonus: +56
Performance
The Honda S2000 can be described as a well-balanced car, with excellent nitro efficiency (5/10/15), very quick acceleration, decent top speed, and responsive handling. In fact, it accelerates more quickly than even former top-end Class A/Class S cars such as the Koenigsegg One:1 and McLaren 675LT.
Usage
With an extreme price in addition to its inferior performance when compared to the Mazda RX8, Donkervoort D8 GTO, Buick Avista Concept, and nanoFlowcell QUANTINO, the S2000's competitive edge is now greatly reduced, although it's upgrade costs can be sidestepped with free D-class upgrades. The only uses left for the S2000 are being a collector's car that counts towards the Old School collection, as well as being one of the best choices in certain events with a limited car selection that feature the S2000 (it will be either the dominant car in such events, or being the 2nd best available choice if the Mazda 6 is also featured except if the track is a long and simple one like Iceland Reverse, Tokyo, or Azure Coast Reverse).
Price
The Honda S2000 costs
295,000 to purchase and
2,314,360 to max out. Pro Kit Upgrades cost
533,675. The Honda S2000's buying price was reduced to
150,000 on March 24, 2018.
The Honda S2000 was also given as a Daily Bonus in January 2017 after 30 days of consecutive logins.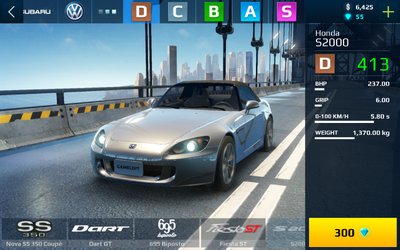 Price
Between the game's soft launch and the Nissan Update, the S2000 cost 245 Diamonds and was only unlocked after completing the crew races of New York. The Graphics Update increased its price to 300 Diamonds.
Performance & Usage
This section of an article is missing some information. Please try to add some relevant content.