Hummer HX Concept

The Hummer HX in Asphalt Overdrive
Car information
Manufacturer
Country of origin

USA

Year

2008

Transmission

GM's 6L50 6-speed automatic

Drive type

Front engine, four-wheel drive

Engine

3.6 L V6 flex fuel-capable direct-injected

Power

304 hp

Torque

273 pounds per ft.

Weight

4000 lbs (1816 kg)

Acceleration
(0-60 mph or 0-100 km/h)

{{{0to60}}}

Top speed

{{{vmax}}}

Asphalt appearances

Asphalt Overdrive </br> Asphalt Xtreme
The Hummer HX is a concept SUV by
Hummer
. The Hummer HX was the last model by Hummer before the company became defunct in 2010 when GM underwent a restructuring process. The HX was designed to be less militaristic than the previous Hummer models.
The Hummer HX appears as a mid Tier 3 car as an event-only car. Despite its size and vehicle type, it is surprisingly agile. The HX is useful for Destruction events as its Roll Cage ability grants a 1.5x knockdown score multiplier. The HX is however not recommended for beating Johnny Bateman due to its mid tier performance. The car's rank is very similar to the Ford Shelby GT500.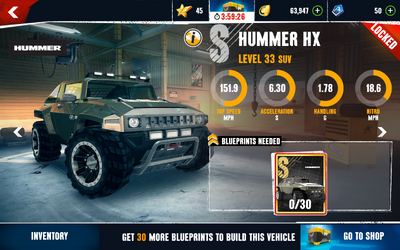 Introduced in the 2017 New Year Update, the HX is now a mid Class S SUV.
Ad blocker interference detected!
Wikia is a free-to-use site that makes money from advertising. We have a modified experience for viewers using ad blockers

Wikia is not accessible if you've made further modifications. Remove the custom ad blocker rule(s) and the page will load as expected.