The Jaguar C-X75 is a hybrid electric concept hypercar produced by Jaguar in partnership with Formula One team Williams F1.
Description
The Jaguar C-X75 is a hybrid hypercar powered by a 1.6L dual-charged (turbocharged and supercharged) inline-4 engine producing 502 hp (374 kW) at 10,000 rpm and 277 ft·lb (376 N·m) at 3,000-7,000 rpm. Each wheel is powered by a 194 hp (145 kW) electric motor, giving a total power output of 778 hp (580 kW) and total torque of 1180 ft·lb (1600 N·m). Inherent in the drivetrain is the ability to independently drive each wheel across the full speed range, known as torque vectoring.
The micro gas turbines from Bladon Jets generate enough electricity to extend the car's range to 559 mi (900 km) while producing 28 g of CO2 per kilometer on the EU test cycle. Among other advantages, the micro turbines used in the C-X75 can operate on a range of fuels including diesel, biofuels, compressed natural gas, and liquid petroleum gas. Jaguar also focused on the aerodynamics in order to improve performance. For example, the carbon-fibre rear diffuser that guides airflow from under the car creating down-force, and includes an active aerofoil and is lowered automatically as speed increases. Moreover, the C-X75 features an extruded and bonded, aerospace-inspired, aluminium chassis, saving on weight and improving sustainability and performance.
Jaguar claimed a 0-60 mph time of less than 3 seconds and a top speed of 220 mph (354 km/h).
Jaguar's Global Brand Director announced the cancellation of the C-X75's production due to the ongoing global economic crisis.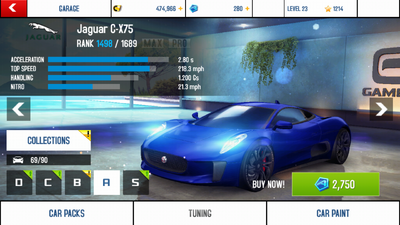 The Jaguar C-X75 is the first Jaguar car in the game and was added as a Premium Car in the Fuel Events Update, available only through the Airborne Premium Pack alongside the Mercedes-Benz SLS AMG GT Coupé Final Edition.
The Jaguar C-X75 has a starting rank of 1498, a MAX rank of 1611, and a MAX+PRO rank of 1689. The car receives only +28 from Tuning Kits.
Despite what its rank may suggest, the Jaguar C-X75 cannot go as fast as the RUF CTR 3 or Ferrari LaFerrari. In fact, the C-X75's total speed is slotted evenly between the Lamborghini Veneno (277.8 mph/447.3 km/h) and Lamborghini Sesto Elemento/Chevrolet SS (276.0 mph/444.4 km/h). The C-X75's acceleration isn't overly impressive, probably owing to its weight, despite having a high nitro stat, although the C-X75 is far from the slowest-accelerating car in the game. Efficiency is rated as a above-average 7/12/17. The C-X75's top speed is also very low, due to being a nitro-focused car. Despite having a low top speed, the C-X75's handling capabilities are decent.
The Jaguar C-X75 costs

2,750 to purchase and
2,295,750 to max out. Pro Kit Upgrades require
1,510,280.
While not the most useless car in the game, the Jaguar C-X75 is still not very useful, as it has virtually no use in Events or Multiplayer races. The C-X75, on the other hand, appears in a rewarding "Jaguars" collection and is required for completion of Season 6: Adrenaline of the Career Mode. In terms of Daily Tasks that involve a Jaguar, the Jaguar XJ220S is a better choice.
The Jaguar C-X75 appears in Asphalt Nitro as a Class A car. There is a glitch present in this car; if one only boosts up to orange level, the car can reach speeds of over 1,000 kilometers per hour.