The Koenigsegg One:1 is a track-focused version of the Koenigsegg Agera hypercar. It is named for its equal ratio of power to weight.
Overview
Edit
Presented at the March 2014 Geneva Motor Show, the Koenigsegg One:1 is the top-of-the-line variant of the Koenigsegg Agera hypercar. Koenigsegg built only six One:1s apart from the car presented at the Geneva Motor Show, all of which have been already sold.
The One:1's name comes from the equal power-to-weight ratio of 1,360 PS to 1,360 kg. 1341 hp (1000 kW) is equal to 1 megawatt (MW), which Koenigsegg claims makes the One:1 the "world's first megacar". Unlike lesser models, the One:1 is more track-focused. Changes include an airscoop on the removable roof, a differently-modeled front end that generates more downforce and reduces boot capacity by 40%.
The One:1's engine is a up-tuned variant of the Koenigsegg 5.0L (5,032 cc) twin-turbo V8 engine found in Koenigsegg's current models, with a power output of 1341 hp (1000 kW) at 7,500 rpm and torque output of 1010 ft·lb (1369 N·m) at 6,000 rpm. Power is delivered to the rear wheels via a seven-speed dual-clutch automatic transmission with paddle shifters.
The One:1 is capable of 0-60 mph (0-97 km/h) in 2.7 seconds, 0-124 mph (0-200 km/h) in 6.6 seconds, 0-186 mph (0-300 km/h) in 11.92 seconds, and 0-200 mph (0-322 km/h) in 14.3 seconds. The One:1 is also capable of a top speed of 273 mph (440 km/h), which would make the One:1 the fastest limited production car in the world.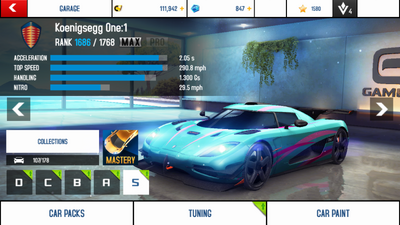 The Koenigsegg One:1 was added in the San Diego Harbor Update. It is one of two Class S cars added in this update, the other car being the Peugeot Onyx.
The Koenigsegg One:1, as it currently stands, is a mid-high end Class S car. It has a starting rank of 1562, a MAX rank of 1686, and a MAX+PRO rank of 1768. The One:1 gains +29 from Tuning Kits and has a Speed Modification of 85.74%, the lowest in the game, shared with the SSC Tuatara, SSC Ultimate Aero XT, Hennessey Venom GT, and Devel Sixteen Prototype. Its main rivals are the Bentley EXP10 Speed 6 and Lamborghini Egoista.
Performance Edit
Being an excellent all-rounder and an improved version of the Koenigsegg Agera R, the Koenigsegg One:1 features great launch and acceleration, on level equal to or better than the Hennessey Venom GT. The One:1's handling and drifting have also been improved over the Agera R and doesn't skid and/or randomly wreck as often. The One:1 has a modest nitro boost, as well as an equally modest nitro efficiency rating of 6/11/16.
While the Koenigsegg One:1 sees virtually no use in current Time-Limited Events anymore due to the emergence of better and faster cars like the McLaren 675LT, McLaren F1 XP-5, Chevrolet 2016 Camaro SS, TRION NEMESIS, and Devel Sixteen Prototype, and it has also been superseded by the 675LT as the best budget Credits-only car that can perform really well on a single tank, its lower cost versus better vehicles such as the NEMESIS (which costs
4,000,000), Aston Martin Vulcan or Devel Sixteen Prototype (which both cost more than

14,000 each) makes it a good vehicle for players who cannot afford something better, and due to its well-rounded capabilities, the One:1 can be used on virtually any track in the game. In addition, its Season 9 race remains one of the best non-Car Mastery opportunities for farming
.
The Koenigsegg One:1 costs
2,850,000 to purchase (
3,000,000 prior to the Multiplayer League Update) and
2,693,450 to MAX out. Pro Kits require
1,681,521, as well as 20 of each Class S Parts card, 44 Forced-Induction V8 cards, 24 Mid-Tech cards, and 36 Advanced Tech cards.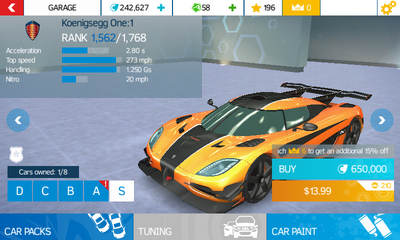 The Koenigsegg One:1 was added to Asphalt Nitro in the second update and officially made playable since the third update.
The Koenigsegg One:1, again a Class S car, still has identical performance to its Asphalt 8: Airborne rendition. Its main rival is the Lamborghini Aventador LP 700-4. This time, though, the One:1 is now the fastest Credits-purchasable car in the game, unlike in Asphalt 8: Airborne, where later cars made it obsolete.
The Koenigsegg One:1 costs
650,000 to purchase.
External link
Edit
Ad blocker interference detected!
Wikia is a free-to-use site that makes money from advertising. We have a modified experience for viewers using ad blockers

Wikia is not accessible if you've made further modifications. Remove the custom ad blocker rule(s) and the page will load as expected.