The Lamborghini Aventador LP 700-4 is a mid-engined flagship supercar by Lamborghini produced since 2011. It is the successor to the Lamborghini Murciélago flagship supercar last introduced in 2001.
Description
In keeping with Lamborghini tradition, the Lamborghini Aventador is named after a fighting bull. Aventador (pronounced: [aβentaˈðoɾ]) was a bull that fought particularly valiantly in the bull ring of Zaragoza, Spain in 1993. The bull which the Aventador is named after earned the Trofeo de la Peña La Madroñera for its courage in the arena. The Aventador car's shape borrows heavily from the Reventón and Estoque cars.
The Lamborghini Aventador uses a new in-house-developed 6.5L (6,498 cc) naturally aspirated 60° V12, codenamed L539. L539 is the fourth in-house engine and second V12 designed by Lamborghini, as well as the first all-new V12 since the 3.5L engine found in the 350GT. The Aventador LP 700-4's L539 V12 engine produces 690 hp (515 kW) at 8,250 rpm and 509 ft·lb (690 N·m) at 5,500 rpm. The car is claimed to have a dry weight of 3472 lb (1575 kg), although the real car has a weight of either 3816 lb (1731 kg) in Europe or 4083 lb (1852 kg) in the US, both with all fluids. The car has a resulting power-to-weight ratio of 373-383 hp per tonne or 5.03-5.92 lbs (2.28-2.69 kg) per horsepower.
Power is delivered to all four wheels via a seven-speed single-clutch semi-automatic transmission built by Graziano Transmissioni, which achieves gear shifts in 50 milliseconds despite being single-clutch. The new, electronically controlled AWD system is developed and supplied by Haldex Traction, offering traction and handling capabilities based on their fourth-generation technology.
The Lamborghini Aventador LP 700-4 has performance figures of 0-60 mph (0-97 km/h) in 2.9 seconds, a quarter mile (~400 m) in 10.6 seconds at 137 mph (220 km/h), and a top speed exceeding 217 mph (350 km/h). Sport Auto magazine measured a top speed of 230 mph (370 km/h) in 2012[1].
Production was initially planned to be limited to 4,000 units, although Lamborghini eventually built its 5,000th Aventador in 2016. The base price of the Aventador starts at US$394,000.
The Lamborghini Aventador LP 700-4 appears as a Tier 7 car. Also, it was the icon car again on the first version like in Asphalt Injection. It requires 115 stars to be unlocked and requires $380,000 to be bought. However, it can be lent for $85,000. The Lamborghini Aventador LP 700-4 has a lower top speed than the RUF RT 12 S, but both can reach the same nitro speed. The difference, though, is that the Aventador has a lower nitro efficiency. The Aventador LP 700-4, in fact, is the slowest Tier 7 car in the game, slower than the Ferrari 288 GTO and RUF RT 12 S. Its handling sadly does not make up its weaker nitro efficiency and top speed, as it is larger and wider than most cars in the game, as well as its armor stat being identical to the RUF RT 12 S. Considering that its acceleration is the only better point than the RUF RT 12 S, overall it is a depreciating car to buy and use. These traits would eventually carry over to subsequent games.
Summary
The Lamborghini Aventador LP 700-4 was added in the Tenerife Update even though silhouettes of the car have already existed even as far as the game's original release.
It has a starting rank of 1470 (the same as the McLaren P1™) a MAX rank of 1648, and a MAX+PRO rank of 1758. A Tuning Kit adds 38 rank points. The Lamborghini Aventador LP 700-4's main rivals are the Peugeot Onyx and the Mercedes-AMG C 63 Coupe Touring Car 2014.
Performance
The Lamborghini Aventador LP 700-4 is a car that combines performance traits from the 9FF GT9 VMAX and Peugeot Onyx: a high rate of acceleration with acceleration to total speed at MAX+PRO with a Tuning Kit in 3.6 seconds, responsive handling and drifting, high top speed, and low nitro efficiency.
The Aventador LP 700-4's acceleration is inversely proportional to its speed at speeds 62 mph (100 km/h) below its maximum total speed – its acceleration decreases as its speed increases, to the point it reaches top speed in a noticeable amount of time after the Ferrari 330 P4, McLaren Mercedes MP4-25, and Koenigsegg One:1. It still posts a high rate of acceleration as mentioned previously, though, with the ability to hit total speed at MAX+PRO with a Tuning Kit in 3.6 seconds. The LP 700-4 has a maximum total speed of 297.6 mph (478.7 km/h), although the 330 P4 can pull off the same total speed at a lower rank but with better overall performance.
The LP 700-4's biggest disadvantage is its low nitro efficiency, rated as a 9/14/19; this may perhaps be a performance trait based on the previous games' version of the Aventador. Even at MAX+PRO, this makes its driver mostly incapable of taking advantage of the faster boost a Level 3 Nitro provides because of how quickly the nitro depletes, requiring the use of a more-efficient Perfect Nitro that otherwise provides the same boost of speed as a Level 3 nitro.
In fact, if not for its abysmal nitro duration, the Aventador LP700-4 would be nearly identical to the McLaren 675LT in terms of performance.
The Lamborghini Aventador LP 700-4's handling, while not bad by any means, is not the best in its class, although the Aventador LP 700-4 does have a somewhat sharp drifting radius that helps it clear difficult corners without too much trouble. The car, weighing 3472 lb (1575 kg) in the game, does have an above-average steering capacity.
Usage
The Lamborghini Aventador LP 700-4 has no use whatsoever in most Time-Limited Events thanks to being superseded by the McLaren 675LT and later cars like the aforementioned McLaren Mercedes MP4-25 and BMW 3.0 CSL Hommage. On the other hand, there are some events that may feature mid-high-end Class A cars, and the Aventador is always featured in those events even though the Sbarro Alcador has a higher rank and slightly higher total speed; this is due to the Alcador having much worse overall stats than the Aventador. The Aventador is still the best car available for Lamborghini events, though, provided the player does not have all the necessary Blueprints for the Lamborghini Egoista and Lamborghini Aventador SV. While the 330 P4 is superior, it has a problem of being a tokens-only car, and it would be better for the player to save tokens for better cars like the Aston Martin Vulcan.
In Multiplayer races, though the Aventador LP 700-4 struggles to stand out against faster cars, especially the McLaren Mercedes MP4-25, Aston Martin Vulcan, and even the Mercedes-Benz SLK 55 AMG Special Edition and lower-ranked Mercedes-AMG C 63 Coupe Touring Car 2014, due to its own limitations – it would require an Extra Tank to keep up in most events, and even then, the player would have to do no mistakes to avoid ending with an empty tank, especially on tracks like Tokyo or Patagonia. Even the highest MP-friendly upgrade configuration, 1504 5152 with a rank of A1669 and a total speed of 290 mph (467 km/h), does not allow the Aventador LP 700-4 to compete as effectively as higher-end cars. In the same case, an upgrade configuration of 0403 2051, which gives a rank of A1599 and a total speed of 274 mph (442 km/h), does not have the same level of competitiveness as even the Lotus Evora Sport 410, which can reach 282 mph (454 km/h) at a rank of B1598 with an upgrade configuration of 0505 5555.
Price
The Lamborghini Aventador LP 700-4 costs
1,000,000 to purchase, the first non-Class S car to cost at least that much to purchase. The Aventador costs
2,100,150 to max out. Pro Kit Upgrades require
1,294,600, 13 of each Class A Parts card, 12 V12 Engines, 2 Initial Tech cards, 2 Early Tech cards, 12 Mid-Tech cards, and 12 Advanced Tech cards.
This car appears in Asphalt Injection as a high end car. Its main rivals are the Lamborghini Murciélago LP 670-4 SV, Ferrari Enzo Ferrari, and RUF RT 12 S. Oddly enough, it launches slower than the Ferrari Enzo Ferrari despite having a quicker rate of acceleration.
The Lamborghini Aventador LP 700-4 was made playable in the fourth update for Asphalt Nitro, despite having already been available in the game since the third update.
The Lamborghini Aventador LP 700-4, this time though, is a Class S car. It otherwise behaves exactly the same as its Asphalt 8: Airborne rendition. It mainly rivals the Koenigsegg One:1 again, due to the Ferrari 330 P4 having been reduced in performance.
The Lamborghini Aventador LP 700-4 now costs
1,500.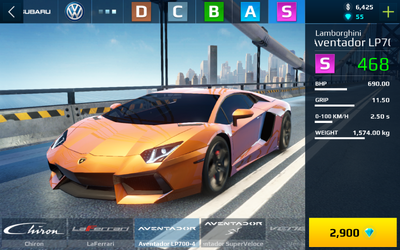 The Lamborghini Aventador LP 700-4 appears as a Class S car. It was added in the Asphalt Street Storm Racing Graphics Update.
This section of an article is missing some information. Please try to add some relevant content.
References