The Lamborghini Estoque is a one-off concept four-door sedan created by Lamborghini in 2008.
Overview
Edit
The Lamborghini Estoque is a one-off concept car built by Lamborghini. Unlike current production Lamborghini cars, which are mid-engine two-seat supercars, the Estoque is a four-door sedan.
The Estoque was introduced at the 2008 Paris Motor Show. It is the first front-engine vehicle by Lamborghini since the LM002 utility vehicle. It is described as a "concept for a $230,000 four-door sedan". It currently houses a 5.2 litre V10 engine from the Lamborghini Gallardo, although there has been speculation that this could be replaced by a V12, V8, or possibly even a hybrid or turbo-diesel engine, as suggested by Lamborghini's Brand Director, Manfred Fitzgerald.
As with other Lamborghinis, the Estoque derives its name from the sport and tradition of bullfighting: An estoque is a type of sword traditionally used by matadors.
It was reported on 22 March 2009 that production plans for the Lamborghini Estoque were cancelled. Lamborghini executives responded to this by stating that the Estoque had not reached the production planning stage and that the decision whether to produce the Estoque or not has been delayed due to sales and marketing considerations. Stephan Winkelmann, Lamborghini's chairman, has since indicated that a four-door Lamborghini is likely, stating that response to the Estoque showed opportunities for Lamborghini outside the supercar market. However, Winkelmann also stated that Lamborghini does not have any plans to manufacture the Estoque and that it was only a concept vehicle.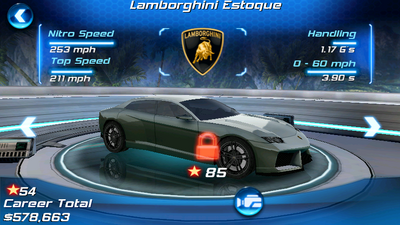 The Lamborghini Estoque is unlocked at 85 stars.
The Lamborghini Estoque was added to Asphalt 8: Airborne as part of the February 2016 Lunar New Year Update. It is one of three Class B cars introduced in that update and one of the two Lamborghinis added in 2016, alongside the Lamborghini Miura.
The Lamborghini Estoque appears at the top of Class B. Initially, it is ranked rather low, starting at 1226, but maxing it out increases the rank of 1525 (+299). At MAX+PRO, the Estoque becomes ranked 1685 (+160), and the Tuning Kit bonus for this car is +54 rank points, thus making the highest possible rank 1739, ranked lower than the Holden Coupe 60 and Mercedes-AMG GT3 (with Elite Tuning). This makes the car very similar to the Mercedes-Benz Silver Lightning. The Lamborghini Estoque's main rivals are the Mercedes-Benz Silver Lightning, Koenigsegg Agera R, Lamborghini Asterion, and Lamborghini Huracán.
Performance Edit
Similar to the Mercedes-Benz Silver Lightning, the Lamborghini Estoque has its performance built on a top speed-focused type. The Estoque has a above-average rate of acceleration; it only accelerates better than the Chevrolet SS. The Estoque, however, does have great handling and drifts better than the Kepler Motion, thus giving the car an advantage in twisty tracks like Nevada. Additionally, the Estoque has among one of the best top speed stats in Class B, again making it similar to the Silver Lightning. Interestingly, it seems that the Estoque actually has slightly shorter nitro than the Silver Lightning, with 8/13/18 instead of the usual 7/13/17 that its nitro stat normally would have granted. Overall, the Estoque is a car that can compete on virtually all tracks.
The one thing to be careful of is the fact that the Lamborghini Estoque has a display speed multiplier of 91.60%, shared with the Mosler GT3, McLaren F1 XP-5, and TRION NEMESIS. As such, it is the first Class B car with a display speed multiplier that isn't 100%. In this case, the car actually goes slower than its displayed speed. At best, the Estoque can do 285.7 mph/460.0 km/h at MAX+PRO with a Tuning Kit.
In multiplayer, though, this is where the Lamborghini Estoque shines brightly – it is great in multiplayer and is usually seen around the 1450~1570 range. Given its huge upgrade rank increase and huge Pro rank, the Estoque can be tuned to greatly outrun cars with either similar or equivalent ranks; if tuned to 0505 5050 (= B1531), it can reach a real speed of 281 mph/452 km/h without even crossing past 1550. A tuning of 0500 5050 (= B1456) allows a real speed of 272 mph/439 km/h with a Tuning Kit.
The Lamborghini Estoque was also given as a prize for banking in

42,000 during the Lamborghini Aventador LP 750-4 SV's Enduro Double Down event.
Since the Elite Cars Update, the Lamborghini Estoque currently costs
950,000 or

6,200 (originally

4,900) to purchase and
2,642,900 to max out. Pro Kits require
1,402,650, 13 of each Class B Parts card, 4 V10 Engines, 8 Initial Tech cards, 8 Early Tech cards, and 12 Mid-Tech cards.
Ad blocker interference detected!
Wikia is a free-to-use site that makes money from advertising. We have a modified experience for viewers using ad blockers

Wikia is not accessible if you've made further modifications. Remove the custom ad blocker rule(s) and the page will load as expected.