The Lamborghini Huracán LP 610-4 is a mid-engined supercar produced by Lamborghini since 2014 as the successor to the Lamborghini Gallardo.
Overview
Edit
The Huracán's name ("huracán" being the Spanish word for "hurricane") is inspired by a Spanish fighting bull. The use of names from historical Spanish fighting bulls has been the traditional naming scheme of most Lamborghini car models. Huracán was a bull known for its courage that fought in 1879.
The Huracán LP 610-4 retains the 5.2L (5,204 cc) naturally aspirated V10 engine from the Gallardo, retuned to 602 hp (449 kW) and 413 ft·lb (560 N·m). The V10 uses both direct fuel injection and multi-point fuel injection and combines the benefits of both systems for the first time in a V10 engine. The Huracán also includes a start-stop system for increased efficiency.
The Huracán uses electronically controlled AWD, aiming to increase traction on various surfaces and overall performance. Available with only an automatic, the Huracán uses a 7-speed Lamborghini Doppia Frizione (dual clutch) automatic transmission that performs differently depending on which driving mode is selected. The Huracán also utilizes a magnetically controlled suspension system and magnetorheological dampers to very quickly alter how the car acts, ensuring performance and stability.
The Huracán is capable of 0-60 mph (0-97 km/h) in 2.5 seconds and a quarter mile in 10.4 seconds at 135 mph (217 km/h)[1], as well as a top speed exceeding 202 mph (325 km/h). It has a real top speed of 212 mph (342 km/h)[2].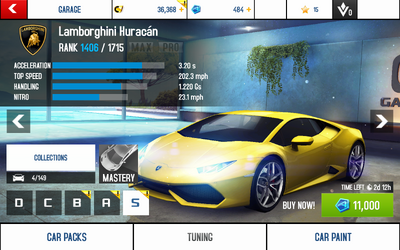 Added in the Research & Development Update, the Lamborghini Huracán LP 610-4, erroneously renamed to simply Lamborghini Huracán, is the first Research & Development-unlockable car of the game.
A Class S car, the Huracán has a low starting rank of 1406, a MAX rank of 1598, and a MAX+PRO rank of 1715. The car receives +43 from Tuning Kits. The Huracán mainly rivals the Mercedes-Benz Silver Lightning, Lamborghini Estoque, Lamborghini Asterion, and McLaren 570S.
The Huracán's very high rate of acceleration is its main performance specialty to back up its otherwise abysmal overall performance. Due to its high nitro boost, the Huracán has a low nitro efficiency rating of 9/14/19 and a lower top speed than most similarly-ranked cars. Despite this, the Huracán has great handling capabilities and is capable of clearing most corners without hitting a wall. The Huracán's poor nitro efficiency, coupled with its low total speed of up to 284.9 mph (458.8 km/h), greatly lowers its performance on tracks like Tokyo.
The Lamborghini Huracán could originally be obtained through its R&D event. If not, when made available for purchase, it costs

11,000. Maxing it out costs
2,593,700 or

14,480. Pro Kits require
1,109,850, 12 of each Class S Parts card, 16 V10 Engine cards, 20 Mid-Tech cards, and 20 Advanced Tech cards. As of the Car Blueprints Update, it can be assembled after obtaining 145 Lamborghini Huracán BP cards.
Overall, the Lamborghini Huracán is nothing more than a bragging right that can be obtained after completion of its notoriously difficult R&D event. Given its lack of usefulness in Time-Limited Events and multiplayer, the car is mostly useless as its performance is overshadowed by the likes of the W Motors Lykan HyperSport and Holden Coupe 60. The car is only useful for Huracán-exclusive events and being a collector's car that contributes to the 'Running Of The Bulls' collection. The Huracán is the only car in that collection which barely has any niche to shine at, unlike the rest of the cars, which can be useful in either Events, Multiplayer, or both. Furthermore, as of Car Blueprints Update, the car's obscenely high amount of Blueprints needed to assemble the car, at 145 Blueprints, takes a severe chunk of Pro Kits inventory space compared to other cars, even those with Common rarity; therefore it is NOT recommended to attempt collecting Blueprints for this car, though due to the introduction of Moto Blitz in the Motorcycles update, it is now easier to collect the Huracan Blueprints.
Availability Information
Edit
Following its debut R&D event, the Lamborghini Huracán was made available again between the 4th and 7th of December 2015 on a 3-day limited time offer for

11,000.
It was made available yet again on a 3rd limited time offer between the 16th and 18th of January 2016 at the same tokens price.
The Huracán was made available again for the 4th time, this being the 2nd Research & Development event for the car itself (and the 6th R&D event so far, overall) lasting between the 9th and 24th of March 2016. If players upgraded the Huracán in the previous event but didn't obtain it, the upgrades were still available in the R&D revival.
Following the conclusion of the R&D event revival, it is presumed that any upgrades recently added may stay on the car, should it become available again at a later time.
The Huracán returned between the 11th and 17th of May 2016 on a limited time offer for

11,000.
The Huracán returned once again between the 23rd and 25th of August, 2016.
Most recently, the Huracán was available for a weekend offer between November 25 and November 28, 2016 for the last time.
As of the Car Blueprints Update, the Huracán can now be obtained by collecting 145 Huracán blueprints. 100[3] of said blueprints can be obtained from the Moto Blitz mode, introduced in Motorcycles Update. As of the Munich Update, 40 more blueprints can be obtained.
Research & Development
Edit
Main article: Research & Development/Lamborghini Huracán
The Lamborghini Huracán was added in Asphalt Nitro's fifth update.
This time though, the Lamborghini Huracán is a Class A car, placed at the lowest end of Class A. It only has a maximum rank of 1677 instead of 1715.
References
Edit
↑ http://media.caranddriver.com/files/2015-lamborghini-huracan-lp610-4-tested-review-car-and-driver2015-lamborghini-huracan-complete-specs.pdf
Ad blocker interference detected!
Wikia is a free-to-use site that makes money from advertising. We have a modified experience for viewers using ad blockers

Wikia is not accessible if you've made further modifications. Remove the custom ad blocker rule(s) and the page will load as expected.