The Lamborghini Miura P400 is a classic supercar produced by Lamborghini as the first mid-engined supercar with a two-seat layout. Upon its release, it was the fastest road car ever made.
This section of an article is missing some information. Please try to add some relevant content.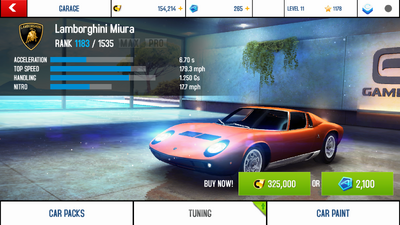 The Lamborghini Miura was added in the Lunar New Year Update and was supposed to be released at the end of that update but due to time constraints, it was later held back to the Elite Cars Update.
The Lamborghini Miura, a mid-high end Class C car, has a starting rank of 1183, a MAX rank of 1405, and a MAX+PRO rank of 1535. The Miura receives +48 from Tuning Kits.
The Miura acts as a continuation of the Felino cB7: while using the same nitro stat, the Miura's acceleration, handling, and top speed are improved over the cB7. The Miura is considered one of the best-drifting cars in the game. The Miura, on the other hand, now sees more use in Multiplayer due to its capability of competing with the Range Rover Evoque Coupe HSE Dynamic and Donkervoort D8 GTO, although the Miura is inferior to the likes of the McLaren M14A and TVR Sagaris.
The Lamborghini Miura costs
250,000 or

2,100 to buy,
1,097,150 or

6,580 on upgrades, and a price of
685,200 for Pro Kit Upgrades. The Lamborghini Miura was also awarded as a Daily Bonus for November 2016 after 30 days of consecutive logins.