The Lamborghini Sesto Elemento, whose name means "Sixth Element" in English, is a limited edition, lightweight supercar that debuted at the 2010 Paris Motor Show. The Sesto Elemento's name is a reference to the atomic number of carbon, in recognition of the car's extensive use of carbon fiber.
Overview
Edit
The Lamborghini Sesto Elemento is constructed on carbon fiber, with the chassis body, drive shaft, and suspension components being made out of carbon fiber, making the Sesto Elemento's weight only 2202 lb (999 kg).
On the engine cover, there are 10 distinctive hexagonal holes through which air is released, while two intakes funnel cool air into the mid-mounted engine compartment. The engine is a 5.2L (5,204 cc) V10 from the Gallardo, generating 562 hp (419 kW) and 398 ft·lb (540 N·m) of torque. The car is equipped with a six-speed semi-automatic transmission with paddle shifters and all-wheel-drive as standard.
Lamborghini claims a 0-60 mph (0-97 km/h) acceleration time of just 2.4 seconds and a top speed exceeding 210 mph (338 km/h). The car has a power-to-weight ratio of just 563 hp per tonne, the best power-to-weight ratio for any production Lamborghini.
Lamborghini made 20 Sesto Elementos for track use only between 2011 and 2013. Reported prices range from US$2.2 million to US$2.9 million, which would make the Sesto Elemento the most expensive Lamborghini until the introduction of the Lamborghini Veneno, which has a price of US$4.5 million (US$7.4 million for some Lamborghini Veneno Roadsters).
The Lamborghini Sesto Elemento is a top-end Tier 3 car, originally included in the game's release. Qualifying as one of the most expensive cars in-game, costing 2,920,000 Cash, it is unlocked via Career Cup 12, requiring another Tier 3 car, which is taken in New York.
The Lamborghini Sesto Elemento is the eighth of nine original Class A cars, with a starting rank of 1464, a MAX rank of 1589, and a MAX+PRO rank of 1672. +30 is added with a Tuning Kit.
The Lamborghini Sesto Elemento can basically be described as an excellent well-rounder, with a very high rate of acceleration (albeit inferior to the McLaren MP4-31 and ED Design Torq), excellent handling and drifting (all due to being very lightweight), decent top speed, and stellar nitro efficiency (6/11/16). This makes the Sesto Elemento a good go-to car for the later stages of the Career Mode.
The Lamborghini Sesto Elemento costs
175,000 to purchase,
364,400 to max out, and
225,784 for Pro Kits, which also require 6 of each Class A Parts card, 8 V10 Engine cards, 2 Initial Tech cards, 2 Early Tech cards, 12 Mid-Tech cards, and 4 Advanced Tech cards.
With its excellent all-round stats, especially with regards to acceleration and handling, the Lamborghini Sesto Elemento is a great buy for its performance and is recommended for use until the player gets better cars like the McLaren P1™. Given that the game is getting harder for newer players to progress as each update passes, it is generally more recommended to directly save up for this car as a Class A starter car.
The Lamborghini Sesto Elemento appears as a Tier 5 vehicle, added in the third update in the game. Also being one of the most expensive cars bought by cash (800,000 cash), the Lamborghini Sesto Elemento is one of the fastest cars in-game, and is a great car to purchase to beat the final mission The Big Score, as it has a required rank of 1664, which is lower than a level 2 Sesto Elemento.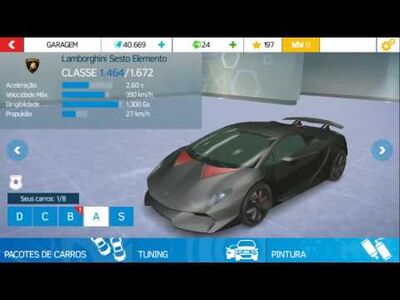 The Lamborghini Sesto Elemento is the first Class A car in the game. It costs
75,000 to purchase.
Ad blocker interference detected!
Wikia is a free-to-use site that makes money from advertising. We have a modified experience for viewers using ad blockers

Wikia is not accessible if you've made further modifications. Remove the custom ad blocker rule(s) and the page will load as expected.