Description
The Mazda RX-8 Special Edition is a fictional version of the Mazda RX-8 with aftermarket modifications.
Similar to the BMW M2 Special Edition, the Mazda RX-8 has a racing based visual customization:
Custom bumpers & side skirts (similar to Rocket Bunny widebody kits)
Hood scoop
2-layered spoiler
Flared wheel-arches
Aftermarket rims
Two-tone red & black livery
Summary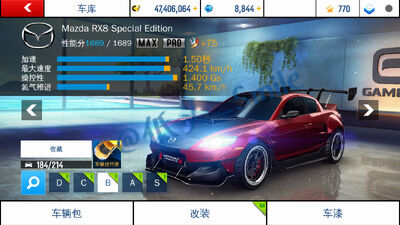 The Mazda RX-8 Special Edition was added in the 2018 Summer Update as a Class B car with the following rank statistics:
Performance
The Mazda RX-8 Special Edition can reach a max real speed of 469.8 km/h - 291.7 mph at MAX+PRO with Tuning Kit activated in 2.1 seconds. This makes the RX-8 SE faster than the BMW M2 Special Edition, Ferrari GTC4Lusso, Holden Coupe 60, and McLaren MP4/8. The RX-8 SE performance-wise is largely similar to its Class D counterpart except without the Elite Vehicle status and better nitro efficiency. As such, it can now be considered as the best-performing vehicle in Class B.
Usage
The RX-8 SE's primary use is in TLEs at MAXPRO. However, the BMW M2 Special Edition may remain as the most viable choice for B Class-only events due to the RX-8 SE's restrictive availability, high upgrade costs of

only upgrades, and 32 legendary Rotary Engines necessary to MAXPRO (4 more than the required amount for the Mazda Furai, the previous fastest Mazda).
The RX-8 SE is less suitable for Multiplayer than the other SE cars due to its upgrade rank percentages (5/70/5/20) heavily focusing on top speed. However, it is still useful for players in lower Leagues due to its decent speed, albeit not the greatest, at many ranks.
Some useful non-MAXPRO Multiplayer tunings include:
0500 5050 (Rank 1465): Speed= 448.1 km/h
0502 5050 (Rank 1492): Speed= 452.1 km/h
0504 5050 (Rank 1541): Speed= 458.4 km/h
0504 5055 (Rank 1572): Speed= 462.5 km/h
0505 5050 (Rank 1573): Speed= 461.5 km/h
0505 5055 (Rank 1604): Speed= 465.6 km/h
0505 5555 (Rank 1635): Speed= 469.8 km/h
Note: Although pro kits are more efficient than max upgrades (i.e. 0504 5055 Rank 1572 is 1.0 km/h [0.6 mph] faster than 0505 5050 Rank 1573), it is unlikely that the player will have enough Rotary Engines to tune the car in this way. Therefore, 0505 5050 Rank 1573 will be the highest viable tune for the majority of players.
Price
The RX-8 SE is neither purchased with credits nor tokens or able to be assembled with Blueprints. It only can be obtained through the completion of its R&D event.
Upgrades for the RX-8 SE cost
1,992,400 +

1,945 while Pro Kits require
1,518,775, 17 of each Class B Parts card, 14 Early & Initial Tech cards, 24 Mid-Tech cards, and 32 Rotary engine cards.
Research & Development
Main article: Research & Development/Mazda RX-8 Special Edition
The RX-8 SE's Research and Development event was launched on July 19, 2018. Players were given 4 days to start and 9 days to complete the event.