Overview
The McLaren 650S GT3 was revealed at the 2014 Geneva Motor Show, intended as a replacement for the 12C GT3. The road car packs a 3.8L twin-turbocharged V8 producing a healthy 493 horsepower, on its way to 60 mph (96.5 km/h) in a stealthy 2.9 seconds, and thrusts its way to its 207 mph top speed.
Summary
The McLaren 650S GT3 was added in the Munich Update as a R&D vehicle.
The 650S GT3 is placed as a higher-end A-class car, with a base rank of 1465 and a total rank of 1726.
Performance
The McLaren 650S GT3 shares some traits with the Mercedes-AMG C 63 Touring Car 2014, having fair acceleration and smooth handling. However, during the Munich Update, it has the tendency to have "glitch bumps", causing sudden skids and wrecks. This was fixed as of the Fall Out Boy Update.
Official review
This is the official review of the McLaren 650S GT3 on the Asphalt YouTube channel, made by Rev_Tez and published on Nov 13, 2017:
Time to reach end of Tokyo straight: 7.524s
Perfect nitro duration: 8.778s
Triple nitro duration: 6.336s
French Guiana lap time: 59.169s
Final verdict: "The McLaren 650S GT3 falls in the mid-low tier of A class. It's great handling will make it easy for players to maneuver through all the tracks. However, this car has a tendency to skid but can be controlled fairly easily. It is best to upgrade this car suited for Multiplayer!"
Usage
This section of an article is missing some information. Please try to add some relevant content.
Price
The McLaren 650S GT3 can be assembled by collecting 20 of its Rare-rarity BP cards. Assembling the 650S takes 4 hours but can be skipped for up to

262.
Initially, the McLaren 650S GT3 was one of three

only upgrade cars that were added in the Munich Update; this was subsequently changed to allow for payment of upgrades via
or

following strong negative feedback from many players over the "conversion" of several existing cars to

only upgrades. The 650S currently costs
1,988,950 or

13,930 to MAX out. Pro kits require
1,117,775, as well as 11 of each Class A part, 2 each of Early and Initial Tech, 12 Mid-Tech, 8 Advanced Tech and 8 Forced-Induction V8 Engine cards.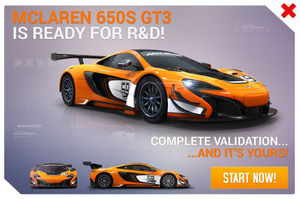 Main article: Research & Development/McLaren 650S GT3
The 650S GT3's R&D event was released October 30th, 2017, with 3 days to participate and 14 days to complete the event.