The McLaren MP4/8 was a Formula One racing car that competed in the 1993 season. It was succeeded by the McLaren MP4/9 in 1994.
Description
Thanks to a watershed use of electronics technology that cars used in the 1993 season, the car was designed by Neil Oatley around advanced electronics technology, including a semi-automatic transmission, active suspension and traction control systems.
Honda was McLaren's engine supplier from 1988 to 1992. Following the economic recession, Honda departed from F1 after 1992, but returned to F1 in 2015, and team principal Ron Dennis was unable to get a supply of Renault engines, so the MP4/8 used a Ford HBE7 3.5L V8 engine, which was underpowered compared to rival team Williams's Renault engine and Benetton's higher-spec Ford engine.
The MP4/8 was raced by Michael Andretti and the late triple world champion Ayrton Senna, which was his final year at McLaren. Andretti was replaced by Mika Hakkinen in the final three races in the season. Despite underpowered and uncompetitive, Senna managed to achieve one pole position, one fastest lap and five race victories for the team while Andretti and Hakkinen were able to score a podium finish respectively. McLaren finished runner-up with 84 points, behind constructors' champion Williams (168 points). Senna came second in the standings with 73 points, behind his rival Alain Prost (99 points) whilst Andretti and Hakkinen were 11th (7 points) and 15th (4 points) respectively.
A modified version of the car, the MP4/8B used a Lamborghini V12 engine. Both Senna and Hakkinen tested the MP4/8B and it was found to be 60 bhp more powerful than the Ford V8 unit, however it was never raced. The plan for McLaren to use Lamborghini engines was never realized as they had signed a deal with Peugeot as their engine supplier for the 1994 season.
Summary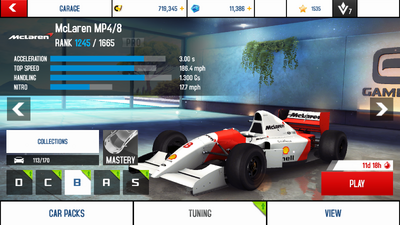 The McLaren MP4/8 was added in the Lunar New Year 2017 Update as a Championship-unlockable car.
The McLaren MP4/8 is a mid-high end Class B car, with a starting rank of 1245 and a PRO rank of 1665. The McLaren MP4/8 receives a Tuning Kit boost of +52.
Being a Formula One car, the McLaren MP4/8 lacks MAX upgrades and instead 10 PRO upgrade levels. However, it has a hidden theoretical MAX rank of 1511. Because of its lack of MAX upgrades, the McLaren MP4/8 receives the maximum boost from the Tuning Kit at the default level.
The McLaren MP4/8 mainly rivals the Mercedes-AMG GT3, Holden Coupe 60, and Ferrari GTC4Lusso in Class B TLEs.
Performance
The McLaren MP4/8 excels in every stat, especially acceleration. Its only weakness is its low top speed when compared to its rivals.
The MP4/8's acceleration is the best in the game. The McLaren MP4/8 can reach its maximum speed of 278.6 mph (448.7 km/h) in 1.6 seconds, from a standstill. This is its main advantage, allowing it to rival faster Class B cars on short/twisty tracks. This makes the McLaren MP4/8 a top choice for short and technical maps like Sector 8 and Dubai, in Class B TLEs. This also makes the McLaren MP4/8 a very good car in Multiplayer, when combined with a top speed-oriented Multiplayer tune.
The MP4/8 is the most nitro-focused Formula One car in the game. As a result, it also has the best nitro efficiency of the Formula One cars, at 5/10/15.
The MP4/8 also has excellent handling, steering and grip, being able to handle every corner with ease. The MP4/8 is very stable for a Formula One car; the McLaren Mercedes MP4-25 and McLaren MP4-31 tend to skid much more frequently. The McLaren MP4/8's drifting is extremely good, although this can backfire if "over-drifting" is done, where one turns more than expected and bangs into the wall.
Official review
This is the official review of the McLaren MP4/8 on the Asphalt YouTube channel, made by TheHawtDawg1 and published on March 9, 2016:
Time to reach end of Tokyo straight: 6.831s
Perfect nitro duration: 10.692s
Triple nitro duration: 6.897s
Venice lap time: 1.11.907s
Final verdict: "The McLaren MP4/8 is an amazing race car with the fastest acceleration in the entire game. Along with its superb nitro duration, this car performs best when racing single tank."
Usage (Multiplayer)
In low-ranked (rank ~1300) Multiplayer games, the MP4/8 is not as effective as the Shelby Cobra 427 (a mid Class B car) because the McLaren MP4/8's starting rank is significantly higher. Also, the MP4/8 doesn't have a particularly low top speed weighting (53%). However, the McLaren MP4/8 can be tuned to very high ranks between 1450 to 1600, where it struggles against the Chevrolet 2016 Camaro SS, BMW 3.0 CSL Hommage and Aston Martin Vulcan.
With a tuning of X0X4 (X meaning 10), the MP4/8 reaches a speed of 265.1 mph (426.9 km/h) at B1498. This is slower the Camaro SS, which can reach 304.8 mph (490.6 km/h) at A1450. However, the Camaro SS has sluggish acceleration while the MP4/8 is the complete opposite. Furthermore, the Camaro SS has very poor drifting and handling. This gives the MP4/8 an edge on over the Camaro SS on several maps; most notably, in Sector 8 and Dubai. The McLaren MP4/8 can also use its acceleration to perform a knockdown on the Camaro SS at the beginning of the race, giving the MP4/8 a significant advantage.
Despite usually only being a mere annoyance for the Camaro SS, the MP4/8 is much more deadly for the TVR Sagaris, Lamborghini Estoque and Holden Coupe 60 (three high-end Class B cars), all of which are much slower than the Camaro SS. These cars can only reach speeds of approximately 280 mph (450 km/h) at rank 1490. The MP4/8's speed is generally high enough so that it can outrun all three cars in most maps when combined with the sheer acceleration advantage.
To deal with the MP4/8's low raw top speed, drivers using it in multiplayer should avoid picking long tracks(eg. Tokyo) and/or 2 laps, and pick twisty/technical tracks (eg. Dubai), as well as one lap races, as the good handling and drifting means the MP4/8 can have a larger advantage over it's rivals.
Usage (TLEs)
In terms of Events, the MP4/8's performance traits enables it to dominate leaderboards in tracks like Dubai, Sector 8, Rio de Janeiro, Tenerife, Azure Coast, and Venice. The MP4/8 is considered to be a Class B version of the McLaren Mercedes MP4-25, with dominance on short/technical tracks. It is only on longer tracks like Tokyo where the MP4/8 is no match for the Mercedes-AMG GT3 and Holden Coupe 60's higher top speed. But as of the Fall Out Boy Update, the BMW M2 Special Edition has made the MP4/8 almost obsolete in B Class TLEs.
Price
According to internal game files, the McLaren MP4/8 has a buying price of

5,100 . As of the Car Blueprints Update, it can be assembled after obtaining 18 Rare-rarity McLaren MP4/8 BP cards. Assembly takes 5 hours but can be skipped for up to

289.
Just like the other McLaren Championship cars, the MP4/8 has 10 Pro Kit levels. The MP4/8's Pro Kits require
908,660, 11 of each Class B Parts card, 48 Serial Racing Engines, 6 Initial Tech cards, 6 Early Tech cards, and 16 Mid-Tech cards.
Availability
As of the Car Blueprints Update, the McLaren MP4/8 is permanently available in the Garage for all players, but must be assembled with 18 McLaren MP4/8 BP cards if the player did not complete the Championship.
An assembly cup for the car was held on October 9-13, 2017.
Worthiness
The McLaren MP4/8 has a decent performance, being able to rival the BMW M2 Special Edition, albeit only on short tracks. It is also good in Multiplayer at ranks of about 1400+, where the only competition that can consistently defeat it is the M2 SE and Audi R8 e-tron Special Edition.
Hence, the MP4/8 is highly recommended for people who do not have any top-end B Class cars, but more or less useless for people who do and have a good Multiplayer car as well, and is still recommended for players who do not have the BMW M2 Special Edition.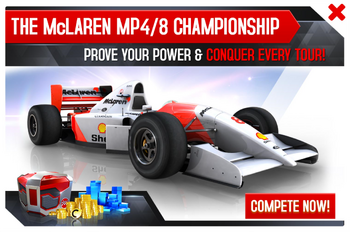 Main article: Championship/McLaren MP4/8
The McLaren MP4/8 Championship was held as the third McLaren Championship event on February 20, 2017, following the Lamborghini Aventador LP 750-4 SV's Enduro Double Down event. The following 8 Tours must be completed in 9 days once the Championship is started: Dubai, London, French Guiana, Tokyo, Patagonia, Venice, Nevada, and Alps.
Championship

McLaren Championship

McLaren M14A (Car • Event) • McLaren Mercedes MP4-25 (Car • Event)
McLaren MP4/8 (Car • Event) • McLaren MP4-31 (Car • Event)

Porsche Championship

Porsche Cayman GT4 (Car • Event) • Porsche 959 (Car • Event)
Porsche 718 Boxster S (Car •Event)

Munich Championship

Kawasaki Z800 (Bike • Event) • Arrinera Hussarya GT (Car • Event)
Honda Civic Type R (Car •Event)

Hot Wheels Championship

Hot Wheels Rip Rod™ (Car • Event)
Hot Wheels Bone Shaker™ (Car • Event)
Hot Wheels Twin Mill™ (Car •Event)

Renault Championship
Ariel Championship
Vanda Electrics Championship
Buick Championship
Apollo Championship
Vencer Championship
Kawasaki Championship