The McLaren MP4/8 was a Formula One racing car that competed in the 1993 season. It was succeeded by the McLaren MP4/9 in 1994.
Overview
Edit
Thanks to a watershed use of electronics technology that cars used in the 1993 season, the car was designed by Neil Oatley around advanced electronics technology, including a semi-automatic transmission, active suspension and traction control systems.
Honda was McLaren's engine supplier from 1988 to 1992. Following the economic recession, Honda departed from F1 after 1992 and team principal Ron Dennis was unable to get a supply of Renault engines, so the MP4/8 used a Ford HBE7 3.5L V8 engine, which was underpowered compared to rival team Williams's Renault engine and Benetton's higher-spec Ford engine.
The MP4/8 was raced by Michael Andretti and the late triple world champion Ayrton Senna, which was his final year at McLaren. Andretti was replaced by Mika Hakkinen in the final three races in the season. Despite underpowered and uncompetitive, Senna managed to achieve one pole position, one fastest lap and five race victories for the team while Andretti and Hakkinen were able to score a podium finish respectively. McLaren finished runner-up with 84 points, behind constructors' champion Williams (168 points). Senna came second in the standings with 73 points, behind his rival Alain Prost (99 points) whilst Andretti and Hakkinen were 11th (7 points) and 15th (4 points) respectively.
A modified version of the car, the MP4/8B used a Lamborghini V12 engine. Both Senna and Hakkinen tested the MP4/8B and it was found to be 60 bhp more powerful than the Ford V8 unit, however it was never raced. The plan for McLaren to use Lamborghini engines was never realized as they had signed a deal with Peugeot as their engine supplier for the 1994 season.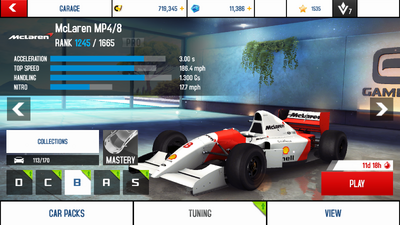 The McLaren MP4/8 was added in the Lunar New Year 2017 Update as a Championship-unlockable car.
The MP4/8 is a high-end Class B car, with a starting rank of 1245, a hidden MAX rank of 1511, and a PRO rank of 1665. The MP4/8 receives a Tuning Kit boost of +52. The MP4/8 rivals the Mercedes-AMG GT3, Holden Coupe 60, W Motors Lykan HyperSport, SSC Tuatara, and Ferrari GTC4Lusso.
Performance Edit
The McLaren MP4/8 is built as an acceleration/handling-focused car.
The MP4/8's acceleration is unrivaled in Class B, capable of reaching maximum speed from a standstill within 1.6 seconds; in fact, the MP4/8 now stands as the fastest-accelerating car not just in Class B, but in the entire game as well. With this, the MP4/8 performs exceptionally well on tracks like Dubai, Azure Coast, or Tenerife.
The MP4/8, as expected of a Formula One car, has excellent handling and can drift or otherwise drive through corners with ease. It has a similar handling capacity to the Mercedes-Benz Biome, but without the Biome's low stability factor shared with the McLaren Mercedes MP4-25, a similar car to the MP4/8 in Class A. A general performance trait in McLaren cars is excellent nitro efficiency; the MP4/8 is no exception, with 5/10/15. The MP4/8 has a total speed of only 278.6 mph/448.7 km/h, though, which can be a disadvantage on a track like Tokyo, but even then, the MP4/8's superb nitro efficiency helps against this.
The McLaren MP4/8 has a high performance-to-rank ratio, as even with a PRO rank of only 1665, it is capable of outrunning cars ranked up to 60 rank points higher due to its extreme acceleration and handling, as well as nitro efficiency.
In Multiplayer, the McLaren MP4/8 is best used in the 1400-1499 rank bracket, due to its acceleration and excellent overall performance, guaranteeing it a victory in most cases. Although it faces stiff competition from the Chevrolet 2016 Camaro SS, BMW 3.0 CSL Hommage, and (in some rare cases) the Aston Martin Vulcan due to their superior total speed, the McLaren MP4/8 is very dominant in said rank bracket, especially when the track is either a short one or the race lasts for one lap.
Using the McLaren MP4/8 above a rank of 1520 is very risky, as even with the MP4/8's aforementioned performance advantages, the MP4/8's competitiveness decreases above 1520 (especially at 1580 or higher) as its rank increases due to being exposed to superior cars like the McLaren Mercedes MP4-25 and Aston Martin Vulcan, all of which can outun the MP4/8 on any track, especially due to having much superior total speed. The MP4-25 with an upgrade configuration of 10/0/10/2, ranked at A1600, gives a total speed of 291 mph (468 km/h). This, coupled with the MP4-25's similar acceleration and handling, along with the Vulcan's total speed of 301 mph (485 km/h) at a rank of S1600 with an upgrade configuration of 0502 5152, makes the MP4/8 unsuitable for use at that rank or higher, although this does not come without driver skill in mind.
In terms of Events, the MP4/8's performance traits enable it to dominate leaderboards in tracks like Dubai, Sector 8, Rio de Janeiro, Tenerife, Azure Coast, and Venice. The MP4/8 can basically be described as a Class B version of the McLaren Mercedes MP4-25, with dominance in tracks that are short and/or focused towards handling/drifting. On normal tracks, though, the Mercedes-AMG GT3 and Holden Coupe 60 are still only slightly faster.
According to internal game files, the McLaren MP4/8 has a buying price of

5,100. As of the Car Blueprints Update, it can be assembled after obtaining 18 McLaren MP4/8 BP cards. Just like the other McLaren Championship cars, the MP4/8 has 10 Pro Kit levels. The MP4/8's Pro Kits require
908,660, 11 of each Class B Parts card, 48 Serial Racing Engines, 6 Initial Tech cards, 6 Early Tech cards, and 16 Mid-Tech cards.
Availability
Edit
As of the Car Blueprints Update, the McLaren MP4/8 is permanently available in the Garage for all players, but must be assembled with McLaren MP4/8 BP cards if the player didn't get the car through the Championship.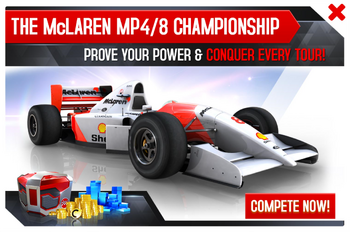 Main article: Championship/McLaren MP4/8
The McLaren MP4-31 Championship was held as the third McLaren Championship event on February 20, 2017, following the Lamborghini Aventador LP 750-4 SV's Enduro Double Down event. The following 8 Tours must be completed in 9 days once the Championship is started: Dubai, London, French Guiana, Tokyo, Patagonia, Venice, Nevada, and Alps.
Ad blocker interference detected!
Wikia is a free-to-use site that makes money from advertising. We have a modified experience for viewers using ad blockers

Wikia is not accessible if you've made further modifications. Remove the custom ad blocker rule(s) and the page will load as expected.