The Mercedes-Benz GLC 250 4MATIC (C253) is a compact luxury SUV designed by Mercedes-Benz as a replacement for the Mercedes-Benz GLK-Class.
Description
Under the vehicle naming scheme maintained by Mercedes-Benz, SUV's use the base name "GL", followed by the model's placement in Mercedes-Benz hierarchy. The "G" is for Geländewagen (German for off-road vehicle) and alludes the long-running G-Wagen. This is followed by the letter "L" that acts as a linkage with the letter "C"—the GLC being the SUV equivalent to the C-Class.
The GLC-Class is available only in a five-door hatchback bodystyle with seating for five. Mercedes also plans a GLC Coupe, with four doors and a V6.
Power comes from a choice of 2-liter 4-cylinder turbocharged petrol (same engine combined with the electric engine in the 350e hybrid) and 2.2-liter 4-cylinder turbo diesel engines in various power stages mated to a 9-speed (7 speed for the 350e hybrid) G-Tronic automatic transmission. 4MATIC all-wheel-drive is standard in some markets and optional in others. The GLC is 183.3 in (4,656 mm) long, 74.4 in (1,890 mm) wide and 64.5 in (1,638 mm) tall, with a track of 63.9 in (1,623 mm) in front and 63.7 in (1,618 mm) in the rear. Trunk volume is rated at 20.5 cu ft (580 L).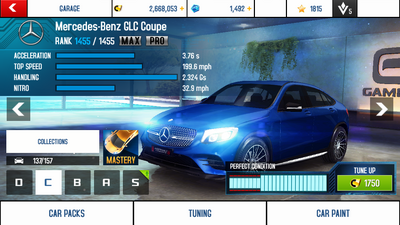 Summary
The Mercedes-Benz GLC coupe was added in the Rio de Janeiro Update as a mid Class C vehicle with the following rank statistics:
Performance
The GLC Coupe has a high total/raw top speed, decent nitro, excellent nitro efficiency, good handling, mediocre drifting, and mediocre acceleration (poor without upgrades).
The GLC Coupe competes with the Camaro Z/28 and SUBARU IMPREZA WRX STI between ranks 800-900 in Multiplayer. The GLC Coupe is inferior to the Renault DeZir, Ford F-150 and Porsche 959 between ranks 800-900. It is however, inferior to the BMW M2, Shelby Cobra 427 and Audi R8 e-tron Special Edition from ~1100 onwards.
Usage (Multiplayer)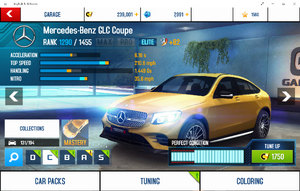 The GLC Coupe is very good for Multiplayer due to its Elite status (+low starting rank and large TK bonus), although that is also its biggest downfall (because it needs to be retuned). Compared to the Cobra, BMW M2, Porsche 959, and even the RR Evoque, the GLC Coupe has slow acceleration. However, its acceleration is still better than the Chevrolet 2016 Camaro SS, for example. Although the GLC Coupe is slower than all of these cars at the same rank when tuned to their optimal ranks (apart from the Evoque), the GLC Coupe is still good enough to allow a player to comfortably reach Pro League in Multiplayer.
At ranks 1000-1100, the best tune for the GLC Coupe would be 0404 in MAX, 0808 in Elite Tuning, and however many Pro kit upgrades it takes to get the car to the correct rank. The GLC Coupe's very similar upgrade rank weightings in raw top speed and nitro is perhaps its biggest strength and second most unique ability (the biggest being its absurdly high handling statistic), making it able to more precisely tune its rank than other Elite Cars, while still having good performance (nitro adds around 1/4 of both performance and rank when compared to raw top speed). The Evoque travels at around the same speed at this rank, but possibly a bit faster. The Porsche 959 is definitely slightly faster at lower ranks (1000-1050), and with superior acceleration, it leaves little room for the Evoque and the GLC Coupe to shine. Overall, the GLC Coupe can be described as a "backup" for the Evoque, if one mistunes their Evoque.
At ranks 1100-1250, the GLC Coupe appears to lose much of its competitive edge, being ranked against the superior BMW M2, which has better acceleration and better total top speed. The Cobra is also a major threat at these ranks, surpassing even the BMW M2 in speed, from around 1200 and up, and in acceleration. However, the GLC Coupe does have the ability to reach over 245.4 mph (395 km/h) below rank 1300, reaching 246.2 mph (396.4 km/h) at rank 1290, with a tuning of 0404 4444 0808. It finishes laps on maps like Tokyo, for example, around 2-3 seconds slower than a BMW M2 at rank 1256, with a tuning of 0504 5050 0800, which results in a top speed of 246.9 mph (397.3 km/h). Although inferior to the BMW M2, and also the Cobra, the GLC Coupe can beat these two cars if they wreck, take a wrong route, or have some other kind of error in their lap. The GLC Coupe especially has an advantage against the Cobra on maps like Azure Coast, Sector 8, Dubai, and Tokyo, due to its superior nitro efficiency and drifting/handling, similarly to the BMW M2. Two other cars around this rank, being the TVR Sagaris and Camaro SS, travel at around the same speed as the GLC Coupe. They get a lot faster later on, but aren't as fast below rank 1300, due to having fewer upgrades.
With the release of the Audi R8 e-tron Special Edition, the GLC Coupe has lost much of its competitiveness. A multiplayer tuned R8 SE has a minimum rank of 1111 and is capable of 450 kmh / 279 mph, of which the GLC Coupe cannot compete with.
Usage (Other)
Due to its augmented performance, the GLC Coupe can serve well as a Class C Time-Limited Event car. The GLC Coupe also awards

70 from its 5th Car Mastery challenge.
The GLC Coupe was an Enduro Double Down car for the Sbarro Sparta's EDD.
Price
The GLC Coupe had an initial buying cost of

1,100 but has since been reduced to
45,000. Upgrades cost
1,011,675 or

7,745 while Pro Kits require
279,650, 9 Class C Parts cards, 8 Early, Initial & Mid-Tech cards and 8 i4 Engine cards.
The GLC Coupe is also obtainable from the Ignition Car Pack which also includes the Mitsubishi Eclipse and Audi S4
Tune-ups for the GLC Coupe cost
1,750 and takes 1.5 hours to complete.