The 2007 Mercedes-Benz SLR Mclaren Roadster 722 S [R199] is a limited production grand tourer convertible produced jointly by McLaren Automotive and Mercedes-Benz, based on the Mercedes-Benz 300 SLR. It is the roadster version of the 2006 Mercedes-Benz SLR McLaren 722 Edition (Coupe).
The roadster version's convertible roof is made of a "newly developed material" (as opposed to a folding metal arrangement) which is folded away electrically after a manual unlatching.
Oddly, the coupe version's name is used in-game in Asphalt 8: Airborne, despite the model being the roadster version.
Overview
Text orignally from the SLR's Wikipedia article
The Mercedes-Benz SLR McLaren is a grand tourer car manufactured by Mercedes-Benz. Unveiled as the Vision SLR Concept in 1999, the car was later put into production between 2003 and 2009. The SLR is powered by a 5.4 liter V8 equipped with a supercharger producing 0.9 bar of boost. The hand-built AMG engine is positioned behind the front axle and delivers 626 horsepower at 6,500rpm. The maximum torque of 780Nm is available from 3,250rpm and remains at this level up to 5,000rpm. The front-mid engine is paired with a five-speed automatic transmission which transfers the power to the rear wheels.
A new version was introduced in 2006, called the Mercedes-Benz SLR McLaren 722 Edition. The "722" refers to the victory by Stirling Moss and his co-driver Denis Jenkinson in a Mercedes-Benz 300 SLR with the starting number 722 (indicating a start time of 7:22 a.m.) at the Mille Miglia in 1955.
The 722 Edition includes an engine rated 650 PS (480 kW; 640 hp) at 6,500 rpm and 820 N·m (600 lb·ft) at 4,000 rpm. 19-inch light-alloy wheels were used to reduce unsprung weight, while modifications were also made to the suspension, with a stiffer damper setup and 10 mm (0.39 in) lower ride height introduced for improved handling. Larger 390 mm (15 in) diameter front brakes and a revised front air dam and rear diffuser were fitted.
A roadster version of the SLR went on sale in September 2007. It uses the same supercharged V8 AMG power plant as its coupé siblings, developing 626 PS (460 kW; 617 hp), to propel it to a top speed of 334 km/h (208 mph) and a 0 to 100 km/h (62 mph) acceleration time of 3.7 seconds.
Summary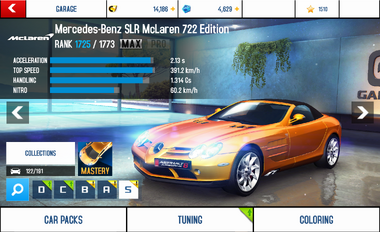 The Mercedes-Benz SLR McLaren 722 Edition, is a mid Class S car as part of the Motorcycles Update. Its EDD was the second event in a five-event streak, with a total of seven vehicles added during that update. It is one of only two cars added during the update, with the other five vehicles being one motorcycle for every class, in a similar fashion to the Porsche Update (with one Porsche for every class).
The SLR McLaren has a starting rank of 1482, a MAX rank of 1660, and a MAX + PRO rank of 1773. It receives +39 rank points from Tuning Kits.
Performance
The SLR McLaren has a large nitro, low raw top speed, mediocre total top speed, mediocre Tuning Kit bonus, mediocre handling, good drifting, very good acceleration, and a mediocre nitro efficiency.
The SLR McLaren seems to be based on its Class A counterpart, the Mercedes-AMG C 63 Coupe Touring Car 2014. The SLR McLaren has a nitro efficiency of 6/12/16, a slight improvement over the C 63 Coupe's 7/12/17.
The SLR McLaren's speed distribution and total top speed are extremely similar to the C 63 Coupe, with the SLR McLaren having a 4.8 mph (7.7 km/h) faster total top speed without a Tuning Kit, but only a 2 mph (2.9 km/h) faster total top speed with a Tuning Kit, due to its inferior Tuning Kit boost. Both cars have very fast rates of acceleration, giving them an advantage against the Chevrolet 2016 Camaro SS, BMW 3.0 CSL Hommage, Mercedes-Benz SLK 55 AMG Special Edition, Chevrolet Corvette Grand Sport, and Devel Sixteen Prototype. However, despite having very good acceleration, the SLR McLaren and C 63 Coupe aren't fast enough to properly rival those five cars. On the other hand, the very similar McLaren Mercedes MP4-25, which handles better and has even faster acceleration than its two cousins, can properly rival these faster cars.
The SLR McLaren's drifting radius, while on par with the Porsche 918 Spyder with Weissach Package's, is not as impressive as the C 63 Coupe's nearly perfect drifting radius. Due to having a large nitro, none of these cars can handle excellently, despite having handling stats over 1.300 Gs. Because the SLR McLaren and 918 Spyder seem to be very heavy in-game, they often have problems when going off ramps or when turning, though the C 63 Coupe doesn't suffer from the same problems.
Similarly to the C 63 Coupe, the SLR McLaren can rival slightly faster and more nitro-efficient cars like the McLaren 675LT, Mosler GT3 and 9FF GT9 VMAX, due to having very good acceleration and sharp drifting. Unlike other non-F1 McLaren cars, the SLR McLaren's drifting doesn't have a delay (also seen with the Aston Martin Vulcan); it is very fast-responding but slightly more rigid (due to the lower handling statistic).
Usage
Currently, the SLR McLaren isn't featured in any specific Time-Limited Event brackets.
The SLR McLaren is otherwise not the best car in Class S, by far, and also isn't overly useful in Multiplayer.
Price
The SLR McLaren, aside from being available via its EDD, requires 45 Rare Blueprints to assemble.
The SLR McLaren requires
2,915,100 or

20,070 to MAX and
1,709,075 to PRO. It also requires 32 Forced Induction V8 Engine cards in its PRO upgrades.
Main article: Enduro Double Down/Mercedes-Benz SLR McLaren 722 Edition
The event was launched on August 31, 2017, and players are given 9 days to win the Mercedes-Benz SLR McLaren 722 Edition. The bonus cars rewarded in the EDD are the Cadillac CTS-V Coupe Race Car and the Ferrari 458 Italia. The event was revived on May 31, 2018, after the Kawasaki Ninja H2R's Championship.
The Mercedes-Benz SLR McLaren 722 Edition requires 45 of its Rare Blueprints to assemble, all of them can be won by banking 75,000 points in the SLR McLaren 722 Edition's Enduro Double Down event. Assembly takes 11 hours and can be skipped for

405.
This section of an article is missing some information. Please try to add some relevant content.