The Mercedes-Benz Silver Lightning, also known as the Mercedes-Benz Silver Arrow, is an electric concept roadster car built for the 2011 Los Angeles Auto Show.
Overview
Edit
The Mercedes-Benz Silver Lightning was built for the 2011 Los Angeles Auto Show Design Challenge, where it won the best animation award for their short film Silver Lightning. It was conceived by the Mercedes-Benz Advanced Design Studio in Carlsbad, California, the same studio behind the Mercedes-Benz Biome concept car.
The Silver Lightning was heavily inspired by the 1930s Silver Arrow race cars, most notably the Mercedes-Benz W125 driven by Rudolf Caracciola that won the 1937 Grand Prix, as well as the 1955 Mercedes-Benz 300 SLR designed by Rudolf Uhlenhaut. The design theme also took influences from sci-fi movies like Star Trek, TRON: Legacy, and Star Wars: Episode II - Attack of the Clones.
The Silver Lightning's futuristic and sleek appearance also comes with innovative features, such as a roof constructed out of small, lightweight magnetic squares that uses Mag-Tech technology allowing them to either combine to form a hardtop or retract to form a roadster. The omni-directional wheels allow the car to steer freely in any direction and are enclosed in rings integrated within the car's main body.
In compliance with the competition's theme of designing "Hollywood's Hottest New Movie Car", it was accompanied by a short film called Silver Lightning, which features two crash test dummies called Hans05 and Franz02 attempting and eventually succeeding in the rescue of their prized stolen Silver Lightning from Dr. Crash-Barrier, the main antagonist of the movie.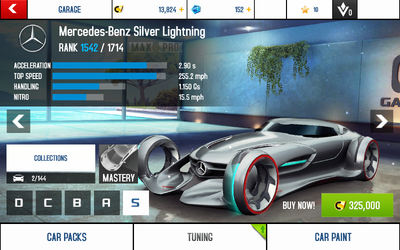 The Mercedes-Benz Silver Lightning is one of seven original Class S cars in the game, with a starting rank of 1542, a MAX rank of 1647, and a MAX+PRO rank of 1714. The car receives +26 from Tuning Kits.
The Mercedes-Benz Silver Lightning's acceleration appears to be underwhelming at first, although it isn't the slowest accelerating Class S car. The Silver Lightning has a more efficient nitro than most of the original Class S cars, with 7/13/17. The Silver Lightning's only two big disadvantages are its subpar handling and its speed multipler of 91.46%. Despite its subpar handling, it can drift through corners with ease.
What's worth noting is that the Lamborghini Estoque, a high-end Class B car, performs very similarly to the Mercedes-Benz Silver Lightning, albeit with better acceleration, slightly worse nitro efficiency of 8/13/18, a slightly better speed multiplier of 91.60%, and, at MAX+PRO, a real total speed of 285.7 mph (460.0 km/h), compared to the Silver Lightning's 285.9 mph (460.4 km/h).
The Silver Lightning costs
325,000 to purchase and
417,500 to max out.
The Mercedes-Benz Silver Lightning is gifted to players who log in on their 90th day. The car otherwise costs
300,000.
Ad blocker interference detected!
Wikia is a free-to-use site that makes money from advertising. We have a modified experience for viewers using ad blockers

Wikia is not accessible if you've made further modifications. Remove the custom ad blocker rule(s) and the page will load as expected.