The Nissan GT-R NISMO is a high performance version of the Nissan GT-R (R35), made by Nissan and it first appears in Asphalt 8: Airborne. The Nissan GT-R NISMO is used as the 2012 facelifted model.
Description
Portions of text are from the Nissan GT-R's wikipedia article
The Nissan GT-R NISMO is an upgraded version of the Nissan GT-R (R35). Introduced in 2015 as a high-performance version by Nissan's in-house tuning division, Nismo.
The GT-R NISMO features an increased power output of 608 PS (600 bhp) over the standard model's 492 PS (362 kW; 485 hp) from the same 3.8 L VR38DETT twin-turbo V6.
Additional front and rear brake cooling ducts are added, and a full NISMO tuned suspension is installed, including a hollow 17.3mm rear stabilizer bar from the NISMO performance division.
Special edition forged alloys by RAYS in 20" size are included. The standard GTR's aluminum trunk lid is swapped out for a full carbon fiber panel, and additional spot welds and adhesive help strengthen the chassis. A front spoiler with carbon fiber air ducts up front add to the special NISMO full aerodynamic package, while a large racing style carbon wing finishes off the rear.
NISMO-specific options are a low-gloss matte gray paint and a full titanium exhaust with additional heatsinks. A total weight reduction of 17 kg (38 lbs) grants an improved 0-60 time of 2.7 seconds
Added in the Dubai update, the Nissan GT-R NISMO, being a high-end Class A car, has a starting rank of 1459 and a maximum rank of 1619, the same as that of the Savage Rivale GTR. With all levels of Pro Kits activated, the GT-R NISMO has a final rank of 1701, shared with the Savage Rivale GTR and Pagani Huayra, making it the most powerful Japanese vehicle in the game to date.
Improvements over the R35 feature a faster acceleration, higher top speed, and slightly better handling, but acceleration isn't comparable to the McLaren P1 and Rivale GTR. The GT-R NISMO has slightly better handling than the R35, but still not as good as that of the Nissan 370Z (1.220 Gs~1.320 Gs). Caution is best exercised when using this car on technical tracks like Venice & Dubai and on long tracks like Monaco and Tokyo.The nitro boost and duration of (6/12/16) are the same as those of the Lamborghini Veneno, Savage Rivale Roadyacht GTS, and Ferrari 330 P4 but strangely shorter than its standard counterpart with (6/11/16).
Before the release of the Nissan GT-R NISMO for purchase in the Garage, the Nissan GT-R NISMO was exclusive to the top spot in each 5000-player division of the Nissan GT-R NISMO DIVISION CUP.
The Nissan GT-R NISMO costs
650,000 to purchase,
1,814,500 to MAX and
889,053 to PRO.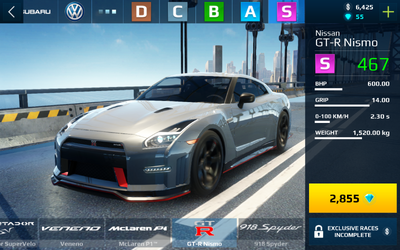 This section of an article is missing some information. Please try to add some relevant content.