The Pagani Huayra (Italian pronunciation: [ˈwai̯ra]) is a limited-production hypercar produced by Pagani as the successor to the Zonda supercar. It is named after Huayra-tata, a Quechua wind god.
Overview
Edit
The Pagani Huayra is a rear mid-engined hypercar that uses a seven-speed sequential transmission delivering power to the rear wheels. The Huayra uses a twin-turbo V12 engine developed by Mercedes-AMG and derived from the Mercedes-Benz SL 65 AMG Black Series's M275 AMG engine. Displacing 6.0L (5,980 cc), the Huayra's M158 V12 produces 720 hp (537 kW) and 811 ft·lb (1100 N·m) of torque. It has been designed at the request of Pagani to reduce turbo lag and improve response, realized with smaller turbos, a different intercooler configuration, and re-programmed ECU settings.
The Huayra has a 0-60 acceleration time of 3.2 seconds and a top speed of 231 mph (372 km/h). Using Pirelli tires, it can withstand 1.66 g of lateral acceleration at speeds of up to 230 mph (370 km/h).
The Huayra also incorporates active aerodynamics, capable of altering front height from the ground and independently operating two pairs of flaps placed at the rear and front.
The Huayra has a curb weight of 3741 lb (1697 kg) and a dry weight of 2976 lb (1350 kg), giving it a minimum power-to-weight ratio of 424 hp per tonne and a maximum power-to-weight ratio of 533 hp per tonne.
The Pagani Huayra is a Tier 7 car and is a prize of Career Cup 9. It costs 320,000 Cash. It is faster than the RUF RT 12 S, Lamborghini Aventador LP 700-4, and Ferrari 288 GTO, but still not the best, as the Ferrari FXX Evo and RUF CTR 3 have faster nitro speed.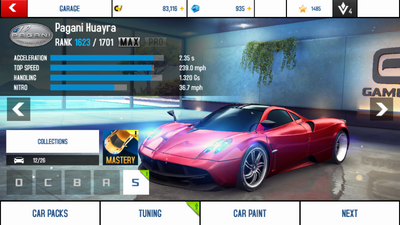 The Pagani Huayra was added in the Daily Bonus Update as one of the first time release Class S cars, along with the W Motors Lykan HyperSport.
The Huayra is an early Class S car, with a starting rank of 1509, a MAX rank of 1623, and a MAX+PRO rank of 1701.
Due to gaining little from being upgraded, the Huayra receives a modest Tuning Kit boost of +29. Some of the Huayra's rivals across all classes are the Kepler Motion, ONUK Sazan LM, and Mazzanti Evantra.
Performance Edit
The Huayra is a very unusual Class S car, in that it has an extremely large focus on nitro. It has the second highest nitro statistic in all of Class S, behind the Porsche 918 Spyder with Weissach Package. Interestingly, the 918 Spyder actually has an identical nitro statistic to the Huayra at the MAX + PRO level, but the 918 Spyder has a superior Tuning Kit bonus and is also Elite, allowing the nitro statistic to become larger. However, despite this, the Huayra still holds the title for the most nitro in Class S relative to the raw top speed statistic, since the 918 Spyder also has a very large top speed statistic alongside its nitro statistic.
Overall, the Huayra can be described as a stats-upgrade to the Pagani Zonda R, its cousin in Class A. The Huayra possesses a slightly lower raw top speed than the Zonda R, though it also possesses slightly higher handling/drifting/acceleration statistics, and, of course, a higher nitro statistic to place it in Class S. The Huayra's nitro efficiency statistic is better for Level 3 but worse for Levels 1 and 2 (Perfect Nitro), when compared to the Zonda R. The Huayra's nitro efficiency statistic is 7/11/14.5.
Another "record" title that the Huayra holds is the strongest drifting in all of Class S, though it is unknown if the Suzuki Hayabusa or Mercedes-Benz SLR McLaren 722 Edition will rival this. Notably, the Hayabusa has currently dethroned the Huayra as the most nitro-efficient early Class S vehicle and also stands as one of the top three most nitro-efficient vehicles of Class S, with the other two being the Lamborghini Aventador SV and the Cadillac 16 Concept. The Hayabusa also has very large nitro, handling and acceleration statistics, like the Huayra.
Compared to its neighbors, the Huayra has a very efficient nitro and a very fast acceleration. However, due to possessing a very large nitro statistic, the Huayra has the second lowest total top speed in all of Class S (after the Lamborghini Veneno) and the lowest raw top speed in all of Class S. This means that it must heavily rely on its outstanding acceleration, drifting, handling, and nitro efficiency in order to offset its horribly low speed-statistics. The Huayra completes most tracks around 1-3 seconds slower than the Mercedes-Benz Silver Lightning and W Motors Lykan HyperSport, though it can outrun top speed-based cars like the RUF CTR 3 and GTA Spano.
The Huayra takes approximately 3 seconds to accelerate from 0 mph (0 km/h) to its maximum speed of 278.6 mph (448.7 km/h) with full nitro and no Tuning Kit (Level 3 Nitro used for testing). This is faster than the ~4 seconds that the Lamborghini Veneno and Mercedes-Benz Silver Lightning take to accelerate to their respective maximum speeds of 277.7 mph (447.2 km/h) and 285.9 mph (460.4 km/h). This is also much faster than the ~6 seconds that the RUF CTR 3 takes to accelerate to its maximum speed of 281.3 mph (453 km/h).
Despite having what appears to be the strongest handling of the early Class S cars, the Huayra's handling cannot compete with that of the GTA Spano and RUF CTR 3 cars, which have much stronger handling statistics than what their written handling statistics suggest. This is especially due to the Huayra's large nitro statistic having a big impact on the handling statistic.
Like most Class S cars, the Huayra holds a cosmetic negative Speed Modifier. Its Modifier is 94.32%, meaning that its top speed on the HUD Speedometer appears to be much higher than what it really is. The Speed Modifier doesn't affect the Huayra's real speed.
The Huayra is one of the easiest cars in Class S to purchase and upgrade to MAX + PRO. However, one might be wary of the V12 Engines which it uses, as top Class S cars like the Aston Martin Vulcan also use that card.
Overall, the Huayra is not highly recommended for a starter's Class S car, since it is highly overshadowed by the Mercedes-Benz Silver Lightning, which is also very easy to get to MAX + PRO, and the W Motors Lykan HyperSport, which is slightly more difficult than the former two cars to get to MAX + PRO, but which is slightly superior to both in both performance and in the fact that it has a very good Mastery Challenge 15 "farming race".
The Huayra is still a useful car to purchase since it contributes to the Career Mode and since it is an easy source of
. The Huayra also counts towards 3 collections: Italian Stallions, New Blood and Euro Aces.
The Huayra costs
420,000 to purchase,
417,500 to MAX and
398,460 to PRO.
The Huayra requires 8 Mid-Tech cards, 8 Advanced-Tech cards, and 8 V12 Engine cards in its PRO upgrades.
The Pagani Huayra was added in Asphalt Nitro Update 4. While having identical performance to its Asphalt 8: Airborne rendition, it is now a Class A car and costs
315,000 to purchase.
Despite its rank, the Huayra cannot compete with the Ferrari FXX Evoluzione, Tramontana XTR, and Ferrari LaFerrari.
Ad blocker interference detected!
Wikia is a free-to-use site that makes money from advertising. We have a modified experience for viewers using ad blockers

Wikia is not accessible if you've made further modifications. Remove the custom ad blocker rule(s) and the page will load as expected.