Peugeot Onyx

Peugeot Onyx in Asphalt 8: Airborne.
Car information
Manufacturer
Country of origin

France

Year

2012

Transmission

?

Drive type

RWD

Engine

3.7L Turbo V8 diesel engine + Electric Motor

Power

680 HP (689 PS; 507 kW)

Torque

856 lb-ft (1,160 Nm)

Weight

2,400 lb (1,089 kg)

Acceleration
(0-60 mph or 0-100 km/h)

2.9 sec

Top speed

249 mph (400 km/h)

Asphalt appearances
The Peugeot Onyx is a concept hypercar by Peugeot that appears in the Asphalt series.
Overview
Edit
Peugeot boasts a carbon fiber structure that consists of only 12 components as weighs only 220 pounds with the car weighing a total 2,400 pounds. The car also has built-in Lithium-ion batteries to power an 80 hp electric motor. Twin NACA ( National Advisory Committee for Aeronautics ) ducts provide airflow to the engine and the car uses a power train and suspension from Peugeot Sport, once responsible for the now defunct Le Mans racing program. An active rear spoiler similar to the Bugatti Veyron 16.4 is used in assisting with deceleration.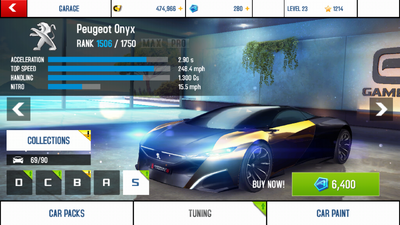 The Peugeot Onyx debuted in the 2014 San Diego Harbor update as the final Class S Premium Car. It has a starting rank of 1506, a MAX rank of 1656, a MAX+PRO rank of 1750, and a Tuning Kit bonus of +33. The Onyx mainly rivals the Hennessey Venom GT, Mercedes-AMG C 63 Coupe Touring Car 2014, and Lamborghini Aventador LP 700-4.
The Onyx's acceleration is at best medium-high level. The car primarily excels in top speed and handling, especially due to its low, sub-2,500 lb weight. The one thing to be careful of is its unique nitro consumption combination of 7/14/17; at Level 2/Perfect Nitro, the car's nitro drains slightly more quickly than other cars with the same nitro stat, like the W Motors Fenyr Supersport and Ferrari FF, which are 7/13/17.
Prior to the Decals Update, the Onyx was only available with the Maserati MC12 in the Pole Position Premium Pack. As of the Decals Update, the Onyx is now available for

6,400. Maxing it out costs
1,153,950.
The Peugeot Onyx behaves exactly the same as its Asphalt 8: Airborne rendition, with the only difference being the price.
Ad blocker interference detected!
Wikia is a free-to-use site that makes money from advertising. We have a modified experience for viewers using ad blockers

Wikia is not accessible if you've made further modifications. Remove the custom ad blocker rule(s) and the page will load as expected.