Overview
Edit
Text originally from the Peugeot RCZ Wikipedia article.
In November 2012, Peugeot announced their intention of building a more powerful, performance oriented RCZ. In July 2013, the first official pictures of the car were released. The RCZ R has a turbocharged 1.6l engine capable of producing 270 bhp and 330NM of torque, allowing it a 0-62 time of 5.9 seconds and a top speed limited to 155 mph. It also features uprated 380mm Alcon brakes and suspension, a significantly reduced curb weight and a Torsen front differential.
Incorrectly named as the Peugeot RCZ-R, the RCZ R is a Tier 1 car, and was added in update 1.1.0. It can only be unlocked through its own special event.
The Peugeot RCZ R was added in the Motorcycles Update as a mid Class D car. It is unlockable via Research & Development. Between October 4-10, 2017 the Peugeot RCZ R was not available in the garage. When available, it requires 8 common blueprints to be constructed. Assembling the RCZ R takes 2 hours but can be skipped for

195.
Research & Development
Edit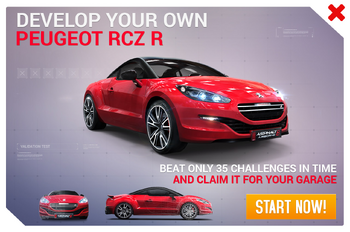 Main article: Research & Development/Peugeot RCZ R
The Peugeot RCZ R's Research & Development was published as the 26th R&D event on September 24, 2017 with 3 Labs spanning 35 Tests. Players are given 5 days once they start the challenge.
Ad blocker interference detected!
Wikia is a free-to-use site that makes money from advertising. We have a modified experience for viewers using ad blockers

Wikia is not accessible if you've made further modifications. Remove the custom ad blocker rule(s) and the page will load as expected.