Not to be confused with the Porsche Cayman GTS

The Porsche Cayman GT4 (981C) is a track-focused version of the Porsche Cayman (981C).
Description
Introduced in 2015, the Cayman GT4 is based on the third-generation (981C) Cayman and uses a slightly de-tuned and revised variant of the Porsche 911 Carrera S (991)'s 3.8 L flat-6 engine.
The flat-6 engine produces 380 hp (283 kW) at 7,400 rpm and 310 ft·lb (420 N·m). The car is rear-wheel-drive and comes with only a six-speed manual transmission, making the GT4 the last street-legal track-focused car to have a naturally aspirated flat-6 engine paired with a six-speed manual transmission, as the 718 Cayman uses a new turbocharged flat-4.
The Porsche Cayman GT4 has a vented front bumper to improve cooling for the additional radiator, with a lower lip along with a fixed rear wing that provides downforce. The GT4 is 1.18 in (30 mm) lower in ride height than the regular Cayman and features upgraded brakes from the Porsche 911 GT3 (991), a limited slip differential combined with Porsche Torque Vectoring, and Porsche Active Suspension Management with 991 GT3-derived dampers. The chassis was also enhanced with a number of reinforcements.
The Cayman GT4 has a top speed of 183 mph (295 km/h) and has gained rave reviews from magazines like Evo and the likes of Chris Harris.
Summary
The Porsche Cayman GT4 debuted during the Porsche Update as one of five Porsches in the Porsche Motor Series. Within the sequence of five special events, the Porsche Cayman GT4 was unlockable via a Championship which appeared as the first event in the series.
The Porsche Cayman GT4 is a mid Class B car with the following rank statistics:
Starting rank: 1323
MAX rank: 1485
MAX+PRO rank: 1598
Tuning Kit bonus: +41
Stock to MAX+PRO rank difference: 275
Performance
The Porsche Cayman GT4, like all Porsches from the Porsche Update, is a heavily nitro-based car. It has the third largest nitro in Class B, behind the Peugeot SR1 and Honda Integra Type-R. The Porsche Cayman GT4 gains a pitiful amount of speed from its raw top speed, gaining only 6.2 mph/10 km/h when maxed out, unlike the Porsche 911 GT3 RS and Porsche 918 Spyder with Weissach Package. This is only better than the likes of the Vencer Sarthe and Peugeot RCZ R, which gain only 4.4 mph/7.2 km/h and 3.5 mph/5.7 km/h, respectively, when maxed out.
Also, even with its 25% upgrade rank weighting on nitro, it cannot compete anywhere near as well as its lower-ranked cousin, the Porsche 959, because the Porsche Cayman GT4's nitro is lower by up to 8.9 mph/14.3 km/h. Furthermore, being a Class B car and not a Class D car, the Porsche Cayman GT4's total top speed is reduced when compared to surrounding cars, rather than increased. Overall, this makes the Porsche Cayman GT4 not the most competitive car in Multiplayer. For example, when compared to the R8 LMS Ultra, which is ranked 1595, the Cayman GT4 excels only in nitrous duration, but inferior to the R8 LMS Ultra in top speed, acceleration and handling.
However, the Porsche Cayman GT4 does have excellent acceleration, extremely good nitro efficiency (6/8/11), and good handling/drifting despite the downfalls when compared to its similarly-ranked rivals. These stats, especially the nitro duration, still gives the Cayman a chance to compete with higher-ranked cars.
Official Review
This is the official review of the Porsche Cayman GT4 on the Asphalt YouTube channel, made by ReV_Tez and published on June 20, 2017:
Time to reach end of Tokyo straight: 7.953s (0.6 sec slower than the Mercedes-AMG GT3).
Perfect nitro duration: 12.903s
Triple nitro duration: 9.174s
French Guiana lap time: 1.05.076s
Final verdict: "The Cayman is a really great car to drive. It's excellent nitro duration provides the opportunity of playing single tanked in events allowing you to challenge and compete with strong players. Although it fits into the mid-category of class B, it performs very well and also offers 32 licenses in mastery!"
Usage
The Porsche Cayman GT4 isn't featured in a specific TLE bracket. Overall, the only Porsche that has been frequently featured in TLEs is the Porsche 911 GT3 RS; the Porsche 959, Porsche 718 Boxster S, and Porsche 918 Spyder with Weissach Package have also yet to be placed into TLE brackets.
The Porsche Cayman GT4 is somewhat usable in Multiplayer with a tune of 0005 0505, resulting in a speed of 246.6 mph (396.8 km/h) with a raw top speed of 184.4 mph (296.8 km/h) at a rank of 1420. Of course, this still makes the Porsche Cayman GT4 even inferior to cars like the Rinspeed zaZen, which is slightly faster and also possesses a better raw top speed. Otherwise, the Porsche Cayman GT4 cannot compete with the Chevrolet 2016 Camaro SS, McLaren MP4/8 and TVR Sagaris which are all commonly found around this rank.
The Cayman GT4's main redeeming qualities are its Car Mastery rewards, which include a Double Credits at Challenge 10, and a fast Season 9 race set in San Diego Harbor, which can be used for Credits-grinding sessions (Though this is not the best farming race in the game).
Price
According to the game's internal data, the Porsche Cayman GT4 costs

2,500 to purchase. To obtain normally, the car must be assembled after collecting 35 Common Porsche Cayman GT4 BP cards. Assembly takes 2 hours and can be skipped for up to

195. The car costs
1,876,550 or

13,495 to max out. Pro Kits require
733,800, 9 of each Class B Parts card, 24 High-Grade Engines, 8 Initial Tech cards, 8 Early Tech cards, and 12 Mid-Tech cards.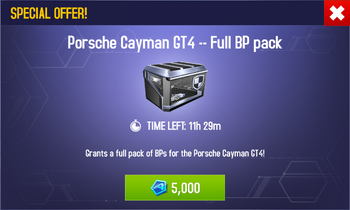 For a limited time, it is possible to purchase Porsche Cayman GT4 Full BP Pack, which contains all 35 Blueprints required to build the Cayman GT4, at cost of 

5,000
--

2,500
tokens higher than the hidden purchase price.
Availability
The Porsche Cayman GT4 was made permanently available in the Garage starting on June 7, 2017 as a Blueprint-unlockable car.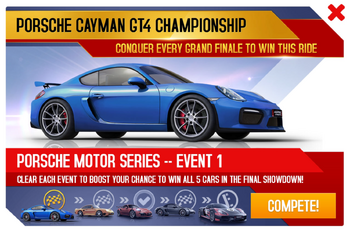 Main article: Championship/Porsche Cayman GT4
The Porsche Cayman GT4 Championship was held as the first event in the Porsche Motor Series. It was launched on June 7, 2017 with a time limit of 7 days once the Championship is started.
Championship

McLaren Championship

McLaren M14A (Car • Event) • McLaren Mercedes MP4-25 (Car • Event)
McLaren MP4/8 (Car • Event) • McLaren MP4-31 (Car • Event)
2018 McLaren X2 (Car • Event)

Porsche Championship

Porsche Cayman GT4 (Car • Event) • Porsche 959 (Car • Event)
Porsche 718 Boxster S (Car •Event)

Munich Championship

Kawasaki Z800 (Bike • Event) • Arrinera Hussarya GT (Car • Event)
Honda Civic Type R (Car •Event)

Hot Wheels Championship

Hot Wheels Rip Rod™ (Car • Event)
Hot Wheels Bone Shaker™ (Car • Event)
Hot Wheels Twin Mill™ (Car •Event)

Renault Championship
Ariel Championship
Vanda Electrics Championship
Buick Championship
Apollo Championship
Vencer Championship
Kawasaki Championship
Sbarro Championship